Sales Have Ended
Registrations are closed
WELCOME TO THE PACKET HACKING VILLAGE VIRTUAL WORKSHOPS TICKET SALES REGISTRATION PAGE AT DC29!
About this event
A percentage of proceeds will be donated to the National Upcycled Computing Collective, Inc. (NUCC), a 501(c)(3) non-profit organization.
We've got some rules around here!
1. *YOU MUST JOIN THE DEF CON DISCORD SERVER* : https://discord.gg/defcon
As a reminder, you are required to have your own badge to attend DEF CON and to access the Discord server. We will give you the necessary roles to access the PHV channels, so please let us know your full Discord username (e.g. ch3f#6812) and userid (e.g. 709118612987969633). For information on how to get the latter, please see https://support.discord.com/hc/en-us/articles/206346498-Where-can-I-find-my-User-Server-Message-ID-.
2. Your donation of $10-$30 reserves a conditional seat. If you are 1 second late, your seat will be given away (first come first serve) to those present. Please be there before the workshop start time!
3. The ticket ONLY has value to the individual with the Eventbrite Registration Order Number. No transfers, no returns. (This means no scalping - we will abuse scalpers.)
4. No Refunds! 0, None, Not at all!
5. *MAXIMUM OF TWO WORKSHOPS PER PERSON*
While Eventbrite may allow you to buy more than two workshops, you are only allowed to attend a maximum of two workshops. Feel free to buy 3, the third will be an extra donation. You only get to go to two.
Did we mention that you only get to go to two? Oh... And we will choose randomly which one(s) you lose out on in true DEF CON style.
Important!
If you wish to donate directly to NUCC payments will be accepted at PayPal.me/NUCC - This is a good cause. Don't be a cheap ass. Pony up some $.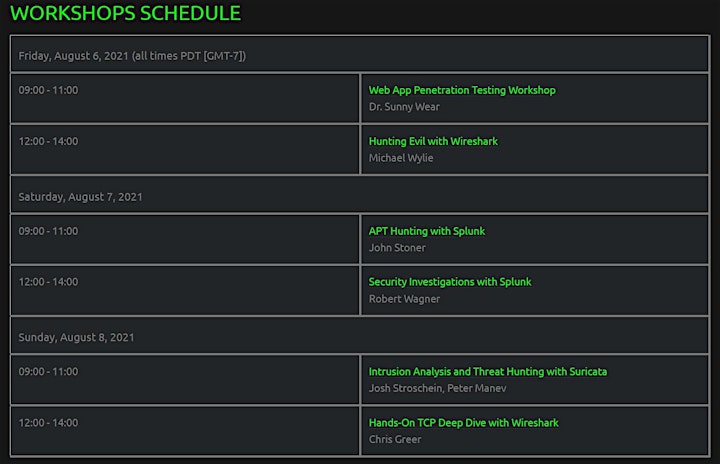 All times are in PDT. Schedule is subject to change. More details, including registration and streaming links, forthcoming.
WORKSHOPS ABSTRACTS AND BIOS
FRIDAY, AUGUST 6TH
09:00-11:00
WEB APP PENETRATION TESTING WORKSHOP
DR. SUNNY WEAR, WEB SECURITY ARCHITECT AND PENETRATION TESTER
Gain hands-on experience learning how to perform web application penetration testing in this two-hour workshop with the author of the Burp Suite Cookbook, Dr. Sunny Wear. Students will learn Injections attacks such as Cross-site Scripting and SQL Injection attacks, brute-forcing tactics, and optimization techniques for Burp Suite including configurations and macros.
Dr. Sunny Wear (Twitter: @SunnyWear) is a Web Security Architect and Penetration Tester. She provides secure coding classes, creates software, and performs penetration testing against web/API and mobile applications. Sunny has more than 25 years of hands-on software programming, architecture and security experience and holds a Doctor of Science in Cybersecurity. She is a published author, "Burp Suite Cookbook", a developer of mobile apps, such as the "Burp Tool Buddy," and is a Pluralsight content creator, "Burp Suite for Beginners/Advanced/Writing Plugins". She regularly speaks and holds classes at security conferences such as Defcon, Hackfest, and BSides.
12:00-14:00
HUNTING EVIL WITH WIRESHARK
MICHAEL WYLIE, MBA, CISSP, SR. MANAGER, THREAT HUNTING
This workshop will take attendees' Wireshark skills to the next level with a heavy emphasis on incident response, threat hunting, and identifying anomalous network traffic. This workshop will begin with a brief introduction to Wireshark and other Network Security Monitoring (NSM) tools/concepts. Throughout the workshop, we'll examine what different attacks and malware look like while using Wireshark. Attendees will then have hands-on time in the lab to search for Indicators of Compromise (IOCs) and TTPs utilizing staged packet capture files. Labs start out easy and quickly progress in difficulty. There will be plenty of take-home labs for additional practice.
Michael Wylie, MBA, CISSP (Twitter: @TheMikeWylie) is the Sr. Manager of a threat hunting team. In his role, Michael is responsible for managing a global team of analysts hunting for hands-on keyboards activity within customer environments. Michael has developed and taught numerous courses for the U.S. Department of Defense, DEFCON, Universities, and for clients around the world. Michael is the winner of numerous SANS challenge coins and holds the following credentials: CISSP, CCNA R&S, CCNA CyberOps, GMON, GPEN, GCFE, TPN, CEH, CEI, VCP-DCV, CHPA, PenTest+, Project+, and more.
SATURDAY, AUGUST 7TH
09:00-11:00
APT HUNTING WITH SPLUNK
JOHN STONER, PRINCIPAL SECURITY STRATEGIST AT SPLUNK
Interested in practicing your hunting skills? If so, this is the workshop for you. Using a real-worldish dataset, this workshop will teach you how to hunt the "fictional" APT group Violent Memmes. We discuss the Diamond model, building hypotheses, LM Kill Chain, and MITRE ATT&CK and how these concepts can frame your hunting. Using Splunk, we will hunt for APT activity riddling a small startup's environment. During the event, we will be presented with a "notable event" and pull on that string to conduct our own hunts based on indicators that we uncover or are identified. Depending on the hunt, we will uncover persistence, exfiltration, c2 and other adversary tactics. We may even find some PowerShell scripts. We will regroup and review the specific hunt conducted and discuss the timeline of events, a narrative that could be shared with others on your team, the artifacts that were uncovered to better identify potential future hunts, ATT&CK techniques referenced as well as what could be operationalized. At the end, we will highlight some additional datasets and content that you can take with you and try newly learned techniques yourself.
John Stoner (Twitter: @stonerpsu) is a Principal Security Strategist at Splunk where he enjoys writing, problem solving and building stuff, including APT Scenarios. When not doing cyber things, you can find him watching his boys play hockey, reading or binge-watching TV series that everyone else has already seen.
12:00-14:00
SECURITY INVESTIGATIONS WITH SPLUNK
ROBERT WAGNER, SPLUNK AND CO-FOUNDER OF HAK4KIDZ
Investigating with Splunk is a hands-on workshop designed to familiarize participants with how to investigate incidents using Splunk and open source. This workshop provides users a way to gain experience searching in Splunk to answer specific questions related to an investigation. These questions are similar to what would be asked in their own organizations. The workshop leverages the popular Boss of the SOC (BOTS) dataset in a question-and-answer format. Users will leave with a better understanding of how Splunk can be used to investigate in their enterprise. The class includes access to download the free "Investigating with Splunk" app that can be used to review the exercises after the class.
Robert Wagner (Twitter: @mr_minion) is a security professional with 15+ years of InfoSec experience. He is a co-founder of the "Hak4Kidz" charity, a co-organizer of BurbSec and BurbSecCon in Chicago, and is on the Board of Directors of the ISSA Chicago Chapter.
SUNDAY, AUGUST 8TH
09:00-11:00
INTRUSION ANALYSIS AND THREAT HUNTING WITH SURICATA
JOSH STROSCHEIN, DIRECTOR OF IT TRAINING AT OPEN INFORMATION SECURITY FOUNDATION (OISF)
PETER MANEV, CSO OF STAMUS NETWORKS
In today's threat landscape, sophisticated adversaries have routinely demonstrated the ability to compromise enterprise networks and remain hidden for extended periods of time. In Intrusion Analysis and Threat Hunting with open-source Tools, you will learn how to dig deep into network traffic to identify key evidence that a compromise has occurred, learn how to deal with new forms of attack, and develop the skills necessary to proactively search for evidence of new breaches. We will explore key phases of adversary tactics and techniques - from delivery mechanisms to post-infection traffic to get hands-on analysis experience. Open-source tools such as Suricata and Moloch will be utilized to generate data, perform exhaustive traffic analysis, and develop comprehensive threat hunting strategies. By the end of this workshop, you will have the knowledge and skills necessary to discover new threats in your network.
Josh Stroschein (Twitter: @jstrosch) is an experienced malware analyst and reverse engineer and has a passion for sharing his knowledge with others. He is the Director of Training for OISF, where he leads all training activity for the foundation and is also responsible for academic outreach and developing research initiatives. Josh is also an Associate Professor of Cyber Security at Dakota State University where he teaches malware analysis and reverse engineering, an author on Pluralsight, and a threat researcher for Bromium.
Peter Manev (Twitter: @pevma) is a co-founder of Stamus Networks, where he acts as CSO. He has been an active OISF member for a decade and has a 15 year-long record of activity in the field of IT security. An adamant admirer and explorer of innovative open-source security software, Peter is also the lead developer of SELKS.
12:00-14:00
HANDS-ON TCP DEEP DIVE WITH WIRESHARK
CHRIS GREER, NETWORK ANALYST AND WIRESHARK INSTRUCTOR AT PACKET PIONEER
A solid understanding of how TCP works is critical for anyone interested in cybersecurity. Almost all enumeration, incident response, and traffic forensics require the analyst to dig into and interpret TCP flows. In this video we will take a look at how TCP is used to investigate and establish connections, how data is transmitted and acknowledged, how connections are torn down, and what problem indicators should catch our eye in Wireshark. This video welcomes all cybersecurity and Wireshark experience levels.
Chris Greer is a network analyst and Wireshark instructor for Packet Pioneer, a Wireshark University partner. He has focused much of his career at the transport layer, specifically TCP, specializing in how this core protocol works to deliver applications, services, and attacks between systems. Chris is a regular speaker at Sharkfest - the Wireshark Developer and User Conference, as well as an author for Pluralsight.