Description
Join us for a breakfast and an engaging conversation with Lorna Stern, Vice President of The College of Global Studies at Arcadia University, as she shares her insights about the current state of global education among US colleges--potential challenges and opportunities. Ms. Stern will also share her personal journey through higher education. Bring your business cards and join us for this great professional development and networking opportunity!

A short tour of historic Grey Towers Castle will be offered at the end of the event for those interested.


---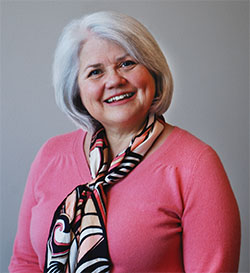 Lorna Stern: Biography
Lorna Stern was appointed Vice President of Arcadia University and Executive Director of The College of Global Studies at Arcadia University in October 2013. She is a leading figure in international education, with more than 22 years' experience supporting Arcadia University in its vision for innovation in global education. Lorna leads The College as it serves a diverse group of students, offering global learning opportunities that stimulate and challenge their world views, broaden their notions of where they may work and contribute, and provide a context where learners can assume greater responsibility for their lives and choices.
As Vice President, Lorna travels widely, managing relationships with institutional partners both in the U.S. and around the world. She oversees all aspects of the work of The College, such as its strategic direction, vision, mission and operations, and works collaboratively with Arcadia faculty, staff and partner institutions. Furthering Arcadia's mission of global understanding, Lorna has served on several national boards in the field, has delivered countless presentations throughout the world of international education, and is one of the most well-known experts in the field today.
At different phases of her tenure at The College of Global Studies at Arcadia, she has served as Deputy Director, Special Advisor, Director of Student Services and Director of Marketing and Communications, Director of Institutional Relations, Director of Strategic Development and Associate Vice President.
Lorna earned her BA in international relations with an emphasis on African affairs at Wells College. She was a Rotary Scholar and studied at the University of Cape Town, South Africa, where she concentrated on comparative African government and law. She directed Cornell University's International Living Center, a residential housing complex for international students, where she developed programs and events that brought undergraduate and graduate international and home-campus communities together. Her Master's in Law and Diplomacy, with a focus on international law and the Middle East, is from the Fletcher School of Law and Diplomacy at Tufts University.
Lorna serves on the board of Overseas Council and as an Advisor to Language Corps, an overseas training program for ESL teachers. She is a member of NAFSA: The Association of International Educators; AIEA: The Association of International Education Administrators; and served most recently on the Forum for Education Abroad Council where she was a member of the Forum Council's Strategic Planning Committee. Lorna is Secretary to the Society of the Sons of St. George, a philanthropic organization that works to serve British citizens abroad and provides opportunities for students to study at a wide range of programs in England.