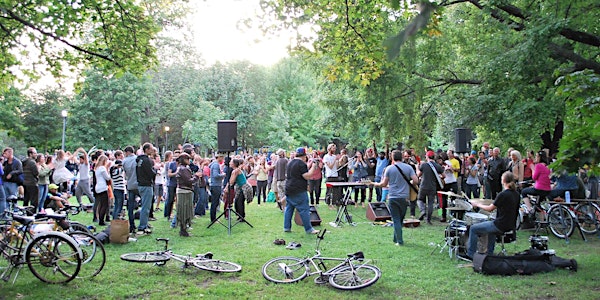 P4K Pathfinding: Cycle Toronto Rides the Pan Am Path for the Bicycle Music Festival
When and where
Location
Evergreen Brick Works 550 Bayview Ave Toronto, ON M4W 3X8 Canada
Description
Join us on a 10 km guided bike ride along the Pan Am Path for the 7th Annual Bicycle Music Festival! We'll watch the first performance at Evergreen Brick Works and depart on the ride at 12:00 pm. We'll then ride east with pedal powered musical accompaniment to Prairie Drive Park for more performances and activities, including a headlining performance from Jason Collett! A return trip to the Brick Works is scheduled from Prairie Drive Park at 5:30 pm. RSVP to attend!
RSVP to attend!
P4K Pathfinding walks, talks and rides on the Path is a new program by Friends of the Pan Am Path in collaboration with Playing for Keeps, Cycle Toronto and Jane's Walk that aims to connect young and established leaders to explore Toronto's trails and ravines. Toronto Foundation is the presenting partner of P4K Pathfinding.


FAQs
Do I need tickets?
This event is free but if you are planning on joining us for the ride, please RSVP to save you from waiting in line at the festival. We will depart at 12:00 pm sharp and you must sign a waiver to participate.


How do I get to Evergreen Brick Works?

PLEASE NOTE THE LOWER DON TRAIL IS CURRENTLY CLOSED FOR CONSTRUCTION.

Here are some alternative routes:
Can I rent a bike?
Totally. You can rent a bike from Sweet Petes. You can pick it up and drop it off at the Brickworks. Perfect!


Who's putting it on?
The Tune Your Ride Collective has organized the annual Toronto Bicycle Music Festival since 2010. Since 2014, it has been presented in partnership with Cycle Toronto.


What should I bring?
- a bike (our venues are accessible by transit, so you can take part even if you're not on two wheels)
- a picnic blanket
- a picnic
- warm clothes (we'll be wrapping up before sunset, but it may get chilly later on in the day)
- money (there'll be food! and nice t-shirts that you can buy to support the festival)