Owning Your Worth Professional Development Workshop

Monday, October 15, 2018 from 6:00 PM to 8:00 PM (CDT)
Event Details
Owning Your Worth Professional Development Workshop
October 15, 2018
6:00 P.M. - 8:00 P.M.
No matter where we are in our lives and how successful we may be, all of us women could do with a self-confidence boost every once in a while.
 We invite you to join this interactive panel discussion, with two passionate and courageous women, who will share their practical tips and insights on:
How they reached their level of success.

Advice on navigating the workplace like a boss!

What self-confidence and 'owning it' really means to them.
This is also a great opportunity for you to network with other like-minded professionals, so don't miss this opportunity to make those business cards rain!
 More information on our guest speakers Bianca Cotton and Eugenia Cheng: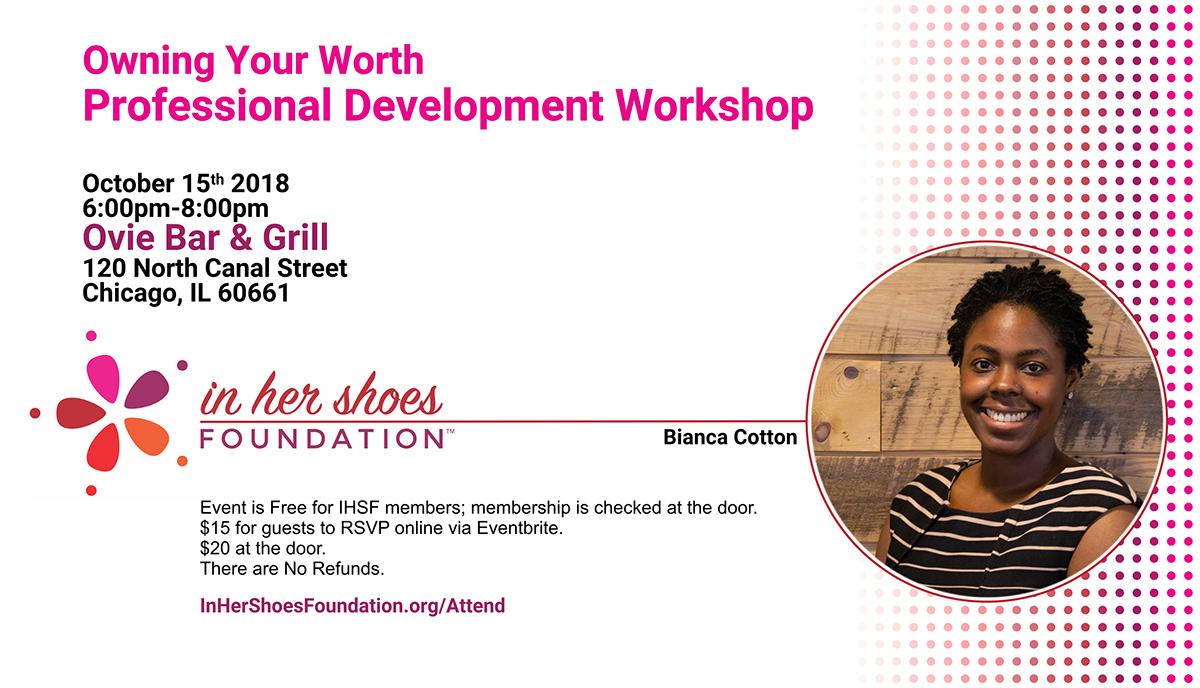 Bianca Cotton is a passionate and daring professional seeking to help others develop as leaders. She has a desire to see people discover their purpose and thrive in it! She has a myriad of experiences in youth and program development and fundraising. Her leadership style consists of creativity, accountability and the spirit of collaboration, and because of her zest for people, she developed and graduated with her own Masters degree at DePaul University where she focused on Management and Leadership Consulting in the Nonprofit and Corporate Sectors. Alongside her desire to see leaders developed, she has authored two books in one year.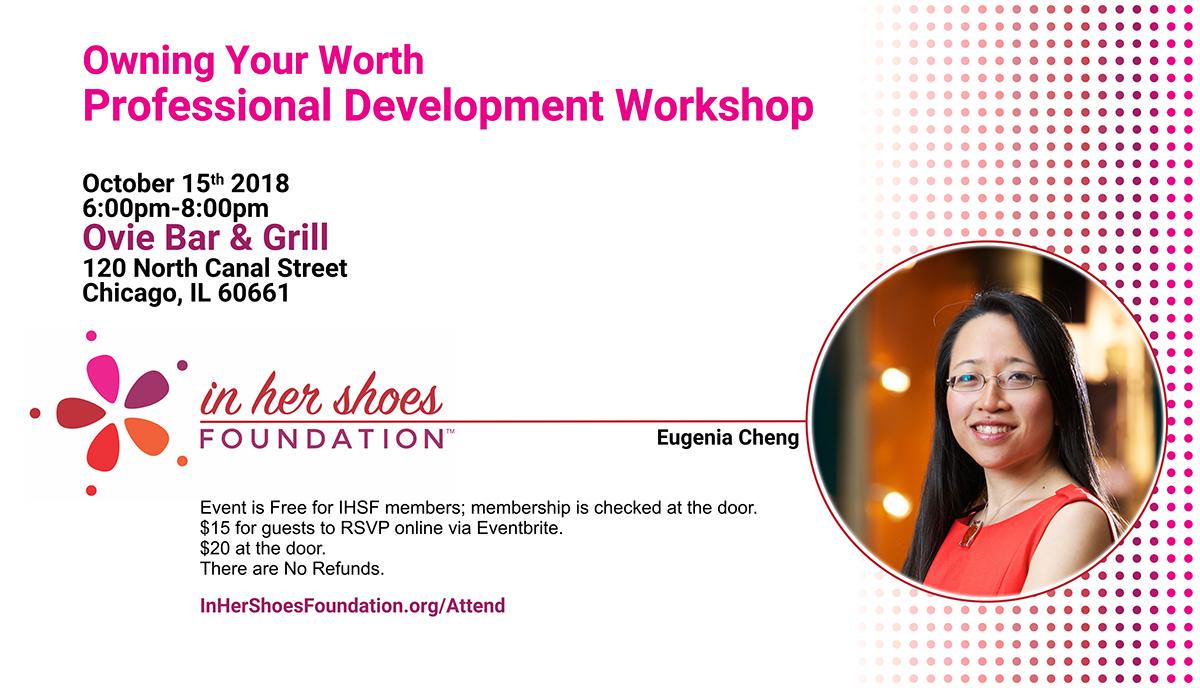 Eugenia Cheng is a mathematician, educator, public speaker, author, columnist, concert pianist, and artist. She is a Scientist in Residence at the School of the Art Institute of Chicago and Honorary Fellow of the University of Sheffield, where she was previously tenured. Her PhD is from the University of Cambridge, and she also taught at the Universities of Cambridge, Chicago, Nice and Sheffield before forging her own unique portfolio career. She is in high demand as a public speaker around the world, speaking on math popularization, and issues facing women in STEM and beyond.
Agenda Details
5:45 pm Registration
6:00 pm: Welcome Note / About IHSF
6:15 pm: Bianca Cotton
7:00 pm: Eugenia Cheng
7:45 pm: Complete Evaluations
8:00 pm: Event Done. Thank you Messages.
 ** Networking opportunity availability After event at Bar **
This program is made possible in part by a grant from Illinois Humanities, the National Endowment for the Humanities, and the Illinois General Assembly.
 Event is Free for IHSF members; membership is checked at the door.
$15 for guests to RSVP online via Eventbrite. 
$20 at the door. 
There are No Refunds.
When & Where

Ovie Bar & Grill
120 North Canal Street
Chicago, IL 60661


Monday, October 15, 2018 from 6:00 PM to 8:00 PM (CDT)
Add to my calendar
Organizer
In Her Shoes Foundation (IHSF) is a 501(c)3 organization that is dedicated to making a positive impact on society by empowering women and girls.
OUR VISION is to empower and inspire every woman and girl to be her personal best.
OUR MISSION is to embrace the potential of all women and girls by providing: • Positive Influences • Learning Opportunities • Community Partnerships • Leadership Development
OUR CORE VALUES form the foundation of how we conduct ourselves as an organization. These are also the qualities we value and encourage in our members and volunteers. We are: • Accountable • Empathetic • Intentional • Authentic • Inclusive
A NOTE FROM OUR FOUNDER I'm so proud to be the founder of this organization that is made up of creative, smart, strong, confident women and men. And, I'm grateful to all of the committee volunteers. In Her Shoes Foundation has over 60 committee volunteers who run this organization on a daily basis, in addition to working their full-time jobs and fulfilling their everyday obligations as parents, spouses, siblings, daughters - or sons and friends. When I founded this foundation in 2008 we originally called it The Positive Girls Club. It was envisioned as an organization that would support women of all ages who were determined to make positive changes in their lives. I started hosting monthly professional development workshops to inspire, connect, educate, and support the women in our community. Simultaneously, I completed my master's degree in community counseling and began working full time in the field of mental health. I worked with people of all ages and all backgrounds. I was able to learn so much about life struggles and the challenges people faced.
Nevertheless, there is no greater calling than to teach young people. It's easier to teach people at a younger age as they are more adaptable to change rather adults who are more comfortable in their ways and sometimes refuse to get out of their comfort. In my 10+ years of experience as a crisis worker on the southside of Chicago, I've spent my professional career engaging in the vital work of giving hope to others. Hope is the most important thing in the world. It allows people to still see the light when they are so shackled in darkness. However, we miss the bigger picture when we focus solely on helping people when crisis has already struck. We must also dedicate ourselves to the work of promoting healthy lifestyles that can often preempt avoidable yet devastating moments of crisis. All too often, I was sent out to respond to a call from the police, a hospital, homeless shelter or a jail where there was a young woman in crisis. Many times these girls were facing stressful situations related to abuse, neglect, bullying, having an absent parent, or having a relative in jail or dealing with substance abuse. These girls were often suicidal – or worse, homicidal. Sometimes, engaging is self -harm to cope with their emotions. Sadly, many of these situations ended with the young woman being institutionalized. It was heartbreaking, and it was happening again and again.
Other times, I would be called into schools or homes to see young girls and teens in emotional and sometimes physical crisis. As a medical clinician and clinical crisis worker responsible for the safety and wellbeing of the individuals in these situations it would require me to hospitalize them in inpatient behavioral settings. I then followed them through the system of admissions and institutionalization to monitor and report on their care and condition. Through experience I witnessed many young teen women struggle with the lack of knowledge and guidance related to conflict management techniques and other healthy lifestyle skills and resources that they have no exposure to therefore were unable to learn. I quickly realized that the common denominator for many of these recurring situations was that the girls were severely lacking in coping skills. I knew that more than anything, these girls needed to be given the tools to face life's challenges so that they wouldn't turn to these desperate measures. And, I realized that I was in a position to help them. My specific experience working with teenage girls in underserved, underprivileged, and unstable situations led me to create the Ready Set Girls Academy, a teen group mentorship program The IHSF RSG Academy program seeks to reach these vulnerable young women before crisis strikes and we seek to equip them with the tools they can use to help avoid and/or manage traumatic situations. Through our knowledge based curriculum, RSG students will gain knowledge and exposure to life skills and problem solving techniques not taught in the traditional public, private or charter school environments. I hope that the benefits of this program will inspire you enough to join us so that you too can become the BEST version of yourself.
Today, over 10 years later, we're now known as In Her Shoes Foundation, and our flagship program, Ready Set Girls Academy, is exceeding our goals year over year for reaching young women preventatively. This curriculum-based program is run by our volunteer group mentors and is being delivered within public and private high schools. In addition we partnered with multiple community organization who support our initiative. Finally, due to the success of RSGA, we created a curriculum for girls in 6th, 7th and 8th grade since we know that the bullying, self-esteem and body image concerns start earlier then high school. We are now invited to deliver that version of the RSGA to a few middle schools. Today, we are achieving our vision of empowering and inspiring every woman and girl to be her personal best. We currently have three programs and hope to expand in the next couple of years. Please learn more about the Professional Development Program and the Giving Back Program via www.inhershoesfoundation.org
Thank you for attending and supporting our events.
Kasia Wereszczynska, MA, LCPC, RYT.