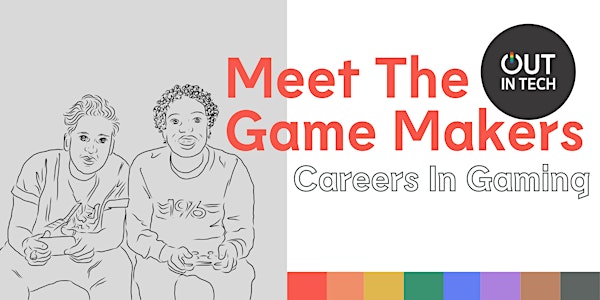 Out In Tech U | Meet The Game Makers
Out In Tech U explores careers and opportunities in the gaming industry!
Date and time
Thursday, April 21, 2022 · 5 - 6pm PDT
About this event
Welcome to the Out in Tech U | Meet The Game Makers Event!
Games have always been queer, and so have the folx that make them! Join Out in Tech U as we hear from some of the passionate developers that work in the diverse and expanding world of games. This event is designed to be informative for mentees who may want to break into the industry as well as the greater Out in Tech community that just wants to learn more. We'll be joined by panelists Zach Deocadiz (they/he), a VR UI/UX Designer of immersive fitness games, Chris Schroyer (he/him), Senior Game Designer at Visual Concepts, Allister Lee (he/him, Senior Experience Designer at EA Interactive, and Harry Papadimitriou, Data Science Manager at Riot Games.
We use Zoom to meet! Please download the Zoom app on your desktop and/or mobile phone prior to the meeting.
Zoom details will be emailed on the day of the event to the email address used to register for the event.
Note: Out in Tech's Code of Conduct applies to all our spaces, online and IRL.
Speakers
Zach Deocadiz (They/He)
VR UI/UX Designer at Vicarious Surgical Inc.
LinkedIn: https://www.linkedin.com/in/zkdeocadiz
Website: https://deocadiz.com
Zach is an immersive designer with a focus on VR interactions. He currently works at FitXR working on the future of immersive fitness games, and previously worked at Vicarious Surgical, Supernatural, and Wonderscope. He's a 2020-2021 IGDAF Next Gen Leader and part of Oculus Launch Pad 2021. He's passionate about compassionate games that help improve people's lives.
Geneva Heyward (They/Them)
Narrative Technical Lead at Glow Up Games and Game Developer at NYU Game Center
LinkedIn: https://www.linkedin.com/in/geneva-heyward-91023b141/
Website: https://gensuta.github.io/
Geneva Heyward is a game developer currently finishing up their Bachelor's at NYU's Game Center. They're very passionate about putting more inclusive and accessible games into the world. On top of school, they're also a narrative technical lead at Glow Up Games helping bring Insecure: The Come Up Game to life.
Chris Schroyer (He/Him)
Senior Game Designer (Story) at Visual Concepts
LinkedIn: https://www.linkedin.com/in/chris-schroyer/
Website: https://game-boi.com
Schroyer entered the games industry as an artist and animator before moving into design and production. He is best known for his narrative-focused work at Telltale Games where he produced and designed titles such as The Walking Dead, The Wolf Among Us, and Minecraft: Story Mode. Most recently, he was credited as a Senior Designer on WWE2K22.
Alister Lee (He/Him)
Experience Designer at Electronic Arts
LinkedIn: https://www.linkedin.com/in/alisterlee/
Website: https://www.alisterlee.com/
Alister is an Experience Designer at Electronic Arts. He has been in the gaming industry for about 10 years. He has worked across multiple platforms ranging from mobile, PC, and console with experience in an array of genres including casino games, war, match 3, and currently life simulation for Sims 4. Outside of design, Alister is also a dancer on a competitive Bay Area hip hop team and cares for his Instagram famous dog.
Harry Papadimitriou (He/Him)
Data Science Manager at Riot Games
LinkedIn: linkedin.com/in/charalampospapadimitriou
Website: cpapadim.github.io/
Harry is a Data Science Manager at Riot Games. He and his team build data products that power in-game and around-game features for League Studio games.
Moderator
Jason Serafica (They/Them)
Software Engineering Instructor at General Assembly and OIT U Event Team
Jason is a full-stack web developer, software engineering mentor, and community organizer based in San Francisco. They are on the events leadership team for Out In Tech U and have previously organized several events for OIT U including: No Experience? No Problem, An Evening With Machine Learning and Data Science Professionals. They love volunteering with OIT U and making it an empowering experience for everyone.
About the organizer
Out in Tech unites the LGBTQ+ tech community. We do this by creating opportunities for our 40,000 members to advance their careers, grow their networks, and leverage tech for social change.