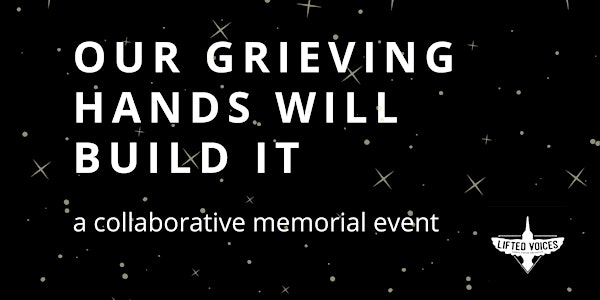 Our Grieving Hands Will Build It: A Collaborative Memorial Event
Together, we will experience poetry, music and share words and tributes that will help form lasting artistic commemorations of our fallen.
About this event
Join us for a virtual, collaborative memorial event for those we have lost during the pandemic. We will share poetry from Benji Hart, Atena Danner and Kelly Hayes, and hear words and music mixed by DJ Sadie Woods, including contributions from Kahari Blackburn and Maira Khwaja of the Invisible Institute, Jose Luis Benavides and Alkebuluan Merriweather of Illinois Deaths in Custody Project, testimony from our incarcerated comrade Erika A. Ray and her daughter Jada, and orchestral performance by members of the Chicago Sinfonietta's Project Inclusion Fellows and Alumni. Visual artists, including Citlali Perez and Emily Simons, will also be with us, and will create images based on our shared experience, including tributes and insights shared in the chat. Images created will be shared online and some will be featured in an in-person memorial exhibition at a later time. Words shared by participants in the chat will play an important role in the memorial imagery generated by this event.
At a time when many of us are being told to "move on," or mocked for practicing "hygiene theater," even as new variants of COVID-19 advance globally, we want to hold space to honor those we have lost and to imagine the world we will build in their names.
Our friend Sangeetha Ravichandran will also update us on how we can support people struggling with the pandemic in India. This event will also uplift the Mutual Aid Mourning and Healing Project, which offers free counseling to anyone grieving during the pandemic.
This event will include live captioning.
Organized by the Lifted Voices collective.