OU Startup Programs is proud to announce our inaugural Demo Day showcase on November 4, 2021!
About this event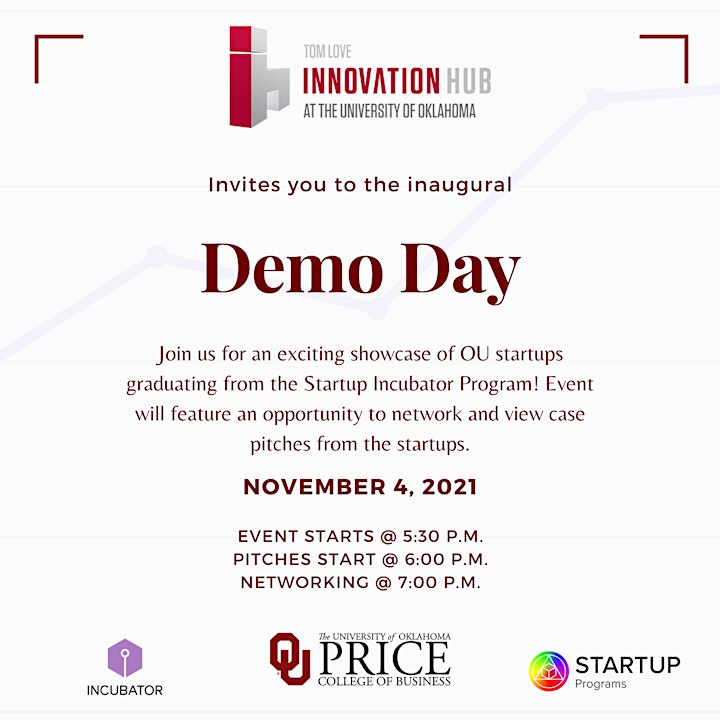 The Tom Love Innovation Hub invites you to join the inaugural OU Startup Demo Day on 11/4/2021 at the I-Hub to connect with the pioneering startups graduating from our Startup Incubator program offered free to the OU community and general public. These companies' founders, comprising University of Oklahoma students, alumni, faculty and staff are working tirelessly to secure funding, launch their products and scale their businesses.
About OU Startup Demo Day:  Oklahoma is primed for an entrepreneurial surge. The annual number of new businesses started in Oklahoma has been on the rise since the end of the "Great Recession". This growth in entrepreneurship is fueled in part by a burgeoning entrepreneurial ecosystem, including the services offered at OU's Tom Love Innovation Hub. Demo Day is an annual showcase of OU startups graduating from the Startup Incubator Program. The event will begin with an opportunity to network with novel peers, hear from the startup programs as they pitch and scale their business, and conclude with a live Q&A of visiting industry professionals.  
About the Tom Love Innovation Hub: Founded in 2016, the Tom Love Innovation Hub ("I-Hub") encourages innovation and entrepreneurship while launching, supporting, and growing OU and Oklahoma-based start-ups. In addition to serving OU students as a facility of experiential learning of 21st century workforce skills, the I-Hub drives economic impact for the state—at least $250 million since 2016. 
The following are just a few companies graduating from the inaugural cohort of OU Startup Incubator at the Tom Love Innovation Hub:
- A mobile identification service providing age authentication and consumption monitoring for the entertainment industry.
- A biotech company dedicated to developing new materials for craniofacial bone regeneration.
- A STEM education service focused on reaching underrepresented youth through comprehensive curriculum and custom kits.
- And a novel materials and additive manufacturing startup that has already received nearly $1 million in contracts with the Department of Defense and NASA.
Come see these companies and more while you explore OU's burgeoning entrepreneurial ecosystem at OU Startup Demo Day!
Tom Love Innovation Hub
November 4, 2021
5:30 PM - 7:30 PM