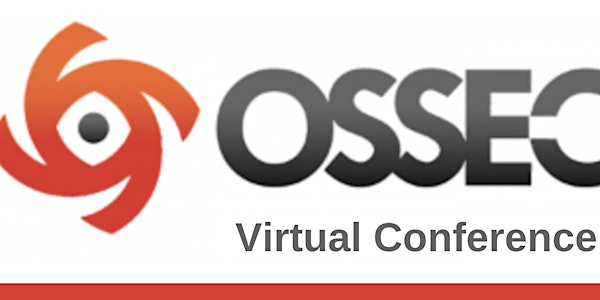 OSSEC Con2023 - Conference Sessions
The virtual conference is open to the OSSEC community to share technical insights, lessons learned, and best practices for OSSEC.
About this event
1 day 8 hours

Mobile eTicket
OSSEC Con2023
Cost: Free
This event registration is for the free Conference Sessions on Feb 7th and 8th. After registering for Conference Sessions, you'll have the opporunity to register for the hands-on Training Session for Feb 9th & Feb 10th.
Get open source security expertise and software support at the OSSEC Conference 2023, Tuesday, Feb. 7 through Friday, Feb. 10. The show will focus on a variety of key organizational security topics, including file integrity monitoring (FIM) and getting the most out of OSSEC and ModSecurity. The four-day virtual show (two full days of sessions; two half-days of 'hands-on' training with your own environment) will highlight:
* Leveraging FIM (a record of what changed) for both advanced security and compliance.
* Cross-platform security and support for open source and commercial software, including legacy operating systems such as AIX, OpenVMS, HP-UX, Solaris, as well as end of life (EOL) Windows versions.
* The importance of web application security, and the advantages of the open source ModSecurity WAF toward immediately combating todays web-based attacks.
* Instruction on Open Source Security (OSSEC), and orchestrating security across hybrid legacy and modernized environments.
* Some of the invasive techniques used by attacks and how these could have been detected and stopped using just open source tools.
* And much more.
This event registration is for the Tuesday & Wednesday Conference Sessions. After registering for Conference Sessions, you'll have the opportunity to register for Training Session. Training Session is described below:
---------------------------------------------------------------------------
OSSEC Con2023 - Hands-on Training & Certification Session - Day 3 & 4
Thursday, Feb 9 & Friday, Feb 10 - 9:00am to 5:00pm
Cost: $100
Hands-on virtual environment training with OSSEC and Atomic OSSEC. With 15 hours of guidance in environments for OSSEC and Atomic OSSEC. Training sessions and certification will be Feb 9 & 10. At the end of training, there will be a test and practical exercise to complete OSSEC Engineer Certifcation.
Register for training through the event link below: