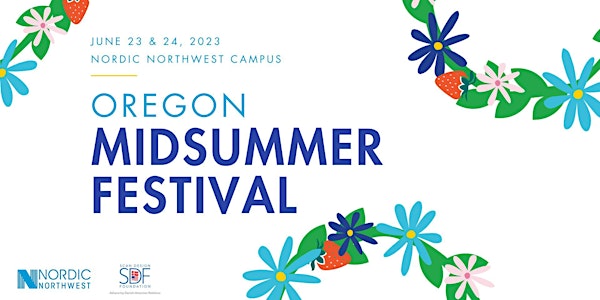 Oregon Midsummer Festival
Embrace the Magic of Midsummer: Twirl around the Midsummer pole, craft floral crowns, savor Nordic food, and revel in this 2 day festival!
Location
Nordic Northwest Campus 8800 SW Oleson Rd Portland, OR 97223
About this event
Immerse Yourself in a 2-Day Midsummer Extravaganza at the Nordic Northwest Campus in SW Portland! Tickets grant access to both Friday evening and Saturday festivities.
Friday, June 23rd: 5pm - 10pm
Saturday, June 24th: 10am - 5pm
At a new location: Nordic Northwest, 8800 SW Oleson Rd, Portland, OR 97223
Bask in the warmth of the midnight sun as we commemorate the end of the cold winter months with the Oregon Midsummer Festival - a delightful fusion of friendship, food, and drinks, transcending the boundaries of Scandinavian ancestry. This family-friendly celebration, steeped in centuries-old traditions, extends a warm welcome to all!
The Oregon Midsummer Festival is proud to host The League of Swedish Society's 96th annual raising of the Portland Midsummer pole, an Oregon Heritage Tradition.
Immerse in Captivating Live Performances
Revel in the eclectic mix of entertainment, featuring traditional dances and lively music that capture the spirit of Scandinavian culture across the Pacific Northwest. Friday evening sets the stage for music and dancing near a bonfire (weather permitting), while Saturday showcases the traditional Midsummer pole raising.
Tickets are valid for both days!
Friday Schedule
5:00 PM - Doors
6:00 PM - Dan Schlesinger
7:00 PM - Dance lesson
8:00 PM - Varelse
9:00 PM - Varelse
10:00 PM - End
Saturday Schedule
10:00 AM - Vasa Rosebuds dance group
11:00 AM - Tulehoidjad Estonian folk dancing
12:00 PM - Catarina New Martin
1:00 PM - Portland Nordic Chorus
2:00 PM - Midsummer Pole Ceremony, Dancing, Tug of War
3:00 PM - Hapsala folk dance music
4:00 PM - Jimmy Granstrom
5:00 PM - End
Savor Delectable Nordic Fare & Beverages
Satisfy your cravings with delectable Nordic cuisine and refreshing beverages from our beer & wine garden. Tempt your taste buds with offerings from Broder Söder, Easy to Please, Ingrid's Cafe, The League of Swedish Societies (Saturday), Harmoni Lodge (Saturday), and Finlandia (Friday)!
Explore sweets from Carina's Bakery, Jamie's Kafferep (Saturday), The Swedish School in Portland (Saturday), and Hygge Chocolates.
Experience Nordic beer on tap from Ridgewalker Brewing, savor exquisite mead from Oran Mor Artisan Mead and Wyrd Leatherworks and Meadery, aquavit from Rolling River Spirits, and relish drinks served by Nordic Northwest and Broder Söder.
Discover Treasures at Unique Nordic Booths
Stroll through the venue and discover an array of Nordic vendors from across the Pacific Northwest. Explore vintage treasures, artisan crafts, and Nordic gear, while also learning about non-profit organizations that promote Nordic programming in the region. With a plethora of unique items and gifts on offer, you're sure to find something special!
Vendors include:
Artistic Expressions
Purrfect 4U
Carrot Flower Creative
Fern and Fjord Vintage
Hygge Chocolates LLC
Swedish Dream
LadyFern Designs by Erica Martin
CJs Creative Memories
Naturally Fun Shop
Gnome Werks Toys
Skogsbarn
Celtica
Scandinavian Design Studio
Norskwear
Elentari
Shooting Star Design
Aita Workshop
Tokerud Designs
Oran Mor Artisan Mead, LLC
Jamie's Kafferep
New Sweden
Astoria & Junction City Midsummer
The Swedish School in Portland
Wyrd Leatherworks and Meadery
Rolling River Spirits
Ingrid's Scandinavian
The League of Swedish Societies
Finlandia
Carina's Bakery
Easy to Please Grilled Cheese LLC
Harmoni Lodge
Magical Mystical Fairy Hair
Craft Enchanting Floral Crowns
The fresh summer greenery of nature is said to contain magic. Embrace the enchantment of nature by crafting your own floral Midsummer crown, a centuries-old Scandinavian tradition believed to harness the magic of summer greenery and ensure good health. Create a stunning crown using vibrant flowers, verdant leaves, and delicate birch branches. Legend says that girls who pick seven flowers and put them under their pillow will dream of the person they will marry
Revel in the Time-Honored Midsummer Pole Raising
Presented by The League of Swedish Societies, join in the 96th annual raising of the Midsummer Pole, an Oregon Heritage Tradition. Engage in the jubilant dance around the Midsummer Pole when the sun reaches its zenith, heralding the arrival of the summer season. Adorned with blossoms and birch, the majstång stands as a symbol of the festivities. Don't miss the parade and gathering, the highlight of Saturday's celebration – let summer begin!
Delight in Whimsical Lawn Games & Crafts
Unleash your inner child on Saturday with fun-filled lawn games and crafts for all ages. Test your strength in a friendly tug-of-war, try your hand at the traditional game of Kubb (5-8pm Friday and 10am-5pm Saturday), or embark on a gnome-themed scavenger hunt. Enjoy arts and crafts, face painting, and more!
Encounter the Thrilling World of Vikings
Experience combat and history come alive with the Timberhaven Vikings. Travel back in time with historical and craft demonstrations of how Vikings lived. Marvel at the impressive 20-foot replica of a Viking ship featured in the Starlight Parade.
Experience the Charm of Fogelbo, a National Historic Treasure
Travel back in time as you explore Fogelbo, a log house and grounds adorned with walking trails and structures reminiscent of a charming Swedish village. Listed on the National Register of Historic Places in July 2020, Fogelbo was built by Henry Steiner and his son, with Steiner known as one of the chief carpenters behind Timberline Lodge. The festival will be held on the Fogelbo grounds, with entertainment on the log house's deck. Feel free to wander and discover the enchanting grounds and trails.
Join us in celebrating the festival that attracts audiences and vendors from across the Pacific Northwest. The Oregon Midsummer Festival is an important event for the entire Portland Community regardless of heritage. See the traditions of the region that make up 10% of the population of Oregon's ancestry. This all day event is one of the many ways Nordic Northwest, along with the Nordic organizations that make up our community, demonstrate and celebrate their Nordic heritage.
More information is available at oregonmidsummer.com
To volunteer for the festival please sign up at https://signup.com/go/fztpuxk
About the organizer
Nordic Northwest is the catalyst in the Northwest for preserving authentic traditions and culture while celebrating modern Nordic life, culture and business. Acting on that vision, NNW:
- Enriches the cultural fabric of the region through regular programs of Nordic visual, performing and culinary arts
- Promotes travel, trade and business between Nordic nations and the US
- Explores Nordic heritage and values
- Increases awareness of the current and historical contributions made by Nordic Americans to the region and the nation
- Supports Nordic language and literature classes at Portland State University
- Presents educational outreach programs for kids of all ages
Nordia House, NNW's Nordic cultural & community center, has seen a constant stream of visitors since opening in the summer of 2015. It is a beautifully designed and conceived building and an experience of modern Nordic craftsmanship. It is the venue for much of NNW's growing list of programs and cultural events, as well as a center for Nordic organizations throughout the Northwest