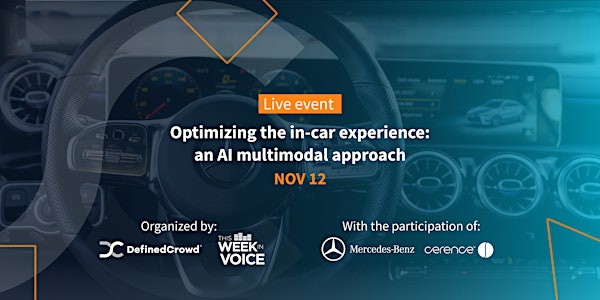 Optimizing The In-Car Experience: An AI Multi-Modal Approach
Optimizing The In-Car Experience: An AI Multimodal Approach
About this event
In this one hour webinar, hear how DefinedCrowd, Mercedes-Benz, and Cerence are approaching the task of optimizing the in-car AI experience. (See abstract below.)
Moderated by Bradley Metrock, CEO of Score Publishing, host of top tech podcast This Week In Voice, and author of the daily letter to the voice and AI communities, This Week In Voice VIP.
Registrants receive access to attend the live webinar, along with full audio and video files of the proceedings to enjoy on demand.
---------
Optimizing the in-car experience: an AI multimodal approach
As automotive industry becomes more and more competitive, it is critical for automakers to create new strategies that improve the customer experience. One of these strategies is adding new features to their vehicles that end-users not only enjoy but also that contribute to a greater in-car experience - adding both value, differentiation and customer loyalty.
As consumers become more dependent on new technologies that make their lives easier, they expect these technologies to traverse to all facets of their lives - home, work and in their car.
So, how can automakers keep up with these trends and improve the in-car experience?
AI is playing an important role on improving customer experience in the automotive industry by enabling a hands-off experience through multimodal applications. This new era of AI multimodal applications is becoming the new trend as autonomous or assisted driving is becoming the new norm.
What is the role of training data in this new era and how can automakers address the needs of a diverse consumer population?
These questions will be answered in this webinar, by Mercedes who will explore the role of AI in Automotive and the future of AI multimodal applications, along with Cerence's VP of Product, Christophe Couvreur, who will explain the latest AI innovations they have been working on for automotive.
DefinedCrowd will explain how AI training data is critical to these applications to optimize the user experience. High-quality datasets can be the key factor for a successful multimodal application.