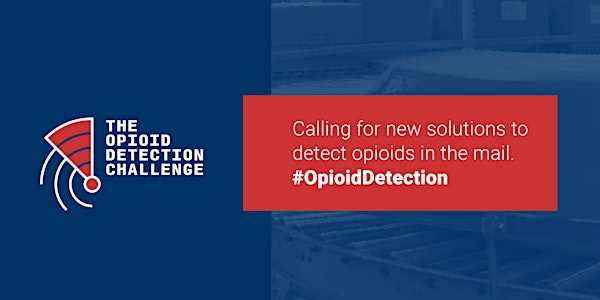 Opioid Detection Challenge Informational Webinar
Description
The United States government calls upon innovators to submit novel plans for rapid, nonintrusive detection solutions that will help find illicit opioids in international mail.
On March 11, 2019 at 1:30 PM ET, the webinar will give an in-depth overview of the Challenge, discuss what a good solution looks like, and cover the participation process in Stages 1 & 2. There will be a live Q&A session at the end to address any outstanding questions.
Subscribe to the newsletter for updates on the Challenge and to receive a recording of the webinar.

More about the Challenge:
The abuse of opioids such as fentanyl has created an unprecedented public health crisis across the United States. In 2017, approximately 50,000 Americans died from opioid overdoses. International mail — through both USPS and express consignment ­­— has been identified as a route for illicit opioids entering the United States, commonly transported in nearly pure, powdered form. Consequently, large-scale drug trafficking can occur via very small packages sent in the mail.
As part of the comprehensive government effort to address the opioid crisis, the Department of Homeland Security (DHS) Science and Technology Directorate (S&T) and U.S. Customs and Border Protection (CBP), along with the United States Postal Inspection Service (USPIS) and the Office of National Drug Control Policy (ONDCP), are seeking new tools and technologies to detect opioids in parcels moving through international service centers and express consignment facilities.
In Stage 1, the Challenge seeks well-developed plans. In Stage 2, the Challenge will support solvers as they develop functional prototypes and prepare for government testing. Following the conclusion of the Challenge, the government expects to work with selected solvers to develop these prototypes into the next generation of opioid interdiction tools. The government plans to deploy these tools in international mail, express consignment facilities, and other environments across the country that call for rapid, accurate detection of opioids and related substances.
The Challenge will award up to $1.55 million in cash prizes and the government may provide additional incentives and opportunities.
To learn more about entering the Challenge, please visit www.opioiddetectionchallenge.com.
Stage 1 submissions are due by April 24, 2019.