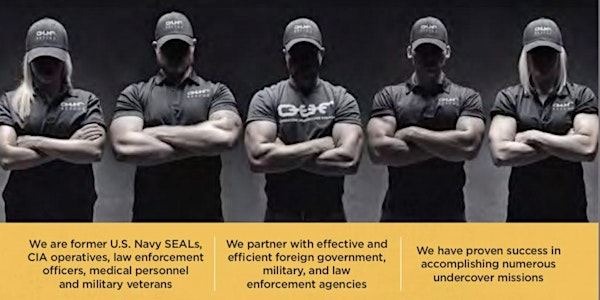 Operation Underground Railroad with CIA & State Dept Operative Matt Osborne
Watch, Listen and Learn about O.U.R. and their amazing work rescuing and rehabilitating sex trafficked women and children from their captors
When and where
Location
Studio Movie Grill 13933 North Central Expressway Dallas, TX 75243
Refund Policy
Contact the organizer to request a refund.
About this event
Sunday, March 24th Event Schedule:
6:00pm - Guest Arrival and Check-in Begins (Main Lobby)
6:30pm - In-seat Food/Beverage Service Begins
7:00pm - Opening Statements and Speaker Introduction
7:10pm - Matt Osborne Begins His Presentation
8:25pm - Closing Remarks, Shout-Outs & Thank You's
8:30pm - Exclusive VIP Meet n Greet and Photo Opportunity
Join Dallas Jewish Conservatives and the greater Dallas Community as we watch, learn & listen to former CIA & State Department Operative Matt Osborne as he details Operation Underground Railroad's incredible work rescuing and rehabilitating thousands of women & children from sex trafficking and arresting their captors through dangerous & intense sting operations!
You'll also hear Matt speak about his life as an undercover operative at the highest levels of government, where he specialized in the fight against terrorism, illegal narcotics, organized crime, and human trafficking! A Q&A session with Matt will follow! Additionally, you'll learn about what you can do to help O.U.R. and how you can make a difference in the lives of countless woman and children across our Country and the World!
In just 4 short years, O.U.R. has rescued over 1,765 victims & assisted in the arrests of more than 888 traffickers! Still, sex trafficking remains a very serious humanitarian issue both in the US and around the World!
Sadly, it is estimated there are still approximately 40.3 million modern day slaves today. 1 in 4 of those slavery victims are children, and 71% of those victims are women & girls.
Additionally, 800k people are trafficked across international borders every year, and more than 50% of them are children. Today, more than 2,000,000 children are being sexually exploited in the multi-billion dollar commercial sex industry. Close to 17,000 people are trafficked into the US each year, and between 2010-2018, US Customs/Border Patrol averaged over 30,000 apprehensions of unaccompanied minors along our southern border!
Donations are encouraged and much appreciated! All proceeds will go to O.U.R. to help victims of human trafficking across our country and around the World!
REGISTER TODAY FOR THIS IMPORTANT COMMUNITY EVENT!
About Operation Underground Railroad:
O.U.R. has gathered the world's experts in extraction operations and anti-child trafficking efforts to bring an end to child slavery. Their A-Team consists of former CIA, Navy SEALs, and Special Ops operatives that lead coordinated identification & extraction efforts that take place throughout the World! Once victims are rescued, a comprehensive process involving justice for the perpetrators and recovery and rehabilitation for the survivors begins.