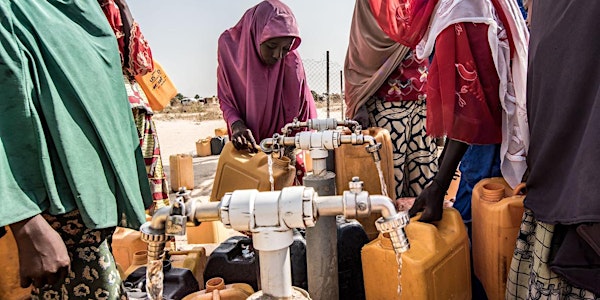 Operation and Maintenance of WASH Infrastructure Webinar Series
Join PRO-WASH for a new webinar series focused on operation and maintenance of WASH infrastructure
About this event
This four-part series will share lessons learned from USAID partners focusing on innovative advances in approaches to operation and maintenance (O&M) of water, sanitation and hygiene (WASH) infrastructure. Speakers will discuss their program's approaches to engineering, environmental, financial, and political-economy challenges, and aim to draw out important lessons that are more widely applicable. During this webinar series, attendees will learn more about:
Recent initiatives, advances, and thinking around community-managed WASH infrastructure and O&M
Innovative, locally-developed and sustainable solutions and new O&M resources such as guidelines and training courses
The ways in which O&M links with interventions focused on resilience, food security and integrated water resource management (IWRM)
Designing O&M systems that consider its impacts on women and youth
This webinar series will be offered in both French and English.
Webinar #2
9:00 - 10:00 AM EST | Tuesday, March 16, 2021
Groundwater Management Institute, Southern African Development Community (SADC)
Webinar #3
9:00 - 10:00 AM EST | Tuesday, April 6, 2021
Chris Hani District Municipality, South Africa
Webinar #4
9:00 - 10:00 AM EST | Tuesday, April 20, 2021
Nobo Jatra Resilience Food Security Activity, Bangladesh
_________________________________________________________________________________
Cette série de quatre événements partagera les enseignements des partenaires de USAID qui se concentrent sur les avancées innovantes dans l'approche des Opérations et Maintenance (Operation & Maintenance : O&M) dans les infrastructures WASH : Eau, Assainissement et Hygiène. Les intervenants discuteront des approches menées dans leur programme quant aux difficultés liées à l'ingénierie, à l'environnement, et aux éléments financiers, économiques et politiques. L'objectif sera d'en retirer les leçons importantes, applicables plus largement.
Pendant cette série de webinaires, les participants en apprendront plus sur :
Les initiatives récentes, les avancées, et les réflexions autour des infrastructures WASH et O&M gérées par les communautés
Les solutions innovantes, développées localement et durablement, ainsi que les nouvelles ressources O&M telles que les guides et les cours de formation
Les moyens mis en place pour faire le lien entre O&M et les interventions qui se concentrent sur la résilience, la sécurité alimentaire et la gestion intégrée des ressources en eau (Integrated Water Resource Management : IWRM)
Le design de systèmes O&M qui prennent en compte l'impact sur les femmes et la jeunesse
Le webinaire sera en anglais avec une traduction simultanée en français.
Webinaire # 2
16 mars 2020 de 9h00 à 10h00 (ET)
Groundwater Management Institute, Southern African Development Community (SADC)
Webinaire # 3
6 avril 2020 de 9h00 à 10h00 (ET)
Chris Hani District Municipality, South Africa
Webinaire # 4
20 avril 2020 de 9h00 à 10h00 (ET)
Nobo Jatra Resilience Food Security Activity, Bangladesh