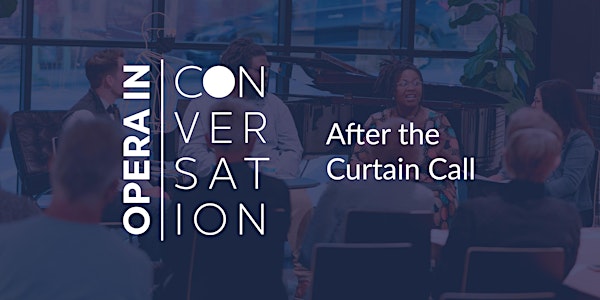 Opera in Conversation | After the Curtain Call
Join Omaha artists and creatives reflecting on The Marriage of Figaro and making space for audience response to the opera.
Date and time
Tuesday, April 4 · 6 - 7pm CDT
Location
Benson Theatre 6054 Maple Street Omaha, NE 68104
About this event
Opera in Conversation is a series of three sessions surrounding Opera Omaha mainstage productions that features creatives, scholars, and other public figures.
These FREE events exist to foster cross-disciplinary exploration of art, big questions, and community connections.
Join Opera Omaha on Tuesday, April 4 at the Benson Theatre for our final Marriage of Figaro Opera in Conversation.
This Opera in Conversation, After the Curtain Call, will open an artist response conversation with Omaha artists and creatives reflecting on their experience of the production and connections to their own artistic practice, while encouraging the audience to share their reflections from the opera.
Speakers include:
Raydell Cordell III, Actor and Educator
Rowena Bennett, Visual Artists
Moderated By Sarah Lynn Brown, Opera Omaha Engagement Dramaturg
Admission is FREE, advance registration is requested.
Raydell Cordell III is a local actor and has been in numerous productions throughout the community. Some of his favorite and recent shows would include: Fences at Omaha Community Playhouse, The Legend of Sleepy Hollow, A Very Die Hard Christmas, Red Summer, and The Christians (TAG Award Best Supporting Actor) at Blue Barn Theatre, The Diary of Anne Frank at the Rose Theater, A Midsummer Night's Dream with Nebraska Shakespeare Fall Education Tour, Stupid F'in Bird and To Kill a Mockingbird (OEA Award for Best Supporting Actor in both productions) at the Omaha Community Playhouse. In addition, Raydell had the privilege to travel to the United Kingdom and participate in workshops with the Royal Shakespeare Company. Raydell has a bachelor's in Theatre from the University of Nebraska at Omaha and a master's in Elementary Education from the College of Saint Mary. Raydell works as an elementary art teacher at Loveland and Westgate Elementary in the Westside Community Schools district. He would like to thank everyone who has supported him: family, friends, and the theatre community here in Omaha!
Rowena B. Bennett (she/they) is a Nebraska-based artist, advocate, author, and concept designer who has been creating art professionally for over 15 years. Rowena was born in Guadeloupe and raised on the island of Dominica in the West Indies but calls Nebraska home after living here for over 20 years. She specializes in digital art illustration and mixed media acrylic art. She is well known for her bright and vibrant exhibitions and the fun names she comes up with for her art collections like her latest collection - Cosmic Creations that features their original Thought Monsterz™ subjects.
Rowena has always loved art, even as a young girl she loved to draw and would doodle and sketch at every free moment which fostered an appreciation for all artistic expressions and nurtured the power of imagination and creativity. With the help and encouragement of her close friends, family and supporters her artistic skills have blossomed over the years and she continues on her artistic journey which she refers to as "dancing to the rhythm of the universe". Her fun and energetic personality is reflected in her artwork which is sure to bring a smile to your face.
Rowena is also the owner of Queerarchy™, a small business focused on inspiring positivity, self-love and self-care that advocates for and affirms gender expression and gender identity, with the goal of changing the narrative around the use of gender pronouns.
Rowena's vision is to create a space to live a happy life, being their most authentic self and doing what she loves while inspiring others to do the same. You can connect with Rowena on Instagram, TikTok, LinkedIn, and Twitter - @rowenavision @queerarchy www.rowenavision.com www.queerarchy.com
Sarah Lynn Brown (she/hers) has worked as a director, adaptor, educator, and actor for the past two decades. Currently, she is a freelance facilitator of Playwriting, Shakespeare, Gender Performance, and Creative Mindfulness workshops throughout Omaha. Sarah Lynn currently works with Creighton University, Why Arts, and countless high schools and middle schools throughout the Metro Area.
Additionally, Sarah Lynn has worked for Cincinnati Shakespeare Company, Utah Shakespeare, Folger Library Theatre, Denizen Theatre (NY), Nebraska Shakespeare, NTC productions, BlueBarn Theatre, Omaha Symphony, and Opera Omaha. She has a Masters of Arts in Theatre Education from the University of Northern Colorado and has trained with TIE (Theatre Intimacy Education). Sarah Lynn also adapts and performs Shakespeare in Bars with Old School Shakespeare Omaha.
A livestream of this event can also be found on the Opera Omaha YouTube Channel.
Media Notification: Photography and Video will be captured at this event. By attending, you agree to allow Opera Omaha to use your image in social, archival, and promotional materials.