Description
The OpenStack Summit will be held in Barcelona, October 25-28, 2016, at the Centre De Convencions Internacional de Barcelona (CCIB). 

The OpenStack Summit is the most important gathering of IT leaders, telcom operators, cloud administrators, app developers and OpenStack contributors building the future of cloud computing. Hear business cases and operational experience directly from users, learn about new products in the ecosystem and participate in hands-on workshops to build your skills. Attended by thousands of people from more than 50 countries, it's the ideal venue to plan your cloud strategy and share knowledge about architecting and operating OpenStack clouds.
SUMMIT SCHEDULE
The Summit will run for 4 days, Tuesday - Friday, October 25-28, 2016:
Keynotes will be held Tuesday and Wednesday.

The Main Conference Breakout Sessions and Marketplace Expo Hall will run Tuesday - Thursday.

The developer and operator working sessions will run Tuesday - Friday.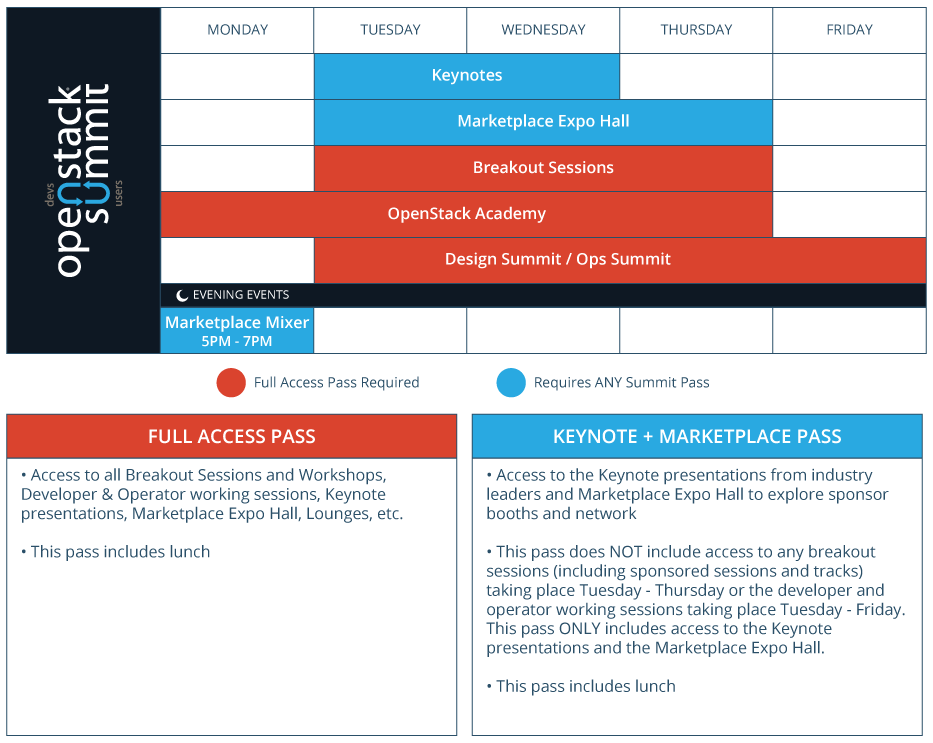 REFUNDS & TRANSFERS
If you'd like us to cancel or transfer your ticket, please email summitreg@openstack.org before October 17, 2016 stating your name and Eventbrite order number. We can provide you with a full refund if you email us before this date. Refunds and Transfers will be granted until October 17, 2016, 11:59pm PT (October 18, 2016 at 6:59 UTC) - after this time no refunds or transfers can be made. 
CODE OF CONDUCT                                                                                                             
The OpenStack Foundation is dedicated to providing an inclusive and safe Summit experience for everyone, regardless of gender, sexual orientation, disability, physical appearance, body size, race, nationality or religion. We do not tolerate harassment of Summit participants in any form. By registering for this event, we expect you to have read and agree to the OpenStack Summit Code of Conduct.
HAPPENING NOW
Call for Sponsors
If you would like to sponsor to the OpenStack Summit in Barcelona. Please visit the sponsor page on the Summit website to view the Sponsorship Prospectus and sponsorship availability. 
Visa Invitation Letter Request
If you require a visa to travel to Spain, please carefully read the instructions HERE. All visa requests must be made before October 3, 2016.
Hotel Accommodation in Barcelona
We've negotiated discount rates with thirteen hotels adjacent to the Barcelona Convention Center (Summit venue). Please move quickly to reserve a room before they sell out! Discounted hotel room blocks are listed out on the Summit website.