Sales Have Ended
Registrations are closed
You are all set! Please be prepared to show this reservation to the Social Works team upon entry and remember to Bring your high school ID with you!
Event Information
Location
Performing Arts Center at the Las Vegas Academy of the Arts
955 E Clark Ave
Las Vegas, NV 89101
Sales Have Ended
Registrations are closed
You are all set! Please be prepared to show this reservation to the Social Works team upon entry and remember to Bring your high school ID with you!
Life Is Beautiful launches SocialWorks' OpenMike initiative in Las Vegas - open only to local High School students!
About this event
Founded by Chance the Rapper in 2016, SocialWorks is a Chicago-based charity that aims to empower youth through the arts, education, and civic engagement while fostering leadership, accessibility, and positivity. One of SocialWorks' many initiatives is OpenMike.
OpenMike is a space intentionally cultivated to empower High School students to express themselves through art, network with creative professionals, and learn from each other.
On Thursday, September 19, the onset of the Life is Beautiful festival, the very first OpenMike event outside of Chicago will come to Clark County High School students!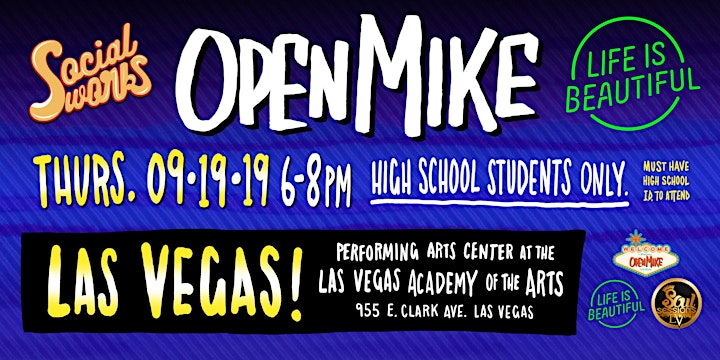 What is OpenMike?
Open to all High School students: prepare to be inspired! Have a talent you'd like to share? Let us know upon arrival! Performers are selected at random by the evening's host.
Respect the mic! Please be mindful that there will be no racist, sexist, homophobic, transphobic, or any other derogatory language tolerated.
Students must show proof of enrollment at a local High School in order to enter.
This event is open to High School Students ONLY (no adults parents, or teachers are allowed to accompany students inside, even if their child is performing).
We are looking forward to seeing you all there! RSVP here to reserve a seat at this event.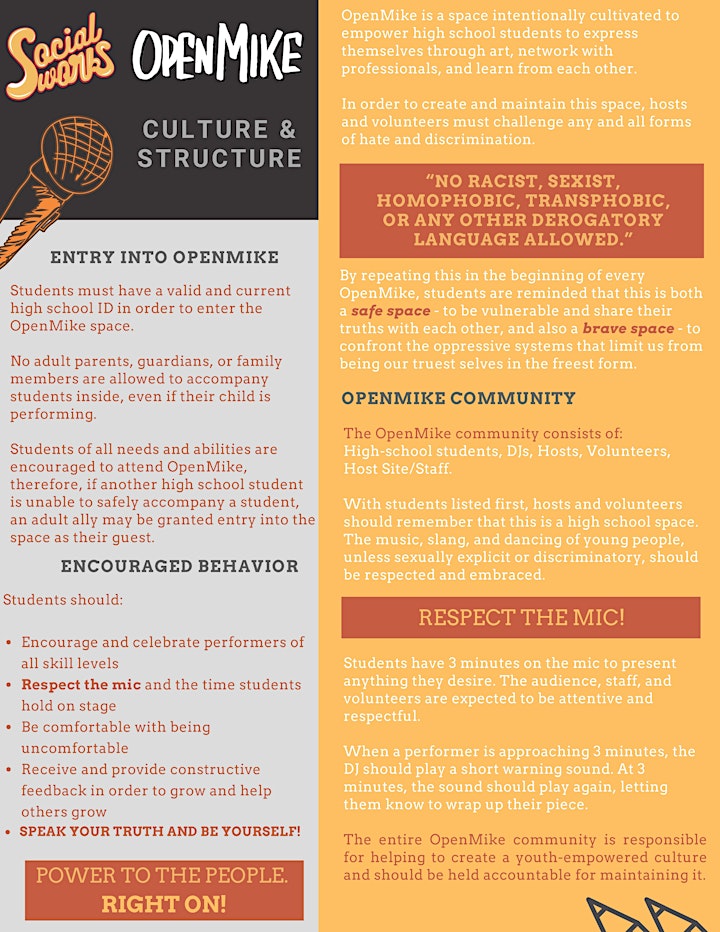 Frequently Asked Questions:
How do I sign up to perform?
Once you've checked in at the event, find a host and be sure to fill out the sign-up clipboard!
Can I use a backing track while performing? How do I play it? How long does it need to be?
Sure! Make sure your music is ready to go on a phone or other device, and you can plug it in or send it to our DJ while you're on deck preparing for your performance.
Three minutes is your cut-off time! Make sure your music or performance ends within 10 seconds of that. Respect the mic!
Can we perform in a group? How do we sign up as a group?
Yes, we love groups! Write your individual names and the group name on one line on our signup sheet and it's no problem! Ask a volunteer during sign-ups if you have any questions!
What if I signed up to perform, but I change my mind?
Just find a host or OpenMike staff member and tell them you are no longer interested in performing. No big deal! But we hope you will still choose to perform :)
Will this event be filmed?
We don't allow professional filming or the filming of the entire OpenMike because it is considered a community space and so to have cameras setup inside may negatively change that dynamic and culture. So we want to be as respectful of students' privacy as possible.
Date and time
Location
Performing Arts Center at the Las Vegas Academy of the Arts
955 E Clark Ave
Las Vegas, NV 89101