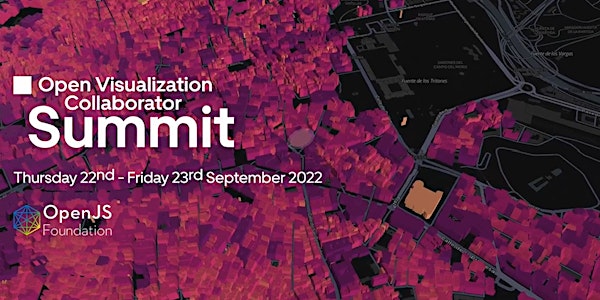 OpenJS Foundation Open Visualization Collaborator Summit
The first Open Visualization Collaborator Summit with the OpenJS Foundation is coming soon!
By Open Visualization Collaborator Summit
Date and time
Thursday, September 22, 2022 · 9:30am - 1:30pm CEST
Location
C/ Gran Vía, 46 46 Calle Gran Vía 28013 Madrid Spain
About this event
This is a great opportunity to get together and be productive. Use the time to talk about important project topics, pair with each other, resolve bugs, build consensus, or tinker on new ideas. It's also a great time to collaborate with peers from other projects and learn more about what they are doing and how the OpenJS Foundation can support your work.
Want to learn more? Check out the Open Visualization Collaborator Summit website.
The OpenJS Foundation and its project communities are dedicated to providing a harassment-free experience for participants at all of our events, whether they are held in person or virtually. OpenJS Foundation events are working conferences intended for professional networking and collaboration within the open source community. They exist to encourage the open exchange of ideas and expression and require an environment that recognizes the inherent worth of every person and group. While at The OpenJS Foundation n events or related ancillary or social events, any participants, including members, speakers, attendees, volunteers, sponsors, exhibitors, booth staff and anyone else, should not engage in harassment in any form.
Please review the full Code of Conduct, which may be revised at any time by The OpenJS Foundation and the terms are non-negotiable. Your registration for or attendance at any OpenJS Foundation event, whether it's held in person or virtually, indicates your agreement to abide by this policy and its terms.