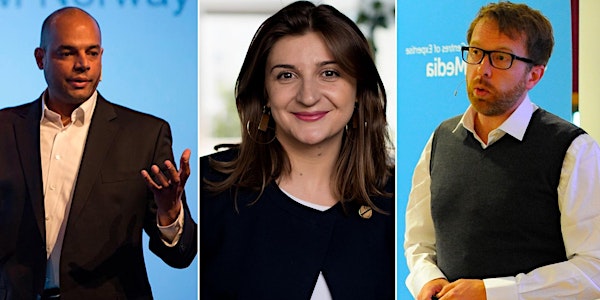 OPENING WEEK: Artificial Monday - Breakfast seminar
When and where
Location
Media City Bergen Lars Hilles gate 30 5008 Bergen Norway
Description
THIS EVENT IS FOR MEMBERS OF THE MEDIA CLUSTER ONLY!
---
How will AI transforming our lives and society, and how will it effect our work? What are the possibilities ahead, and how can AI be used in the newsroom?
You will meet:
Thomas F. Anglero, the Director of Innovation for IBM Norway and responsible for IBM Watson and innovation. He is an expert in innovation, cultural diversity, and will talk about how artificial intelligence affect people, society and businesses.
Thomas is the creator of the IBM Watson Innovation Lab at the Oslo Cancer Cluster. He is one of the most exciting and sought after public speakers in the Nordic countries. He was also awarded the "Top 10 Most Influential Foreigner" in Norway and remains so today with his contributions, expertise, energy, and ability to communicate complex subjects in a simple way from CEOs and Heads of State to aspiring young leaders.
Codruta Gamulea leads Product Development at Orbit, an AI technology venture by Norwegian digital studio & venture builder Bakken & Bæck. In 2016, Bakken & Bæck used Orbit to develop Norway's first robot journalist - a digital football reporter for NTB. For the past year, Orbit teamed up with Norwegian tabloid Dagbladet to explore how AI can be used to elevate debate journalism, in a large project funded by Google Digital News Initiative.
The AI promise in the newsroom is contradictory. NLG revolutionizes news writing, but robot journalists threaten jobs. NLP improves fact-checking, but requires investments that slimmed down newsrooms cannot afford. Drawing on Norwegian AI startup Orbit's experience, we show examples of how AI can help solve the industry resource constraints and improve the quality of journalism.
Before joining Orbit, Codruta led data strategy at Amedia, Norway's largest local news publisher with over 70 titles. Codruta has consulting experience from Accenture, startup experience from FAST (now Microsoft), a master's degree from BI Norwegian School of Management, and studied news reporting at Harvard/Nieman Journalism Lab.
Eirik Solheim, Strategic advisor in NRK and the Media Cluster´s very own Chief Nerd, will give the audience his take on AI. Knowing Mr. Solheim, we can guarantee an interesting, enlightening and entertaining happening.
Eirik is leading projects involving internet services, interactive TV, social media, drones and new and emerging technologies, just to mention a few. His experience includes years of work as a consultant within the media and entertainment industry for Accenture and experience within digital production as a sound designer, editor, steadicam operator and photographer.
Eirik is a highly respected and experienced international speaker, always aiming to make his audience understand the latest trends and solutions. He is well known for his entertaining and interesting way of presenting his material, and he's also an award winning technology writer at his own blog http://www.eirikso.com
---
Where: Media City Bergen Media Lab. Tower 3, 9th floor
When: Monday November 6. 8:15AM - 10:30AM - Breakfast and registration from 8AM.
Price: Free, only for members of the media cluster.
---
If you have any questions, contact: Petter Omdal (petter@ncemedia.no) or Anne Jacobsen (anne@ncemedia.no).