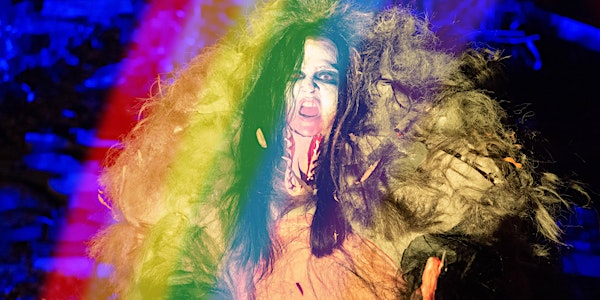 Opening Reception for Jaimie Warren: THE MIRACLE
Join us to celebrate the opening of the latest exhibition at Pioneer Works, Jaimie Warren's THE MIRACLE.
When and where
Location
Pioneer Works 159 Pioneer Street Brooklyn, NY 11231
About this event
Jaimie Warren's THE MIRACLE, the artist's first institutional solo show in New York, features daily activations and culminates in an over-the-top musical production titled THE MIRACLE, THE MUSICAL on April 4th and 11th.
Resembling a high school musical backdrop, a vintage Disney ride, or the campy gore of a community-built haunted house, THE MIRACLE is a DIY, oversized supernatural set for performance made up of animatronics, costumes, and special effects. It references iconic horror movies such as A Nightmare on Elm Street (1984), B-movie camp extravaganzas, drag theater, and musical comedies. A large forest recalls The Swamps of Sadness from The NeverEnding Story (1984), while an oversized bedroom, modeled after Rhonda Shears' late-night, cult classic USA Up All Night (1989-1998), becomes the home of Regan MacNeil from The Exorcist (1973). The occult and satanic panic mingle harmoniously with Jim Henson's Muppets and 80s and 90s coming-of-age sitcoms.
More than any one narrative or reference, THE MIRACLE is an amalgamation of many, combined and reconstituted to disorienting, comical effect. Acting as artistic director, Warren solicited characters and ideas from collaborators of all ages during months of extensive workshops leading up to THE MIRACLE, THE MUSICAL. The workshops were held with artist peers and multiple Red Hook-based organizations, including Red Hook Art Project, Beam Center and Cora Dance. Throwing her various participants' ideas into the mix, Warren not only furthered THE MIRACLE's nearly endless allusions but decentered her own authorship with the personal, pop cultural inventories of others. Synthesized into one collaborative masterwork, the exhibition's title alludes to the miracle of collective art making while also nodding to Queen's singular frontman Freddie Mercury, a recurring character in Warren's practice.
Taken together, THE MIRACLE speaks to the power of cinema and pop culture to render, in larger than life form, the fears and insecurities of childhood. It engages the capacity of popular entertainment to bring people together around shared cultural touchstones, producing a show defined by both strangeness and joy.
About the Artist
Jaimie Warren is a multidisciplinary artist and Co-Director/Co-Creator of the community arts project and fake public access TV show Whoop Dee Doo. She is a NYFA Fellow in Interdisciplinary Arts and has been awarded artist residencies in New York with the Sharpe-Walentas Studio Program, Pioneer Works, BRICworkspace, Abrons AIRspace, and Yaddo. Warren's work has been featured in publications including The New York Times, Art in America, artnet, ArtNews, and Artforum, among others. She is the recipient of the Baum Award for An Emerging American Photographer, and is a featured artist in ART21's documentary series New York Close Up. She has had solo exhibitions at Higher Pictures, The Hole, and american medium, all in New York. Selected group exhibitions and performances include Showroom Mama, Rotterdam; Getsumin, Osaka; Extrapool, Nijmegen, Netherlands; Cement Fondue, Sydney; the Ullens Center for Contemporary Art, Beijing; the San Diego Museum of Art, San Diego; Centre d'Art, Catalonia, Spain; Spritmuseum, Stockholm; Proyectos Monclova, Mexico City; and the Warhol Museum, Pittsburgh.
This program is supported, in part, by public funds from the New York City Department of Cultural Affairs in partnership with the City Council.