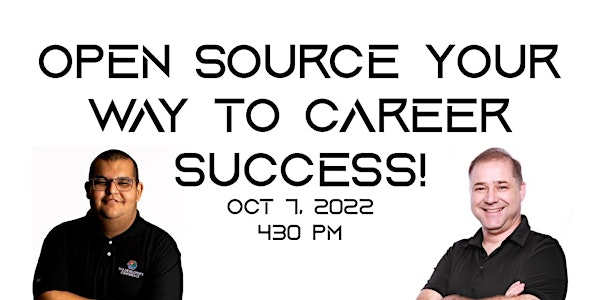 Open Source your Way to Career Success!
Want to grow your career, be a better developer, meet people, or make your job easier? Open source is the best thing ever for developers!
When and where
Location
Improving 10111 Richmond Avenue ## 100 Houston, TX 77042
About this event
Can't attend in person? Join the meeting virtually by clicking on this link!
We'll start the streaming presentation at 4:30 PM.
We'll have pizza for those attending in-person!
Software is eating the world, and open source is eating the software world!
Whether it is to grow your career, become a more proficient developer, meet people or just make your job easier, open source is the best thing ever for developers.
During this event, you will learn from top developers how to apply open source ideas, tactics and projects to supercharge your career.
Talk lineup:Open Source Skills and Tactics to Become a Top Developer
This practical and interactive talk will help you apply the best tactics that top open source developers use to become amazing developers, work on top companies and become a rockstar in the market. Here you will apply to your career:
The exact way to use open source to be hired by top companies
The trick the best developers use to contribute to open source projects
A hiring secret the FANGS use to get the best talent (and why they never talk about it)
The 3 steps process that you can apply in an open source project to increase your development abilities
A step-by-step plan to grow to senior and beyond senior, using open source
Speaker: Bruno Souza
Since 1995, Bruno Souza has been helping Java developers improve their careers and connect to cool projects with great people. He is a Java evangelist at Code4.Life and the leader of SouJava, the Brazilian Java Users Society. You can hear Bruno discuss Java and the developer career at code4.life.
Chaos Engineering for Developers
In this talk, we are going to use an amazing open source project to understand what Chaos Engineering is all about, and learn how to apply and practice chaos engineering in a cloud-native way. We will learn about the chaos hub and the open source experiments that are available that you can use to increase your development skills. All demos and information will be based on LitmusChaos, an open source Chaos Engineering platform that enables developers to identify weaknesses & potential outages in infrastructures by inducing chaos tests in a controlled way.
Speaker: Helio Silva
Solutions Architect at Harness, passionate about innovation and technology, with hands-on experience leading IT Infrastructure and software development projects, in their full lifecycle, for more than 10 years. Currently helping customers unlock value with their CI/CD pipelines by guiding them through CI/CD best practices. Formerly Splunk, Cisco(AppDynamics), BMC.
Sponsored by Improving
Improving is a complete IT services firm, offering training, consulting, recruiting, and project services. Our innovative solutions and processes have helped hundreds of clients across the globe realize their tactical and strategic business objectives. As a result, our 1,000 employees have accumulated extensive technology and management experience in several industries, including financial services, energy, travel, retail, government, and several others.
Our culture encourages both the inspiration and motivation to achieve amazing things. We are constantly striving to live out our values of Excellence, Dedication, and Involvement through the foundation of trust.
Want to present at a Houston Java User Group meeting? Contact Jim at jimbethancourt AT gmail DOT com