Sales Have Ended
Ticket sales have ended
We sorry we missed you this year for the event. We look forward to seeing you next year!
Sales Have Ended
Ticket sales have ended
We sorry we missed you this year for the event. We look forward to seeing you next year!
Description
The Open Source ERP hackathon is an inclusive event seeking to open the barrier normally associated with ERP Enterprise development.
If you a developer, hacker, student, coder, designer, or IT professional interested in the B2B space - join the movement of the next evolution of ERPS.
At the Open Source ERP hackathon you and your fellow innovators can help grow the community of next generation ERP developers. For thousands of organizations around the world, ERPS are critical to the successful operations and sustainability of their business.
Join us for this first of a kind hackathon on May 17-19 @ General Assembly in Mahattan, NY!
FULL EVENT DETAILS can be found at opensourceerps.com/hackathon
Where can I get a student ticket?
Validate your .edu school address by filling out this form.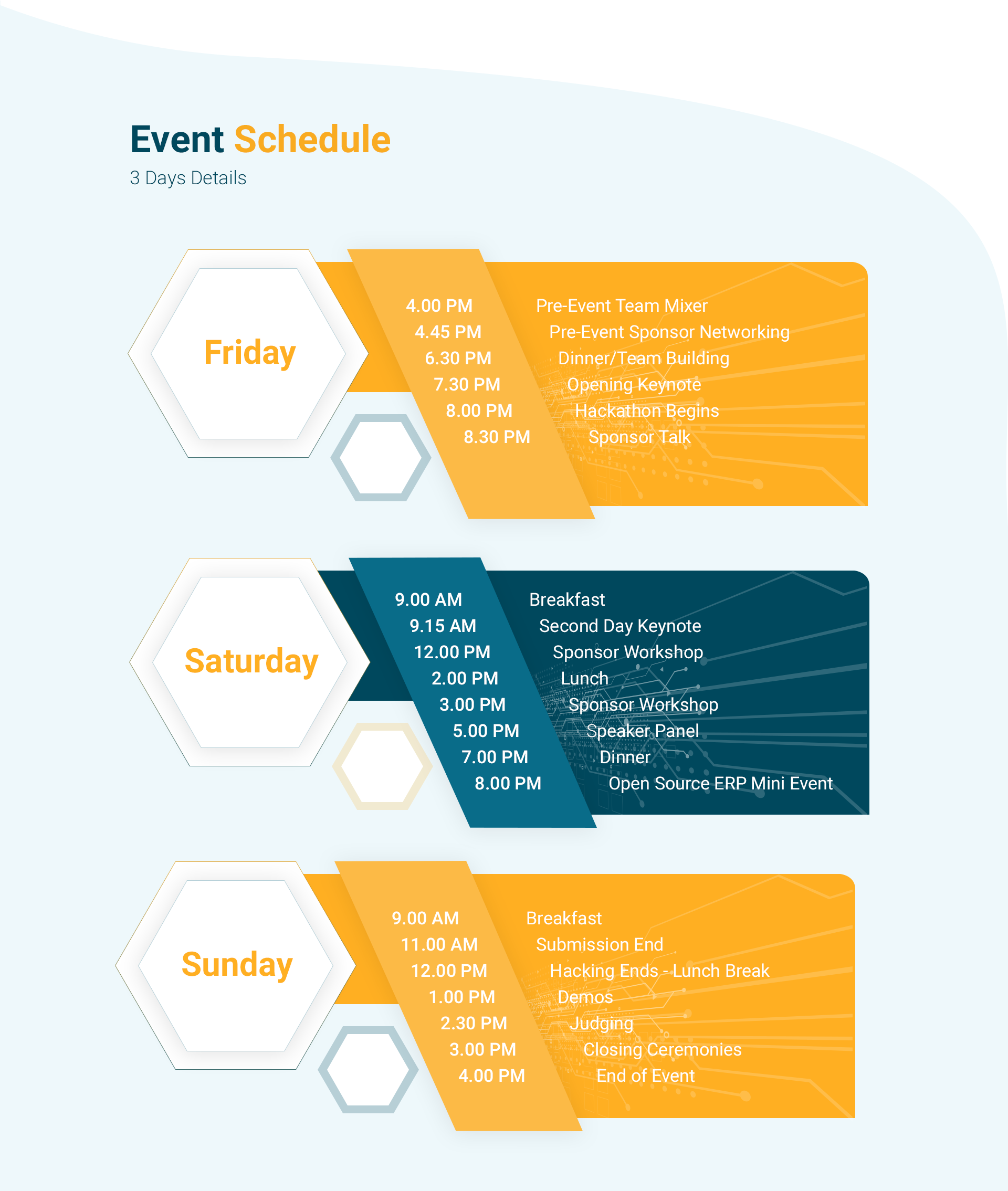 COLLEGES CURRENTLY ATTENDING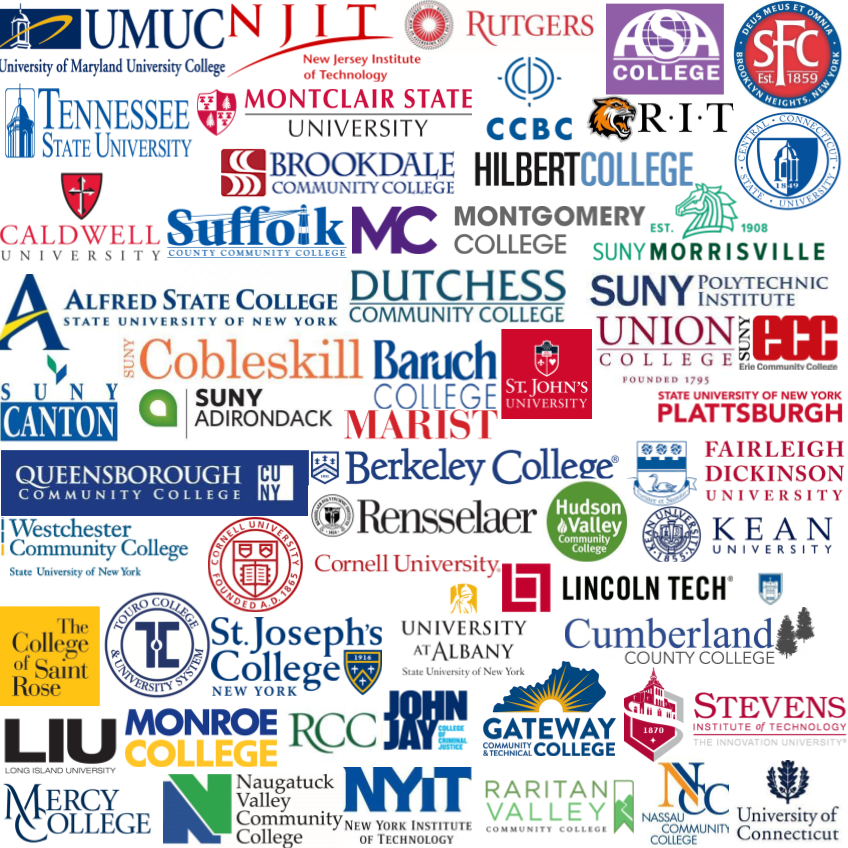 _________________
Who Can Attend
Eligibility
We are an inclusive focused hackathon that promotes diversity in all its forms and welcome attendees from all backgrounds, genders, and geographies to join us.
Age Requirements:

There are no age restrictions to attend the hackathon. In case you are under 18, your parents/legal guardian should contact the hackathon to request a waiver authorizing you to attend the hackathon and submit their plan for your attendance and transportation to and from the hackathon.
Open Source ERP Committee Eligibility

Any official Open Source ERP staff or committee member is not eligible to compete for a hackathon prize. They may, however, assist teams as mentors or volunteers during the coding/development phase.

____________________
GETTING HERE (6 or RW Train to 23rd Street) - General Assembly
Take the 6th Train 23rd street. Walk to blocks south to 21st. Turn right onto 21st. General Assembly is in the middle of the block.
NOTE: If you registered for the career fair/pre-event networking ticket (3:30PM - 6PM only), you will be enteringon 902 Broadway 4th floor.
Visit mta.info for the latest subway schedule.
____________________
FORMING YOUR TEAM
This is a collaborative event. Teams can consist of a minimum of TWO members to a maximum of FIVE members. Exceptions can be made for teams to have more than five members on a case by case basis. Contact the hackathon committee in case you need to have a team of more than 5 members. The size of your team will not be taken into consideration in the judging.
While you can choose your team on the day of the event during the pre-networking mixer, we encourage all participants to join our pre-event community forum oserps.com where you can connect with other like minded participations to form a team. Note an automated invitation is sent to the forum after you purchase your ticket.
Changes to team members are permitted until Friday, May 17th @ 4:45PM EST. Note the final opportunity to register your team online via devpost.com will be at the event during the pre-event networking mixer.

______________________________
REGISTERING YOUR TEAM
If you are attending the hackathon as a participant, you must register your team on devpost after your purchase your ticket no later than Friday, May 17 @ 4:45PM
Team Registration URL: https://www.open-source-erp-hackathon.devpost.com/
____________________
SPECIAL EVENTS
What is the Pre-Event Mixer?
The pre-event mixer is the opportunity for all hackathon participants to networking with other Hackathon participants and form teams if they have not already done so online. It is also the last opportunity for Hackers to find or join a team (minimum of 2 members).
What is the Sponsor Networking Session?
The Sponsor Networking session takes place directly after the pre-event mixer and is an opportunity for Sponsors and Hackers to connect before the main event dinner. We encourage all Hackers to bring their github/bitbucket profiles, resumes, and business cards.
Who can particpate in the Pre-Event Mixer and Sponsor Networking Session?
Only Hackathon Participants and teams will be able to participate in the exclusive Pre-Event Mixer and Sponsor Networking Session.
____________
STUDENTS
Am I eligible for a student ticket?
All high school and college students currently attending any university on a full or part time basis are eligible for the student ticket.
You must be submitting a hack during the event in order to be eligible for a student ticket.
You must have a validated .edu address from a real academic institution matched to our database of valid domains for that organizational id. (ie. no fake .edu address)
What is the cost of the student ticket?
Student tickets are $10

Where can I get a student ticket?
Validate your .edu school address by filling out this form.
Once your student information is validated you will recieve an invitation to complete your student ticket purchase.
___________
MENTORS
I am interested in becoming a mentor for the Hackathon, how to I apply?
If you have a good amount of programming experience in any language, and are very familiar with concepts like loops and functions, teams will need your help. Simply fill out the mentor application form here, and one of our staff will review your application.
Mentors are a very important part of the Hackathon and should always be an example in abiding by the rules of conduct at the event.
The main roles of a mentor:
To help to brainstorm ideas on the challenge and the solution
To give advice on the topic that mentor is qualified or skilled at
To keep an eye on the time, the schedule is usually quite intense
To help divide roles inside the team
If teams get stuck, help to get them moving again
To help to pick out a person who is going to do the pitch
__________________________
SPONSORS/PARTNERS
We are interested in becoming a sponsor for the event - how do we get in touch?
You can email sponsorship@opensourceerps.com with a little information about your company and one of our staff will be in touch.
_________________________________
MISCELLANOUS QUESTIONS
Do I have to bring my printed ticket to the event?
No, our regisration system will have your information listed at check in. Just ensure you have your electronic ticket handy on your mobile phone or tablet.
Do I have to bring my ID?
Yes, you will need your student id or a photo issed id in order to gain access to the building. It is also how we match your registered ticket to your name.
Can I update my registration information?
Your registration email and name will be used to identify you throughout the hackathon process. If you believe you made a mistake during registration, please click the "Contact Organizer button and one of our staff will be more than happy to help get your information corrected.
How do I register my team?
After purchasing a ticket, you can go to https://www.open-source-erp-hackathon.devpost.com/ to register your team. If you do not yet have a team, you'll be invited to find or join a team at oserps.com once your purchase your ticket.
I am a student/administrative group organizer. Do you have package deals for schools/organizations?
Absolutely, organizations with 25 or more students planning on attending are encouraged to contact us directly. We have some exclusive pacakges, and may even be able to assist with transportation if you are coming from outside of NYC.
I have additional questions?
Please click "Contact The Event Organizer" button to get in and touch and one of our staff will be happy to answer your questions.
_____________________
Venue Location
General Assmebly - 10 Eats 21st Street, New York, NY 10010
____________________
Contact Information
For further questions, please contact click the "Contact The Organizer" button on the event brite page and one of our staff will be in touch shortly.