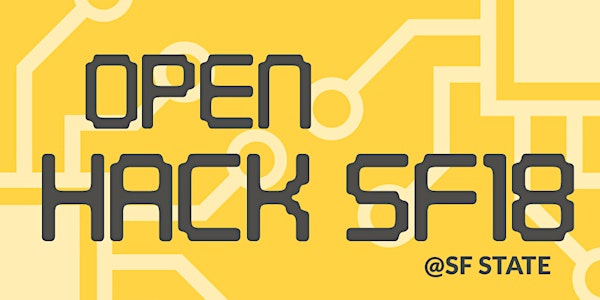 Open Hack SF18 @ San Francisco State University (Hackathon)
Event Information
Location
San Francisco State University
1600 Holloway Avenue
Busniess Building, Room 202
San Francisco, CA 94132
Description

Open Hack SF 2018
Open Hack is a local event that will take place April 28 and April 29, 2018. The event will bring together students, faculty, staff, software developers, and entrepreneurs to collaboratively create, build, and invent new solutions using open data, content and code to solve challenges relevant both locally and globally.
Tell me more…
Open Hack will provide citizens an opportunity to do what is most quintessentially American: roll up our sleeves, get involved and work together to improve our society.
Who can participate?

Students, Faculty, Innovators, Hackers, Developers, Designers, Subject Matter Experts, Students, Data geeks, Technologists, Entrepreneurs, Makers, Social activists and YOU!!!
We Supply
Challenges, datasets, food to keep you going, and caffeine to keep you awake. Also mentors to assist you in building faster, smarter, and new tools.
And You Bring
Your laptop, skills & ideas. Come with a collaborative and team-focused mindset. Whether you are a backend person or are a designer, a student, or a data geek - you are invited to attend this event. Every group needs a good balance of talent and your skills are needed!
Schedule
Saturday, April 28, 2018:
9:45 a.m. Check-in and Breakfast
10:00 a.m. Welcome - Schedule and logistics announcements
10:15 a.m. Subject Matter Expert briefing - Challenges/Datasets/API
11:00 a.m. Begin coding
12:30 p.m. Lunch
1:30 p.m. Coding continued
4:30 p.m. Optional progress briefing
7:00 p.m. End of Day 1
Sunday, April 29, 2018:
10:00 a.m. Breakfast
10:15 a.m. Logistics briefing & updates
10:30 a.m. Begin coding
12:00 p.m. Submission Deadline
12:00 p.m. Lunch
1:00 p.m. Presentation of projects
2:30 p.m. Judges Voting
3:00 p.m. Awards
3:30 p.m. Post event social
Date and time
Location
San Francisco State University
1600 Holloway Avenue
Busniess Building, Room 202
San Francisco, CA 94132