Join us as we discuss how open APIs can help banks and other players overcome the challenges of being the last-mile of financial services.
About this Event
About 50% of Nigerian adults are excluded from basic financial services despite the efforts of banks, the Central Bank of Nigeria, and DFIs. Taking a cue from innovation and progress that come with open APIs, the question is, can open APIs provide an additional boost to bring financial services to the excluded?
This is why Open Banking Nigeria is organising a webinar with experts and thought leaders on innovation and financial inclusion, to engage with the industry.
We will discuss the risks and challenges to open APIs; as sweet as it sounds, it has downsides that must be addressed.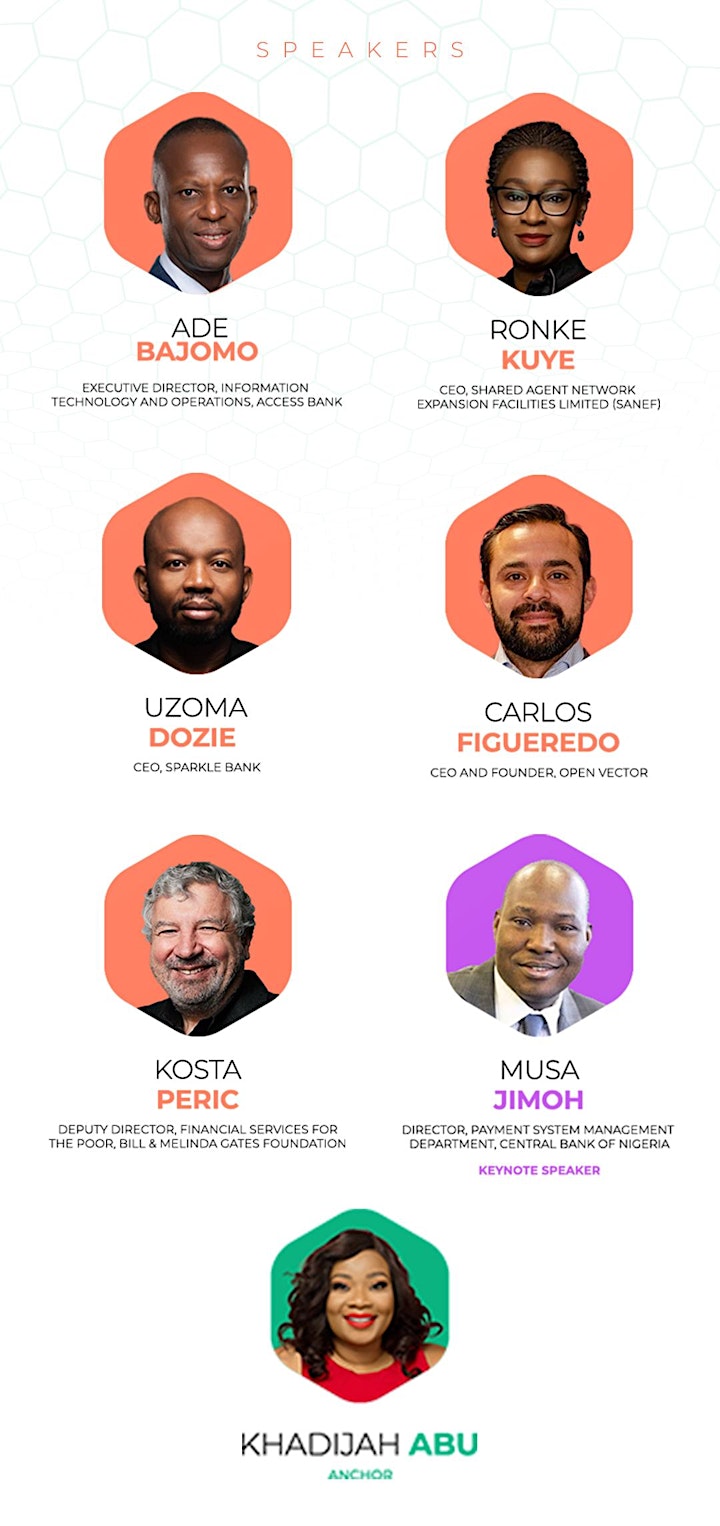 ADE BAJOMO
Ade Bajomo is the Executive Director for Information Technology and Operations at Access Bank Plc. Prior to joining Access Bank, he worked at The Nigerian Stock Exchange and has also held several director level/leadership positions in the UK financial services sector. He holds an MBA from CASS Business School; MSc Information Systems Engineering from South Bank University, London and a BSc in Civil Engineering from University of Ife. Ade Bajomo is a chartered member of British Computer Society and a member of Institute of Directors, UK. He is a regular speaker at international Financial Services events and has over 25 years of professional experience.
CARLOS FIGUEREDO
Carlos Figueredo is the CEO and Founder of Open Vector, a professional consultancy firm founded in 2017 specialising in open banking, PSD2, GDPR and payments. With 20+ year payments, SWIFT, SEPA and PSD2 experience, Carlos' open banking experience started in 2016 as the Head of Data Standards for the UK Open Banking Implementation Entity (OBIE). He oversaw the ISO 20022 based standard development and the relevant technical elements to integrate it across the array of product-based API's which was the first initiative globally in the banking sector, or any other sector, to have done so.
KOSTA PERIC
Kosta Peric is the deputy director, Financial Services for the Poor at the Bill & Melinda Gates Foundation. He leads the team that focuses on digital payments and oversees the strategy and grants to deliver digital payment solutions for the poor. Kosta serves on the board of the InterLedger Foundation and is also the Chair of the Board of the Mojaloop Foundation. Prior to joining the Bill & Melinda Gates foundation in 2013, he was the chief architect of SWIFNet and co-founder of Innotribe, SWIFT's initiative to enable collaborative innovation in financial services. Kostantin holds a master degree in computer science from Free University of Brussels, Belgium. He is the author of The Castle and The Sandbox, a book explaining how to foster innovation in established systems and companies.
MUSA JIMOH
Musa Jimoh is the Director, Payment System Management Department at the Central Bank of Nigeria. He previously worked with FSB International Bank as Head E-banking Services and Systems Development group and has held several leadership roles across the banking sector. He holds an MBA in Management Science from Enugu State University of Technology and a BSc in Computer Engineering from Obafemi Awolowo University, Ile-Ife and . He also attended the Advance Management Program at the Lagos Business School. He is very involved in developing the payment system industry through effective payment policy and framework and providing oversight on the participants of the payment system and the entire financial market infrastructure for effective monetary system and financial stability.
RONKE KUYE
Ronke Kuye is the Chief Executive Officer of Shared Agent Network Expansion Facilities Limited (SANEF). Ronke is a result driven Banking and Financial Services professional with over 32 years working experience, including 26 years in Banking. She has vast experience in Payment cards & E-business, Operations, Financial Inclusion, Process Transformation and Project Management. With her passion for the payment industry, Ronke brings her expertise and wealth of knowledge in this field to enhance SANEF and boost the financial inclusion landscape in Nigeria. Ronke is a Fellow of the Chartered Institute of Bankers Nigeria (FCIB).
UZOMA DOZIE
Uzoma Dozie is currently the CEO of Sparkle. He was formerly the Group Managing Director & Chief Executive Officer of Diamond Bank, one of the fastest growing banks in Nigeria. His banking career spans over 20 years—eight of which have been as executive director across various roles and strategic business units including credit and marketing, strategic planning, financial control, corporate banking, and retail banking. He graduated in 1991 with a BSc in Chemistry from the University of Reading, England. He later obtained an MSc in Chemical Research from University College, London in 1992. As he progressed in his professional career, he attended the Imperial College Management School, London, where he obtained an MBA with specialization in Finance in 1998.