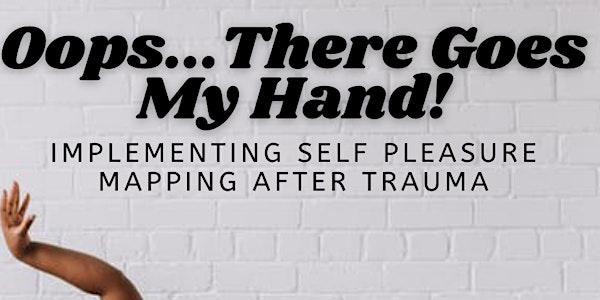 Oops, There Goes My Hand: Implementing Self Pleasure Mapping
An interactive workshop for sexuality professionals and aspiring sexually liberated to implementing self pleasure mapping after trauma.
About this event
This workshop will be 2 hours and will be held online via Zoom.
Self-pleasure (or masturbation) has been a tool to educate oneself about their body and explore sexual desires and fantasies with partners. These same tools can be used as an effective tool to address past sexual trauma and reintroduce sexual pleasure into a person's life. Using media and case studies, this workshop aims to address socio-cultural aspects of sexual trauma and how to use self-pleasure mapping to manifest pleasure after experiencing sexual trauma. Self-pleasure mapping is an exercise encouraging bodily autonomy (control of one's own body) and sexual agency (the ability to choose whether or not one wants to participate in a sexual activity). Self-pleasure can be recognized as a form of resistance by one being able to explore and decide what is pleasurable and what is not pleasurable after experiencing sexual trauma. Self-pleasure can be a tool used to address intergenerational trauma among BIPOC bodies.
SMART Learning Objectives:
1. To implement self-pleasure mapping as trauma-informed sexuality education, coaching, therapy, and counseling
2. To discuss how race, sexuality, and gender plays a role in access to pleasure.
You can also register for the For My Pleasure: A Virtual Self-Pleasure Vision Board Party taking place following this workshop on a date TBA.
Meet the Instructors:
Dr. Ericka Burns is a AASECT Certified Sex Educator and the Founder of Sacramento Peers on Prevention (SacPOP), a non-profit organization dedicated to educating youth about sexual health and reproductive justice. SacPOP utilizes social media, workshops, and community events to educate and empower youth to be advocates for themselves and their community. Dr. Burns is a community activist and focuses their work on creating anti-racist sex education, advocating for the rights of marginalized folks, and specializes in reproductive justice, sexual health, HIV/STI prevention, and peer education.
Contact Dr. Burns: @DrErickaB, sacpop.org, EBurns@SacPOP.org
Dr. Clarissa "Serenity" Francis is a Hot Girl Movement Scholar-Activist, AASECT Certified Sexuality Educator, and Black Sexual Liberation consultant. She has collaborated with colleges, organizations, and community groundbreakers to bring awareness and healing to Black women and youth. Dr. Francis currently sits on the AASECT DEI committee and WoCSHN Leadership Collective. She developed a program to equip Black sexuality professionals, and the aspiring sexually liberated, to recognize and utilize multi-disciplinary approaches to discussing Pleasure Activism as a tool for Black Sexual Liberation. Her goal is to infiltrate multi-oppressive systems to secure safe spaces for Black women to unpack intergenerational trauma, reclaim bodily autonomy, and Say Yes to (their own) Serenity!
Contact Dr. Francis: @TheRealHotGirlDoc, https://www.sayyestoserenity.com/, Serenity@sayyestoserenity.com
Refund Policy:
No refunds.