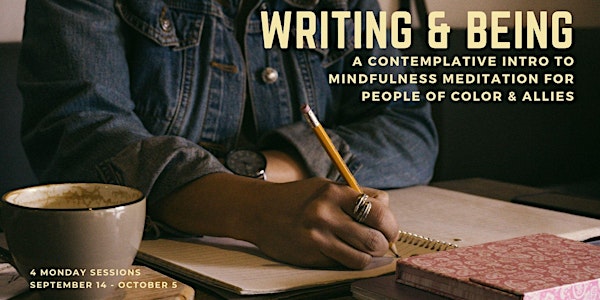 ONLINE: Writing and Being: A Contemplative Intro to Mindfulness Meditation
This 4-session course cultivates a practice of mindfulness meditation through contemplative writing reflection and weekly dialogue
About this event
This introductory level course is created with communities of Black, Indigenous, and People of Color (BIPOC) and allies in mind, and will foster an environment of mutual support in establishing an ongoing practice of mindfulness meditation.
Each week builds on the previous instruction. Full attendance is encouraged in order to cultivate a safe container for growing our practice together.
Participants will explore mindfulness through meditation, writing prompts, and direct application of these practices in order to show up with greater resilience, presence, compassion, and agency in meeting the moments of daily life.
Make no mistake: meditation can be dull, hard, and boring sometimes. It can also be rapturous and joyful. Our aim is to establish an ongoing practice that welcomes the growth and healing that consistency can bring. This safe community creates the added benefit of sharing our experiences, personal stories, and progress as we process. Together.
Rather than a social justice or anti-racism workshop, this is a class for cultivating spiritual practice through an experience that centers the BIPOC experience.
4 online sessions:
Mondays: 5pm - 6:30 PT / 6pm - 7:30pm MT / 7pm - 8:30pm CT / 8pm - 9:30pm ET
September 14, 21, 28, October 5
No prior meditation or writing experience is necessary.
About the instructor:
Kriste Peoples is a writer and longtime student of spiritual practice and mindfulness meditation. She offers this series as a final requirement for her Mindfulness Meditation Teacher Training Certification Program. As a co-facilitator for a monthly Mindfulness Meditation POC virtual gathering and frequent speaker on topics of diversity, equity, and inclusion, she weaves her passions together in this course intended for the BIPOC community and their allies.