Event Information
Location
Virtual Event Hosted by Turing School of Software & Design
1331 17th St. Suite LL
Denver, CO 80202
Refund Policy
Refunds up to 1 day before event
Eventbrite's fee is nonrefundable.
Description
Turing School of Software & Design is excited to offer virtual Try Coding Workshops. These online classes are a great way for anyone interested in programming to learn more about software development.

Each class will have one Turing instructor and two teaching assistants in the virtual classroom who will guide you and other attendees through a structured curriculum where you will write code on your own and collaboratively with other students.

*Please note, there is an additional pre-work requirement of at least 30 minutes to prepare for these virtual sessions. In the three days leading up to your class, you will have access to one of our Teaching Assistants to ask any questions about the assigned work.
Workshop Overview
This is a fast-paced, beginner level course in back-end engineering covering the "server-side" we don't see that makes web applications work. You'll get a taste of what a back-end software developer does and learn how you can turn an interest in learning to code into a new career.
You should be comfortable with navigating the basic operations of a computer; you will be expected to use the following skills: typing, copying and pasting text, navigating the internet through a browser, and conversing via a video chat.
Schedule:
Online Class on Friday, March 27: 10:00am - 2:30pm

During break, there will be a Turing School info Q&A session with alumni, current students and staff. Have questions about learning how to code, Turing School, or the life of a software developer? Get them answered here!
Additional information is located at the bottom of this page in the FAQ section.



What You Will Learn?
Back-End Engineering
Learn more about why the internet works, how to navigate a computer using the terminal and write code using the Ruby programming language. You'll finish the class having built your own Twitter bot!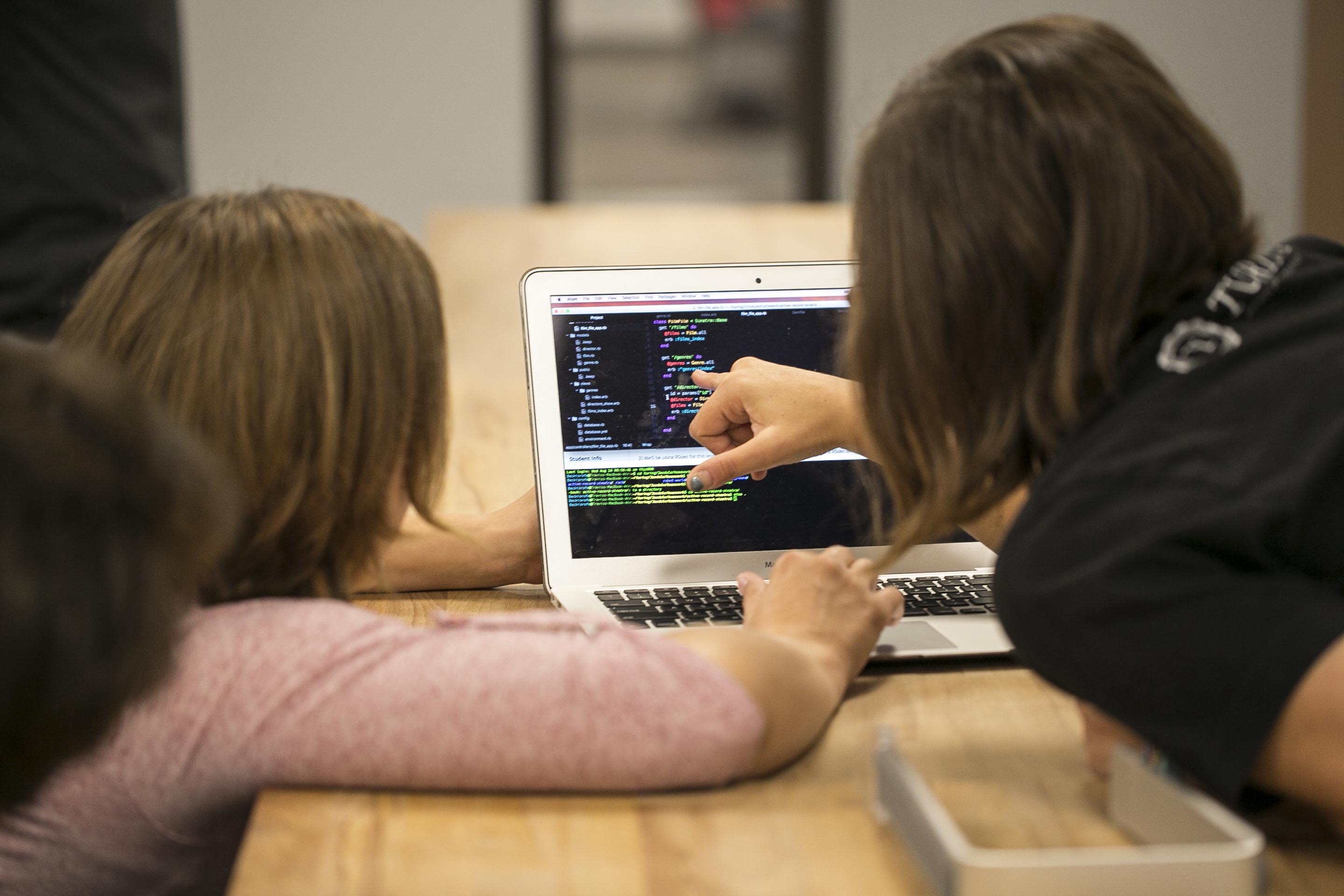 Why You, Why Now?
Because you have nothing to lose! If you've ever wondered about software development as a career option - try it.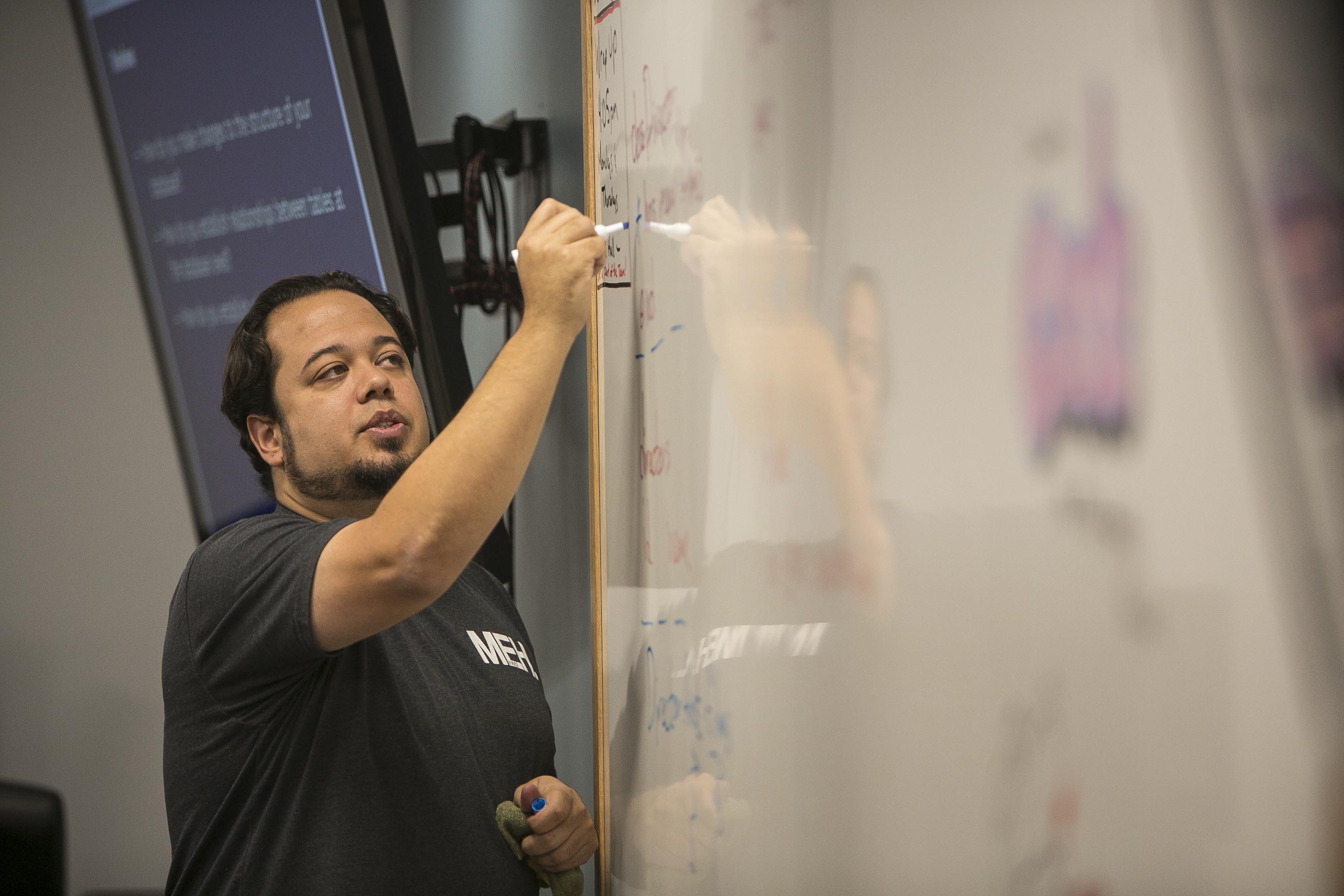 Follow-Ups
​If you attend the workshop and decide to apply to Turing School, you'll receive $500 off the cost of your tuition if you're accepted.
FAQ
Don't see the answer you need below? Questions? Email Anna Kummerlowe at anna@turing.io
1. How will I connect to the virtual session?
You will need a computer for this class that can connect to the internet and operate Zoom. When we send pre-work for the class (3 days before) we will send specific information on how to connect to the Zoom classroom we will be using. We recommend that you download Zoom now to ensure it is compatible with your computer.
2. When will I receive the pre-work for class? What if I have questions about pre-work?
Your instructor will send pre-work for the online class 3 days before class begins. At that time, they will also send the contact information of our Teaching Assistants (TA's). TA's will be available to answer any and all questions about pre-work and support you before class begins.
3. I registered for the class within 3 days before it's start date- will I have enough time to prep and complete the pre-work before class?
Depending on your schedule- yes! We recommend reserving 60 mintues to complete the pre-work. Technically, you could register day of at 9 a.m., complete the pre-work from 9 a.m. - 10 a.m. and join us at 10 a.m. when class starts. However, this option wouldn't give you access to our Teaching Assistants if you had questions, so we suggest registering at least 1-2 days before the start date.
4. What equipment should I have for this online class?
A computer that can connect to the internet via a web browser. We recommend using headphones to minimize distractions and ensure you can access the information. It will also be beneficial to find a quiet working space where you will be able to focus during the duration of the course.
5. I want to attend but I can't afford it. Are there any scholarships available?
We are offering scholarships on a limited basis for students with financial need. Please contact anna@turing.io for more information.
6. Are kids welcome?
This is a course designed for professional level adults and is not designed for kids. We ask that individuals under age 17 do not register to attend.
7. I've already practiced some code as a hobby or through Codecademy - will I still benefit from this course?
This course is designed for people who are brand new to code and have never tried it before. That doesn't mean that those with some experience aren't welcome or will not benefit from it, but some parts may be a review. If you are interested in a more advanced, Try Coding 2.0 workshop, please complete this interest form: http://bit.ly/2Tuhw13 and will keep you updated once it is scheduled.
8. What is the refund policy?
If for any reason you can't make it to the event, tickets are refundable up to 24 hours before. If the event has passed then we are happy to transfer your ticket to any upcoming Try Coding.
*Cancellation of events are dependent on a variety of factors including registrations, inclement weather and pressing needs that come up. If we do cancel your Try Coding workshop, you will be notified more than 24 hours in advance, credited back your registration payment and sent the schedule of other events.
About Turing School of Software & Design:
Since 2014, the Turing School of Software & Design has offered top-quality training for people who want to become professional software developers and designers. With an immersive and supportive program Turing aims to unlock human potential through building an inclusive community to help us realize our vision of a world powered by technology where the people building it represent the people using it.
Date and Time
Location
Virtual Event Hosted by Turing School of Software & Design
1331 17th St. Suite LL
Denver, CO 80202
Refund Policy
Refunds up to 1 day before event
Eventbrite's fee is nonrefundable.