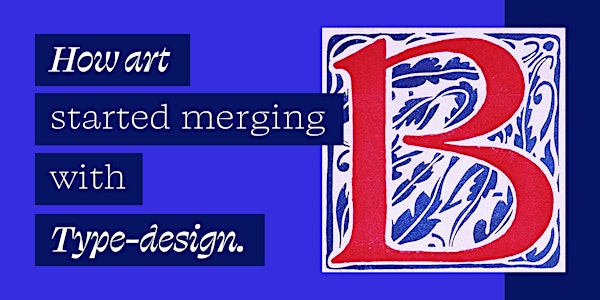 Online Themed Tour: How Art Started Merging with Type Design
Our themed tours give an exciting look into our collection on topics that inspire our hosts in a small group setting built for conversation.
Refund Policy
Contact the organizer to request a refund.
Eventbrite's fee is nonrefundable.
About this event
The influence of the "Arts & Crafts" & "Art Nouveau" on typography.
By the late 1800's and the beginning of the 19th century, art went through a transformation process and broke its bonds with academic standards. This era also saw an increase in industrialization, mass production, the emergence of many different new techniques and machines and an overall decline of handwork. This gave birth to a series of powerful art movements such as The Arts & Crafts, Art Nouveau, and Art Deco. These movements heavily influenced areas such as painting, architecture, jewelry, and also were a breaking point for the graphic arts with its inclusion of posters as artforms, but how did these movements influenced typography? In this tour we will go over these different movements, learn their distinct historical contexts and dissect many of the most characteristic letterforms created during these periods.
We'll focus on learning about how new technologies of the time changed type production, and also what new styles came from this new era that was all about innovating, returning to handwork, and how it ended up with the rise of advertisement and modern-day graphic design. Rebeca will guide you through the different art movements, their distinct historical contexts and you'll learn about many of the most characteristic letterforms created during these periods.
Rebeca Anaya (she/her) is a lettering artist & designer currently based in Mexico. Her work focuses on lettering, typography-inspired branding and editorial design, and over the years she's had the joy of working and collaborating with brands such as The Washington Post, Slack, The National Museum of Fine Arts, among others.
Rebeca is passionate about typography, and runs Typebasics in her spare time, a personal project that aims to bring typography knowledge to non-typography designers. When she is not obsessing over the perfect flourish, you can find her petting dogs, embroidering, trying to find the perfect cold brew, or re-reading The Judgement of Paris by Ross King.