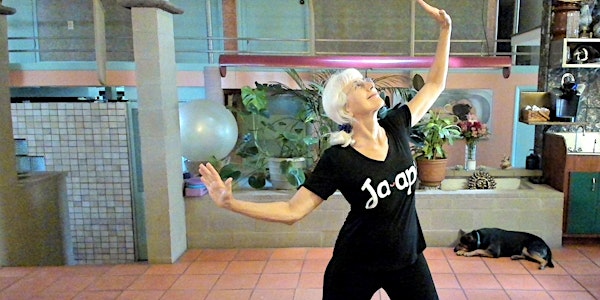 ONLINE Ja-api "Happy" Movement
Ja-api class pronounced "Happy" and is an innovative physical and mental conditioning program.
Refund Policy
Contact the organizer to request a refund.
Eventbrite's fee is nonrefundable.
About this event
Ja-api, pronounced "Happy" is a fun and easy movement program consisting of 12 sequences that express 12 specific intentions starting with "Being Present" through to "Self Love".
Each sequence is set to music with movements creatively expressing each intention in a fun and simple way giving an overall feeling of well-being inside and out.
The music is a delightful mix of favorites from all genres, all ages and all over the globe.
The rhythm of the music in harmony with the movement of the body and the intention held in mind is healing on many levels!
There is no wrong way to do Ja-api and that is the beauty of it! We listen to our bodies accommodating the moves to our liking, as we follow the instructors recommended movements.
Bare feet is recommended, and is quite nicely done on a yoga mat, but not required.
Ja-api Class teaches us to live Relaxed and Happy!
Ja(Ha) the sound of laughter
a- attitude
p- posture
i - intention
I Choose to Live Relaxed and Ja-api!
*** The zoom class link can be found on the bottom of your rsvp confirmation email that you will receive after you register. Please save your confirmation email to access the class on the day of the event.
-Please try to virtually arrive 10 minutes prior to the start of class-
Suggested donation (not required) of $5 - $10 can be made when you register.*** Please get cleared by your medical doctor to perform physical activity prior to attending this class. This class will assist in modifications appropriate for all levels and stages of treatment or recovery.
Instructor Bio: Tamara Ballif was born in Los Angeles California and has lived in South Texas for the last 37 years. The body, mind, spirit and health connection have always been a way of life for her. As a partner of a lucrative and successful catering and food service business in the Rio Grande Valley for more than 25 years her health began to suffer from the stress of it all. She joined a local yoga studio which offered not only wonderful yoga classes but also Ja-api classes. These classes along with the help of a wonderful holistic acupuncture doctor helped her get off the heavy prescription meds she was put on, and regain her enthusiasm and joy for life. After several years of taking Ja-api classes weekly she wanted to share the magic she felt from the class with others and she became certified to become an instructor. Tamara taught Ja-api classes at Corazon yoga studio in McAllen Texas for several years until they closed due to covid. At that time she started giving Ja-api class by Zoom and has continued Ja-api by Zoom to this day. She thoroughly enjoys being outdoors at home listening to the birds sing in the large oak trees and tending her flower garden. A few of her other hobbies are her 5 large rescue dogs whom she loves dearly and raising a handful of khaki campbell ducks for the farm fresh eggs they give since discovering her allergy to chicken eggs.
By clicking the RSVP button you are agreeing to the following:
I am aware that participation in exercise may result in accident or injury, and assumes the risk connected with the participation in exercise represents that the undersigned suffers from NO physical impairment which would prohibit participation in exercise and has been cleared by their medical team to participate in exercise. Undersigned acknowledges that the exercise instructors and Moving Beyond Cancer Collaborative have not and will not render any medical services including medical diagnosis of physical condition. I specifically agree that the parties above shall not be liable for any claim, demand, cause of action of any kind resulting from or related to undersigned's premises, or participation in any activity within or without the premises of MBCC. I have read the above release and waiver of liability and fully understand its contents. By RSVP'ing for this event I voluntarily agree to the terms and conditions stated above.