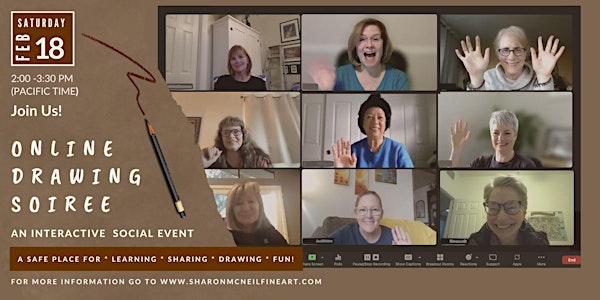 Online Drawing Soiree: Discover why anyone can learn to draw, EVEN YOU!
This is the event for you if you've always wanted to learn to draw but fear that you can't. Learn why anyone can learn to draw, even you!
Date and time
Saturday, February 18 · 2 - 3:30pm PST
About this event
What is an Online Drawing Soiree? It is not a webinar or a sales event. There will be some teaching and learning, but you will not sit on the sidelines. This is an interactive event. You'll get to draw and discuss the process in breakout rooms. Anyone can learn to draw, despite the common belief that only certain people are "gifted" in this way. You'll learn what the number one thing is that holds people back from learning to draw. It can be a lonely experience. This is a chance for you to meet some other drawing enthusiasts. It's good to find out that you are not alone and that others are struggling with the same things you are. Best of all there is nothing for sale! To be prepared you'll want to have some paper, something to draw with, and an open mind! Be ready to meet people and have a fantastic time! Beginners are welcome! This is a CAMERAS ON EVENT with BREAKOUT ROOMS.
About the organizer
Do you think you can't draw? Well, think again. Anyone can learn to draw with time, effort and the right instruction. I host free events to help you discover your own hidden abilities. Join us for an "Online Drawing Soiree." This is an interactive social event I host twice a month. You'll experince some learning, a bit of sharing and some drawing, designed to help you shift those limiting beliefs. I also present a free masterclass "Thrive in Retirement through Learning to Draw." This is more of a presentation Webinar style event, where I present some science backed research that shows how learning to draw can help prevent cognitive decline as you age as well as having many other health and wellness benefits.