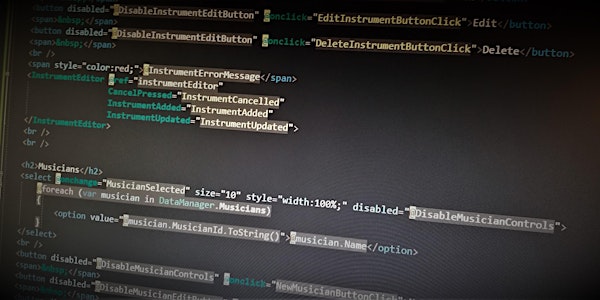 One-day hands-on Blazor Workshop Jan 3, 2020
Write a complete server-side Blazor PWA app with EF Core, API controllers, components, SignalR, AspNetCore Identity, and JS Interop.
Refund Policy
Contact the organizer to request a refund.
Eventbrite's fee is nonrefundable.
About this event
In one day, we will write a complete server-side Blazor PWA app with EF Core, API controllers, components, SignalR, AspNetCore Identity, JavaScript interop, and user management using Visual Studio 2019 and .NET Core 3.
Everyone will get a video recording of the entire day!
Testimonials:
"I found the material and structure of the workshop to be very informative and valuable. Thank you for taking all the time you did to prepare a working solution with so many technologies. It was evident you worked extremely hard to prepare a valuable workshop for the attendees." - William
"Thank you for the course. We covered maybe 12 hours worth of material in 8. What I liked most about the course was that I went from listening to people talk about Blazor to being able to code with Blazor. I will definitely be able to build on this course." -Chuck
"Really enjoyed this course, Carl's materials and content were structured really well and Carl himself is an excellent coach. It is a really intense day with a lot to take in but I had great fun and learn't a lot. A really great day. Thanks Carl." - Jonathan
"Thanks for a very nice workshop. I find that you have combined some modern and very interesting technologies in a workshop format that is very well scoped and structured as well as smoothly executed. We covered a lot in a short time and it was definitely worth the money. I now have a much better understanding of how to proceed with Blazor, although the best part for me was the insight in Razor components." - Lars
Additional workshop dates:
Prerequisites:
Visual Studio Installer Options:
- ASP.NET and web development
- Data Storage and processing
- .NET Core cross-platform development
- Go to **Individual components** and search for *localdb*. Check off the option **SQL Server Express 2016 LocalDB** (see screen shot below).
We will create APIs for accessing data with EF and handling file uploads. We will build a local service to call the APIs. We will build components to handle editing records and embed those components into our SPA. We will add a SignalR hub to share immediate changes to other users working on the same records. We will add AspNetCore.Identity and restrict access to our app and apis based on users roles. We will use IdentityManager to edit user roles.
We will use Zoom (http://zoom.us). I will send out an invite URL the day before the event.
When installing Visual Studio Community Edition, make sure you install SQL Server Express 2016 LocalDB