It's time to fully OWN & EMBODY your divine gifts *unapologetically* so that can THRIVE while doing what you love!
About this event
As a heart-centered small business owner, you're rapidly evolving. This means you are constantly putting yourself on the learning edge to expand your wisdom, knowledge, and experience in order to grow your business to the next level.
The truth is - whether you've been in business for 2 years or 20 years - it can feel terrifying when something new is emerging.
All of the fears come up:
"What if I don't know how to do it in the best way?"
"What if nobody 'gets' it or my message doesn't land?"
"What if I say or do something wrong and people judge me?"
"How am I actually going to make money with this?"
"What if I do a whole bunch of work and it flops, and then I've wasted so much time and I still don't have money?"
"What if I launch and it takes off & it's more work than I can handle and it all sends me straight into burnout again?!"
From a nervous system perspective, these heavy doubts and unknowns can make taking steps forward feel like the threat of life or death in our bodies.
And if technology or marketing yourself online feels overwhelming for you, it raises the stakes even more!
It's like standing on the precipice of a dark abyss and being expected to take a blind step off the ledge... and the fear that envelopes us can be downright paralyzing.
Here's the deal:
It's common to feel a little crazy when we have a new idea. We get so excited. The download comes and we can see what's possible in crystal clear, vivid color!
Then, almost instantly, we start to question HOW we're going to possibly make it a reality. Dun, dun, duuuunnnnn.
So we start to look outward, to find others doing it, so that we don't feel too weird or 'out there'... because at the core, we fear that we'll be judged, we'll do it wrong, and nobody will like us.
But the truth is, no matter how many 'others' you might see, they'll STILL never quite match what you're looking for because nobody will birth the big vision you have into the world like YOU will.
Which means the most important work you can do now is to fully OWN & EMBODY your gifts, so that you can launch the next product, program, or offering that wants to come through you!
During this workshop, we're going to cover:
How you might STILL be playing small (even if you feel like you're showing up all the time)
What unconscious or pesky & persistent fears have you paralyzed or running ragged on what I call "the Hamster Wheel of Not Enough"
The 3 crucial elements for truly thriving in your business, and how to identify which one you need to work on (if one of these is off, it's a recipe for being bummed, broke, and burnt-out)
How to align yourself with your big vision so that you can realize it into reality!
It's time to fully realize the big vision that you have for your life & business, that deep down you KNOW is possible… to get more clients, get PAID WELL, and do the work you REALLY want to be doing.
It's YOUR calling and it's time to listen to it & ACT on it!
WHO IS THIS FOR?
Brilliant, purpose-driven women - coaches, consultants, holistic healers & practitioners, writers, and creatives - who are consummate professionals in their field and you are being called to expand into a deeper realm of your work.
This could mean you're changing the container for your work (such as going from 1:1 to serving groups/creating online courses), becoming more visible online and expanding your audience, or increasing your prices with a new package/offer.
You love meeting other tuned-in business owners. My events draw some of the most incredible, prolific, heart-centered women, and I would love to have you in the room with us!
WHO IS THIS NOT FOR?
This isn't for those who have never had a client at all or want a business but don't know what they want to do yet.
This workshop is best for those who have lots of ideas, and who are currently, actively in business.
This also isn't for anyone who's not willing to receive support and/or invest in themselves or their business. We ALL need support, insight, and perspective to help us see the forest from the trees. Be willing to get curious, connect, learn and allow yourself to receive support - this is the key to personal and professional growth!
LIVE, INTERACTIVE GLOBAL EVENT
This will be hosted on Zoom, and presented as part presentation/talk & part interactive Q&A - with an opportunity for coaching, connection, and reflection. You are warmly invited to join on video and to converse in the chat!
PLEASE BE ON TIME!
I will set agreements for our safe & sacred container at the beginning and I won't let people join after.
Note: You don't have to participate live if you don't want to, but it's waaaay more fun & you'll get way more out of it if/when you do.
REGISTER NOW!
Have a question not answered here? Reach out & say hello.
You can contact me on Facebook or DM me on Instagram!
Not sure if this is for you? This workshop will be an awesome opportunity for us to connect and for you to get a taste of my work. If you want to explore more or don't feel you're ready for this yet, visit https://WilloLovesYou.com and access all of my FREE resources.
WILLO SANA, TRANSFORMATIONAL BUSINESS COACH
My work is all about empowering visionary entrepreneurs to take heart-centered action, so that you can create a thriving life & business you love.
To do this, we start by getting you crystal clear on the vision you want to birth into reality and we create an aligned plan with the specific steps you need to take for where you are in business right now.
My work is holistic, so we also do the deep work that's required on this transformational path. We surface and face the subconscious beliefs and patterns that are holding you back... the paralyzing fears, perfectionism, overwhelm, and/or lack of confidence.
You can be the most badass boss babe, but on your learning edge you may become someone you hardly recognize. This is when we need support & reflection!
The body-centered, trauma-informed shadow work I have done over the last decade has proven to be a massive catalyst for transformation amidst my clients - helping heal any lingering confidence/deep self-worth issues, bolstering your ability to set boundaries, allowing yourself to become more visible, and empowering you to boldly act on behalf of your truth.
I've been in business for almost 20 years. I've been speaking on stages, publishing, running events, retreats, & online courses for 14 years, and I've been running small group coaching programs online for 6 years. All of which is to say, this isn't my first rodeo. ;)
You step in with me - either on this event or in one of my programs - and I am with you every step of the way as you realign, recommit, and fully integrate the woman you are becoming on this transformational path of entrepreneurship!
So, if you're looking for someone who can meet you at the experienced level you are at, mentor you to the next level you want to be, and guide you through the rich forests of your own brilliance - to shine a light on all that wants to come through you, and help you gloriously birth it into reality beyond your wildest dreams - register & join for this event, or reach out to me and let's talk.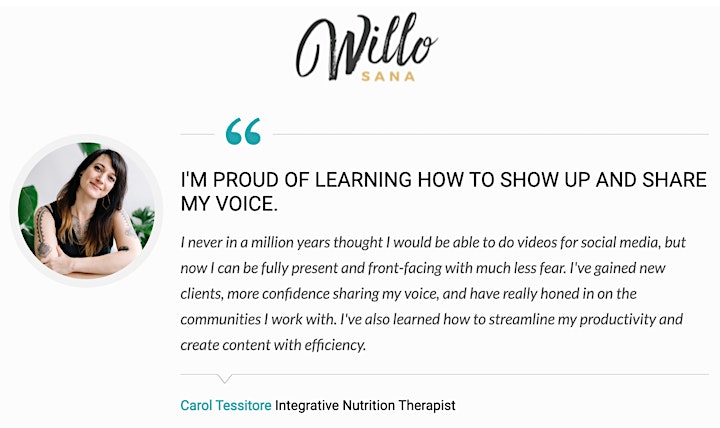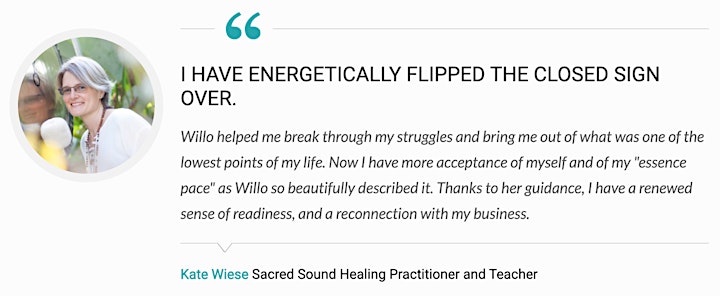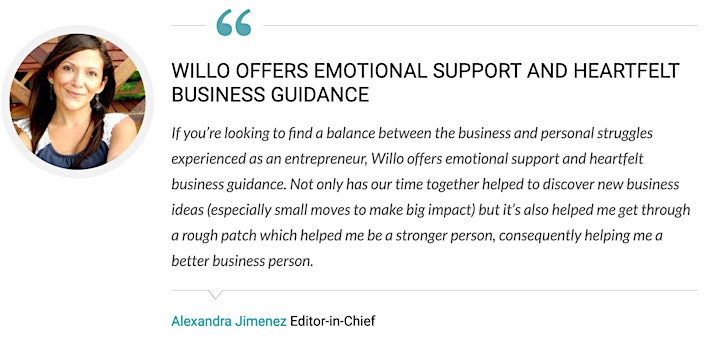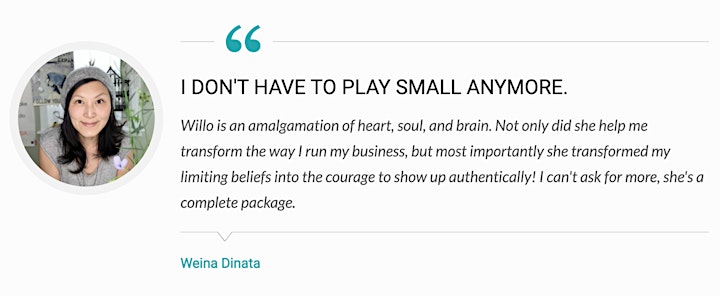 Date and time
Location
Refund policy