OITNB Author Piper Kerman: 2016 Delta Gamma Lectureship
Description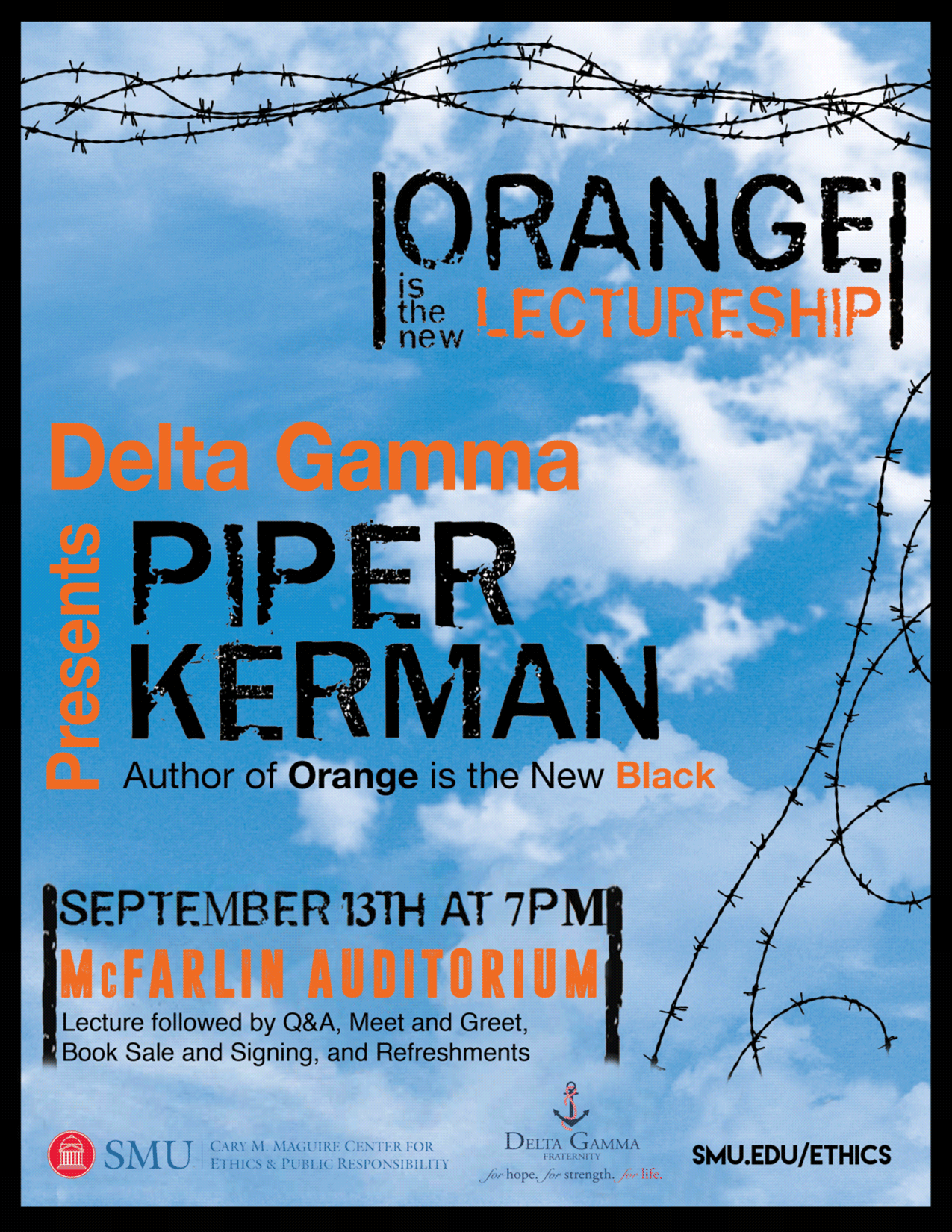 The Alpha Upsilon chapter of Delta Gamma and the Maguire Center for Ethics & Public Responsibility are proud to welcome Piper Kerman, author of Orange is the New Black: My Year in a Women's Prison to SMU as the 2016 Delta Gamma Lecturer in Values and Ethics. Kerman's best-selling memoir chronicles what the author calls her "crucible experience" — 13 months spent in the Federal Correctional Institution in Danbury, Connecticut.
A brief involvement with drug trafficking while she was in her early twenties sent Kerman to prison ten years later on money laundering charges. In her compelling, moving, and often hilarious book, she explores the experience of incarceration and the intersection of her life with the lives of the women she met while in prison: their friendships and families, mental illnesses and substance abuse issues, cliques and codes of behavior. The book also raises provocative questions about the state of criminal justice in America, and how incarceration affects the individual and communities throughout the nation.
Since her release, Kerman has worked tirelessly to promote the cause of prison and criminal justice reform and currently serves on the board of the Women's Prison Association.
Kerman is the recipient of Harvard's Humanist Heroine Award (2015), as well as the Constitutional Commentary Award from The Constitution Project (2014) and John Jay College's Justice Trailblazer Award (2014).
The lecture will be followed by a Q&A, book signing, and meet and greet.
About the Delta Gamma Lectureship in Values and Ethics
In 1992, Lectureships in Values and Ethics, a Delta Gamma program sponsored by the Delta Gamma Foundation, was established by Dr. Paul Martin honoring his wife Dorothy Garrett Martin (Dotty), Eta-Akron in celebration of their 50th wedding anniversary. The initial home of the lectureship was Paul and Dotty's alma mater and the site of Delta Gamma's oldest active collegiate chapter, the University of Akron. Though Dorothy has passed on, the lectureships immortalize her selfless spirit and love for Delta Gamma. Today 14 campuses have established Lectureships in Values and Ethics, with 4 more in progress, and 2 others in the planning stages.
These lectureships are always free of charge to collegians, university volunteers and employees, as well as invited individuals in surrounding areas. The Delta Gamma Foundation has great pride in this unique program, which is a prime example of its mission to "provide resources for educational growth and philanthropic service for all members."