About this Event
For 7+ years, OHUB has been leveling up a community of intentional, innovative and ambitious technologists, professionals, entrepreneurs, investors and ecosystem builders on their journey into the future of work, startup ecosystem, fourth industrial revolution and beyond as a path to shared prosperity and multi-generational wealth creation with no reliance on pre-existing multi-generational wealth.
Starting April 1, OHUB is launching OHUB365, a daily curated interactive webinar series featuring OHUB's ecosystem of skills, hiring, startup, entrepreneurship support, financial literacy, investor, health, wellness & aspirational partners.
Our hour-long interactive webinars will take place daily at 8pm EST.
Next Class: Thursday, July 2, 6:00PM ET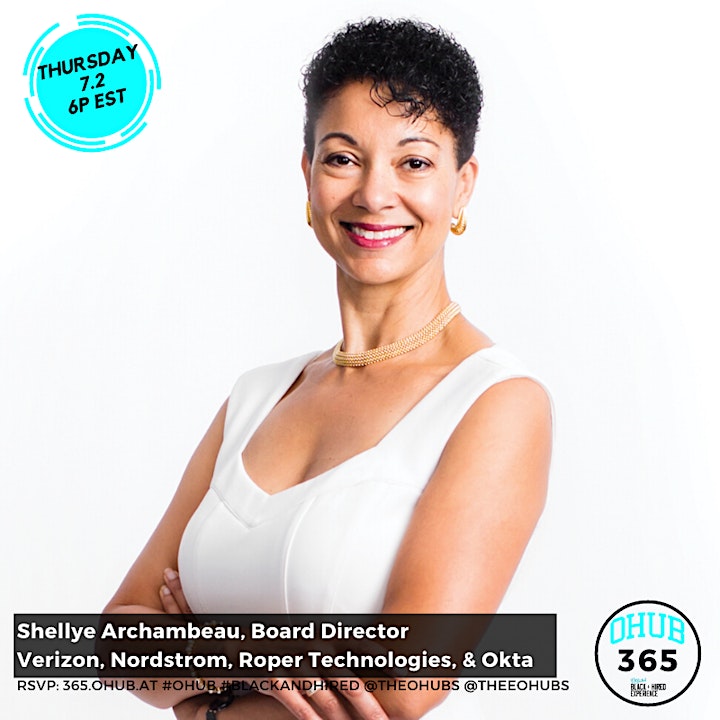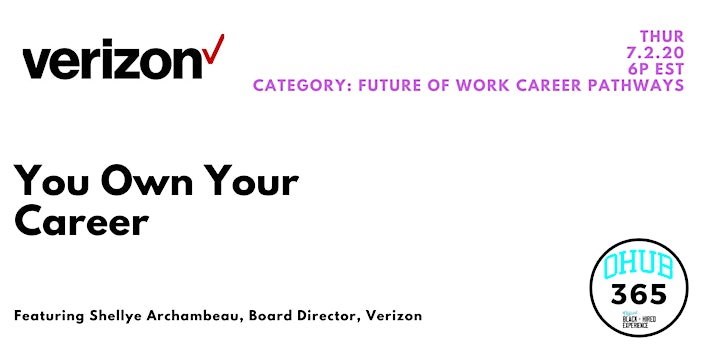 In this interactive session, Ramon Ray chats with John McElligott about the fourth industrial revolution and how humans may use automation to work alongside robots in the near future. John is known professionally as a Vision Caster and Technical Futurist. He believes in the power of community networking through communication and technology.
Invite your friends to join OHUB today to access this class and hundreds more at join.ohub.at
UPCOMING CLASSES
PAST CLASSES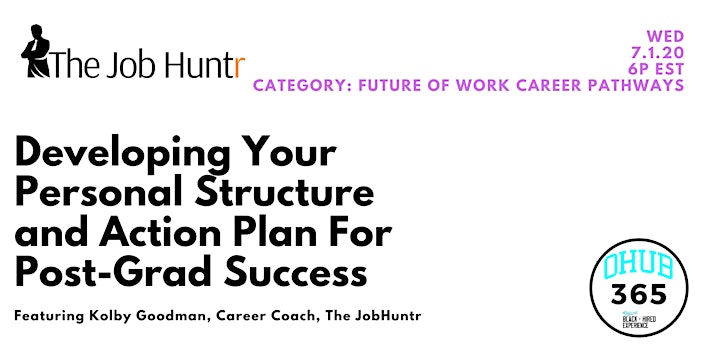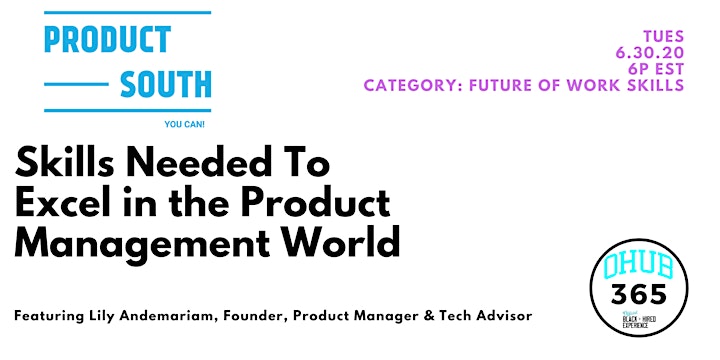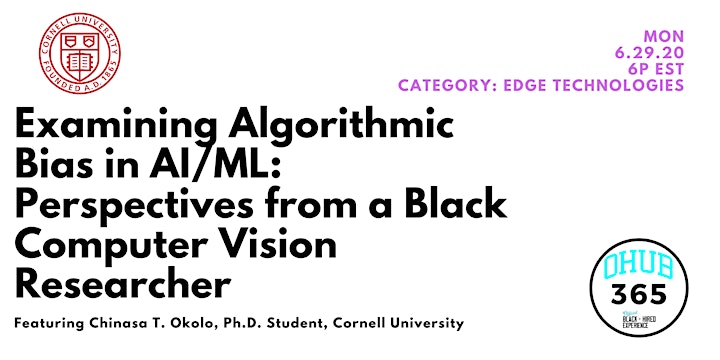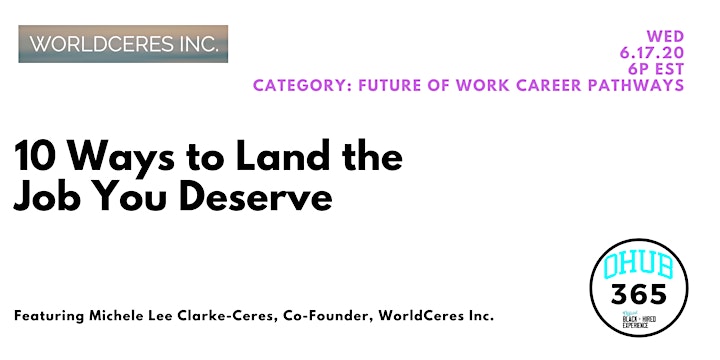 Wednesday, June 17 at 6P EST
Topic: 10 Ways to Land the Job You Deserve
Presenters: Michele Lee Clacke-Ceres
About: Michele is the Co-Founder of WorldCeres Inc., an international consultancy focused on career coaching, soft skills training, and business development. She is the Creator and Instructor of the WorldCeres Inc. Soft Skills Curriculum and is also the Host/Creator of The Global Advocate Career Podcast, a career podcast where she interviews fascinating individuals who are making a difference in their careers from around the globe.
As a Career Coach, Michele's expertise is in coaching individuals experiencing transitions at any stage of their career. She seeks to help others by using her humor, strong interpersonal skills, and perspective as well as unique knowledge of various workplace dynamics.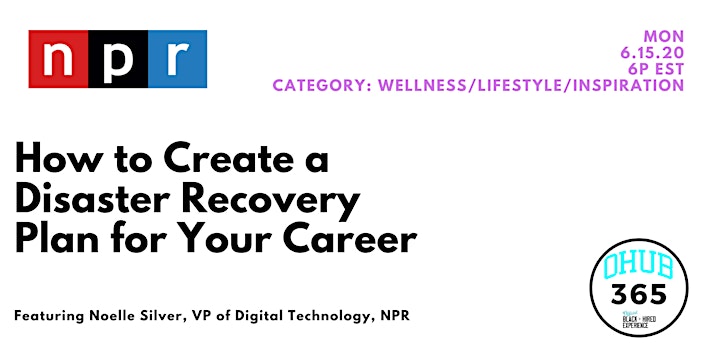 Monday, June 15 at 6P EST
Topic: How to Create a Disaster Recovery Plan for Your Career
Presenters: Noelle Silver, VP of Digital Technology, NPR
About:
Noelle Silver is the founder of the AI Leadership Institute and Women in AI. She is an ambassador for Responsible and Ethical use of AI and she is passionate about Mindful Leadership, work-life harmony and empowering people achieve their potential through technology. She specializes in helping technical leaders successfully navigate cloud transformation and develop an AI and Voice Strategy by delivering keynotes, sessions and hackathons worldwide. She has spent decades as a trainer, architect, and evangelist for IBM, RedHat, EMC, Amazon and Microsoft. She has been listed as the"#1 Speaker to Have at Your AI Event by ReadWrite.com and a "Top Influencer in Voice" By Voicebot.ai as well as received an award from VentureBeat for her work mentoring women in the field of AI and Emerging Technology.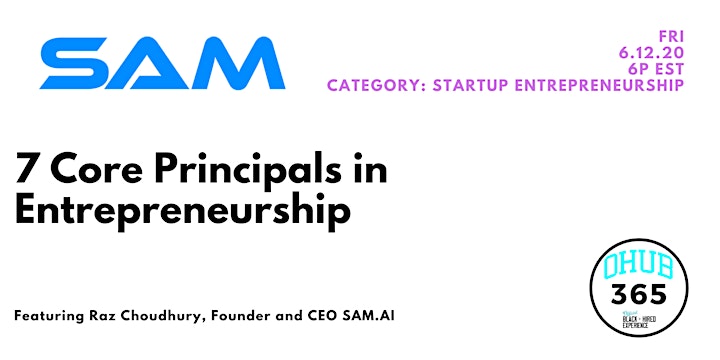 Friday, June 12 at 6P EST
Topic: 7 Core Principals in Entrepreneurship
Presenters: Raz Choudhury, Founder and CEO, SAM.ai
About:
Raz Choudhury is the founder and CEO of SAM.AI. Raz started his career at age 19 as an Engineer at IBM. Raz spent six years leading IBM's major Northeast accounts such as Goldman Sachs, Mitsubishi International Trading, and AXA Equitable. Raz's numerous professional certifications, as well as broad expertise in internet technologies, drove him to strike out on his own. In 1999, Raz founded and ran USAWeb - now Office Interactive® - an award-winning software development company based out of New York City.
Raz Choudhury's career as a Software CEO leads him to found SAM to humanize software experience with voice activated conversational AI for mouseless software interaction and network-enabled ecosystem for exchanging warm introductions. SAM was founded with some of the best engineering talents from Raz's former organization as well as trailblazing executives in the industry that Raz had an affiliation with.
Raz attended Columbia University. He is an active yogi, environmental stewart, and advocate for ethical use of AI. Raz grew up and resides in NYC with his family.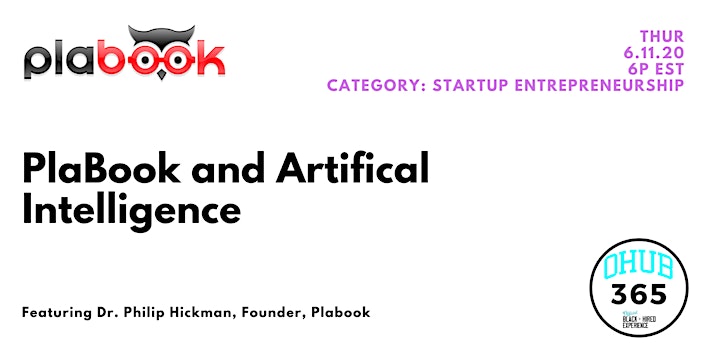 Thursday, June 11 at 6P EST
Topic: PlaBook and Artificial Intelligence
Presenters: Philip Hickman, Founder, Plabook
About:
Philip is the current CEO & Founder of MindAble Solutions and PlaBook. He is a top selling author of educational books and leadership. Previously, Superintendent, Assistant Superintendent of Houston Independent School District over the Academic Services. In this presentation learn about the future of Artificial Intelligence and how the future of education will be shaped.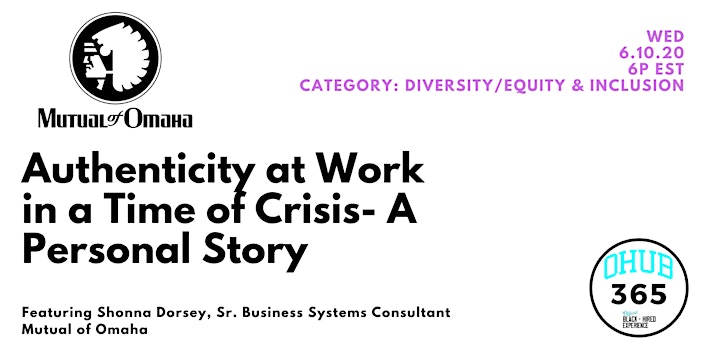 Wednesday, June 10 at 6P EST
Topic: Authenticity at Work in a Time of Crisis - A Personal Story.
Presenters: Shonna Dorsey, Mutual of Omaha
About:
Shonna Dorsey is an Omaha native who holds undergraduate and graduate degrees in Management Information Systems from the University of Nebraska at Omaha. She is currently a Senior Consultant at Mutual of Omaha and Commissioner for the Nebraska IT Council. Her career includes roles as a startup co-founder, nonprofit VP, IT intern. Shonna has earned awards including: Excellence in Community Service (National Daughters of the American Revolution), Changemaker (Greater Omaha Chamber of Commerce Young Professionals), Women in Technology (InformationWeek), Ten Outstanding Young Omahans (Omaha Jaycees), Tech Community Builder of the Year (AIM Institute) and 40 Under 40 (Midlands Business Journal).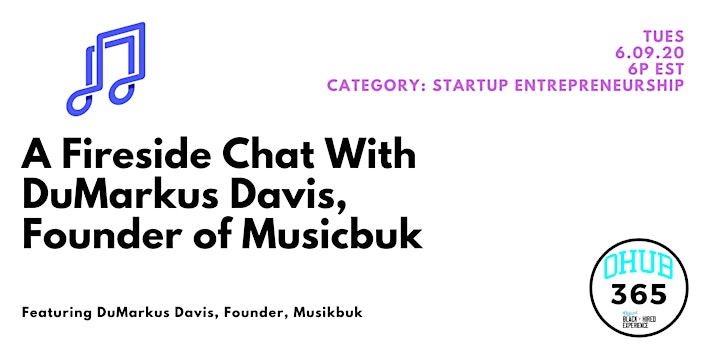 Tuesday, June 9 at 6P EST
Topic: A Fireside Chat With DuMarkus Davis, Founder of Musicbuk
Presenters: DuMarkus Davis, Founder, Musicbuk
About:
DuMarkus Davis is Founder & CEO of Musicbuk, Inc, a tech company in the heart of Atlanta. He is a committed American violinist who is a Class of 2013 Gates Millennium Scholar and 2018 graduate of The San Francisco Conservatory of Music.
Because of his love for the violin, Davis began teaching private lessons at a young age. This led his founding Musicbuk, a music technology company with the mission of making music education more accessible. DuMarkus's performances have taken him across the globe to the Czech Republic, Germany, Ireland, and the prestigious Carnegie Hall in New York.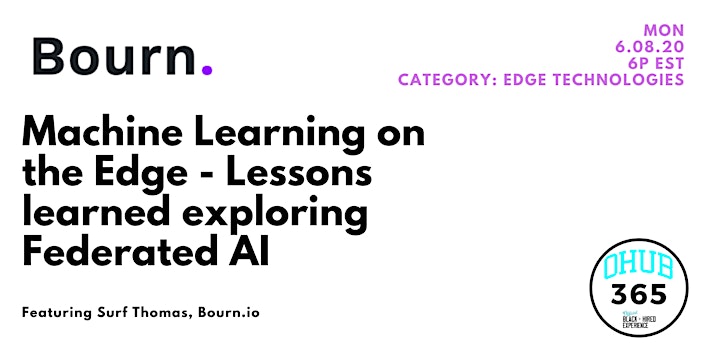 Monday, June 8 at 6P EST
Topic: Machine Learning on the Edge - Lessons learned exploring Federated AI
Presenters: Surf Thomas, Co-Founder, Bourn
About: Surfield is a technology expert with a Masters Degree in Data Science and 10+ years of experience working with some of the biggest startups in the world; WeWork, Venmo, Spotify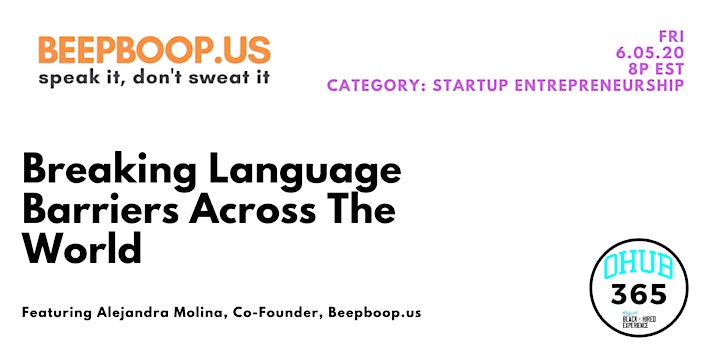 Friday, June 5 at 8P EST
Topic: Breaking Language Barriers Across The World
Presenters: Alejandra Molina, Co-Founder, Beepboop.us
About: Alejandra Molina is the Co-Founder of Beepboop.us, working to break language barriers across the world, by making learning languages a fun and efficient experience. A part of the MetaBronx Accelerator, Alejandra is focused on bringing her startup and other initiatives to the world, including to her home country Peru. She has studied and lived in 7+ countries with 4 years of cross border professional experience.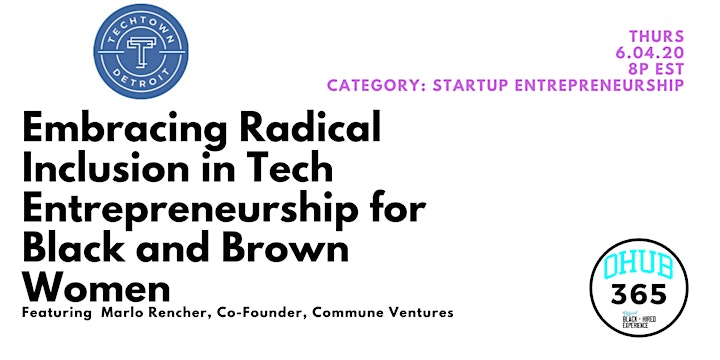 Thursday, June 4 at 8P EST
Topic: Embracing Radical Inclusion in Tech Entrepreneurship for Black and Brown Women
Presenters: Marlo Rencher, Co-Founder, Commune Ventures
About: Dr. Marlo Rencher is an entrepreneur, anthropologist and educator with over two decades of experience in startup and small business development. Currently, she is TechTown Detroit's director of technology-based programs. She is a cofounder at Commune Ventures, an inclusive network of angel investors.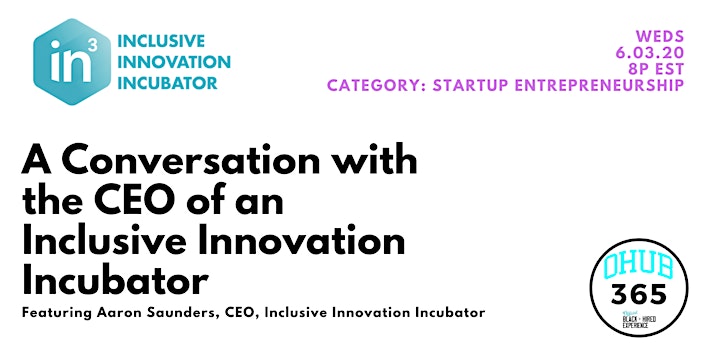 Wednesday, June 3 at 8P EST
A Conversation with the CEO of Inclusive Innovation Incubator
Presenters: Aaron Saunders, CEO, Inclusive Innovation Incubator
About:
Aaron Saunders is the CEO of Inclusive Innovation Incubator in Washington DC. This is session participants will learn about the work that In3 does on the ground in D.C. and how to provide and receive funding and support as Black Founders.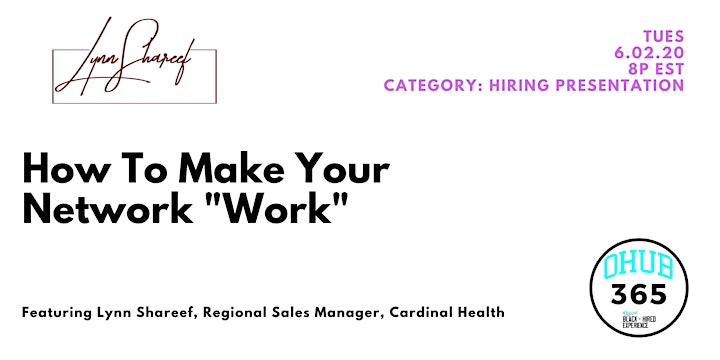 Tuesday, June 2 at 8P EST
Topic: How to Make Your Network "Work"
Presenters: Lynn Shareef
About:
Just because the world has shut down doesn't mean your networking has to! Lynn Shareef is a senior level Healthcare Executive with a successful track record in sales and sales training leadership with several Fortune 100 companies including Novo Nordisk, Baxter, and Johnson & Johnson. She has created and facilitated numerous workshops for individuals, groups and organizations and led several successful sales teams. She has addressed groups from 5 to 1500 in the corporate and non-profit world.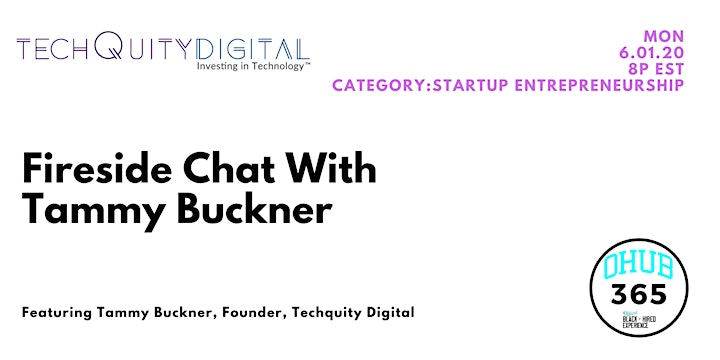 Monday, June 1 at 8P EST
Topic: Fireside Chat with Tammy Buckner
Presenters: Tammy Buckner
About:
Tammy Buckner is the Chief Executive Officer and Founder of Techquity Digital, LLC. An innovative solutions-based technology company that develop web, mobile apps and software focused on strategic business development, project management and technology execution to improve business process. When she is not working with clients she spends time exposing youth in the urban core of Kansas City to technology, cybersecurity and cool hardware projects using Raspberry pi.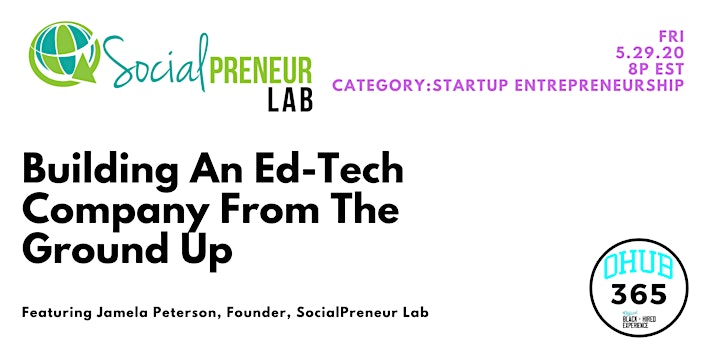 Friday, May 29 at 8P EST
Topic: Building An Ed-Tech Company From The Ground Up
Presenters: Jamela Peterson, Founder, SocialPreneur Lab
About:
Jamela Peterson, is an Atlanta native, leveraging technology to bridge wealth gaps and give youth a head start on their financial futures. In 2016, she founded SocialPreneur Lab® to give students the opportunity to experience starting their own business. As a part of the program, she developed a platform, which includes crowdfunding and an online marketplace to help youth raise startup capital and sell products virtually.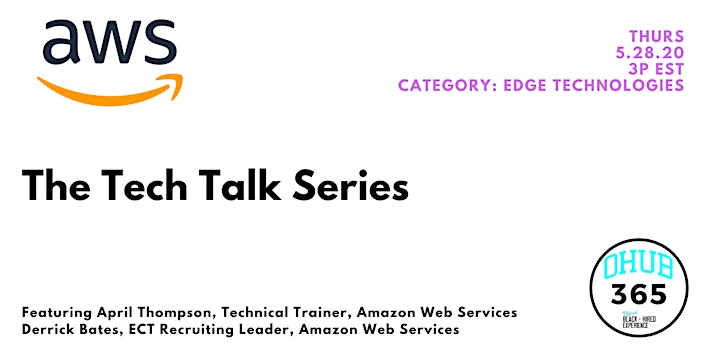 Thursday, May 28 at 8P EST
Topic: AWS Tech Talk Series
About:
We created the AWS Tech Talk Series to provide an intentional professional recruiting experience that is inclusive of diverse communities in the Tech and Non-Tech space.
AWS Tech Talks will highlight diverse subject matter experts from the AWS World Wide Solutions Architecture and Training and Certification teams. These speakers will share their experiences with and knowledge of the cloud industry. During the event, you will be able to ask the speakers questions and apply for open roles advertised below. This is an opportunity to learn, engage, and connect with AWS in a different way—inclusive of your background.