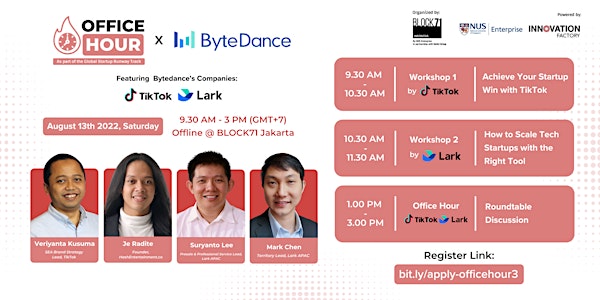 Office Hours x ByteDance "Workshop and Round Table Discussion"
Office Hours is an internal event supported by NUS Enterprise and Innovation Factory within the premise of BLOCK71.
When and where
Location
BLOCK71 Jakarta Ariobimo Sentral, Lantai 8, South Jakarta. Setiabudi, Jakarta 12950 Indonesia
About this event
OFFICE HOURS
Office Hours is an internal event supported by NUS Enterprise and Innovation Factory within the premise of BLOCK71. This will be an engagement session involving the founders and c-level of BLOCK71 Indonesia's startups with an expert mentor who has gained years of experience in the industry.
The engagement session will provide opportunities for the founders of each startup to have a direct discussion with the invited mentor, an expert from its field.
------------------------------------------------------------------
Agenda:
08.30 - 09.30: Registration Open
09.30 - 10.30: Workshop 1: Achieve Your Startup Win with Tiktok
10.30 - 11.30: Workshop 2: Workshop 2: How to Scale Tech Startups with The Right Tool
11.30 - 13:00: Lunch Break
13.00 - 15.00: Office Hour "Round Table Discussion" with Tiktok & Lark for selected startups
------------------------------------------------------------------
ABOUT THE SPEAKERS
Veriyanta Kusuma, SEA Brand Strategy Lead, TikTok
Veriyanta has been working in the digital space for 15+ years. Started his professional work as a full stack web developer and in the past 12 years focusing on digital marketing and social media for different industries.
His past experiences include the United Nations, smartphone maker and enterprise security (BlackBerry), telco provider (Indosat Ooredoo), Instagram, online travel agent (Traveloka) and currently for the hottest platform, TikTok.
Suryanto Lee, Presale & Professional Service Lead, Lark APAC
Suryanto is leading Presale consulting and Professional Service team in Lark Technologies, ByteDance. He works closely with partners and customers across Southeast Asia countries, especially Indonesia to transform the way they work and empower their growth through the use of Lark's technology and best practices. He is customer focus and has experience in building high-performing teams.
Prior to his role in Lark, he was with NCS, the #1 market leader in IT services in Southeast Asia, and managed teams responsible for technology consultancy, software development and implementation projects.
Mark Chen, Territory Lead, Lark APAC
Before Lark, Mark has gained his ASEAN experience from global tech companies like Salesforce, Tata Communications. Since Lark's inception in 2019 into ASEAN market, Mark has been the Indonesia territory lead, witnessing the innovative evolution and growth of Lark's technology to suit Indonesian market needs.
Having worked with key customers in Indonesia, Mark brings us insightful perspectives on why and how start ups from Indonesia chose and adopt Lark as a digital collaboration tool.
Je Radite, Founder, HashEntertainment.co
Left his 4 years working in globally-reputable financial related companies, Je transformed himself as a strong believer in entertainment as a foundational education.
7 years in entertainment industry, he started in influencer marketing agency as Gushcloud Expansion Lead (SG), Country Manager of Cauly (KR), to start his own company, HashEntertainment that has worked with brands like Samsung, Grab, and Danone. As an Entertainment company, Je and Hash have worked with TTS from SNSD, Jay Park, LMFAO, 88rising, and marketized the new global sensasion girl group from Japan, XG.
------------------------------------------------------------------
About BLOCK71 Indonesia
Tech Ecosystem Builder and Global Connector
BLOCK71 in Indonesia is a partnership between NUS Enterprise, the entrepreneurship arm of the National University of Singapore, a leading university in Asia and Innovation Factory by Indonesia's Salim Group.
Together, we serve as the epicenter for tech innovators in Indonesia. Learn more at jakarta.block71.co