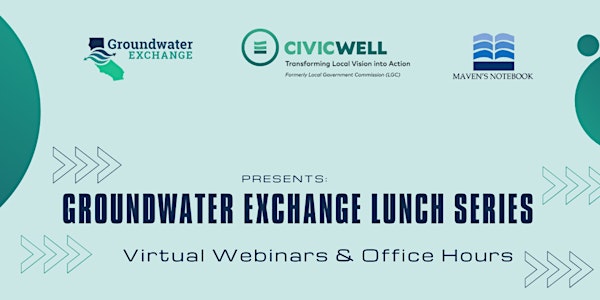 Office Hours: Repurposing farmland that will be fallowed as part of SGMA
With SGMA implementation, as much as 750,000 acres of farmland may need to be fallowed. What are the options?
About this event
Join Mavens Notebook, the Groundwater Exchange, CivicWell (formerly the Local Government Commission) for the third in a series of groundwater lunch time "office hours." These reoccurring sessions offer an informal forum to ask experts about Sustainable Groundwater Management Act (SGMA) implementation.
With the implementation of SGMA, estimates are that as much as 750,000 acres of farmland may need to come out of production to bring groundwater basins into balance. However, this doesn't need to mean unproductive, dusty fields of weeds that worsen air quality. There are options! Potential new uses of agricultural lands include restored habitat corridors, community recreational spaces, low-impact solar and groundwater recharge basins, all of which can help improve air quality and soil health.
On March 29, our guests will be Anna Schiller, Project Manager with the Environmental Defense Fund, and Vicky Espinoza, UC Merced PhD Candidate and YouTube channel CaliWaterAg. They will provide an overview of a new program from the Department of Conservation that provides funding to help land repurposing projects be implemented, and discuss the new guidance document, Community and Grower Engagement in Multibenefit Land Repurposing.
Who should attend: Groundwater Sustainability Agencies (GSAs), beneficial users, tribes, researchers, non-governmental groups, and any other interested community member.
Submit your questions during the event or email them ahead of time to maven@mavensnotebook.com.