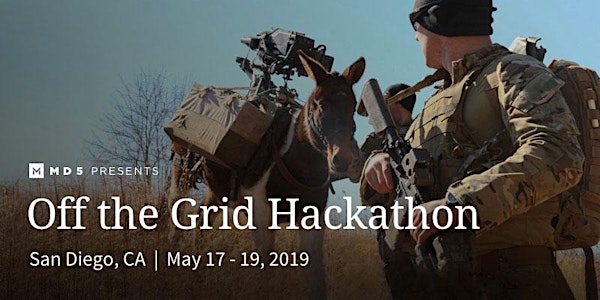 Off the Grid - Tactical computing capabilities in austere environments
When and where
Location
Hyatt La Jolla at Aventine 3777 La Jolla Village Drive San Diego, CA 92122
Description
Join MD5 for our continuing series of hackathons where you can test your innovation skills and tackle big national security challenges! We're looking for students, developers, designers, and hackers from the academic, military, and start-up communities to come together for a weekend to explore non-traditional, innovative concepts for tactical computing capabilities in austere environments. MD5 will provide up to $90,000 in total awards to winning teams to further develop their concepts!
Challenge Overview
In "Off the Grid", we're working with US Army Special Operations Forces (SOF) to help them develop new capabilities for operating at the edge. SOF operate in austere environments, often training and conducting missions with local counterparts and living with the same limited access to resources and communication infrastructure. Furthermore, the technological advantage that SOF operators enjoy is quickly eroding as adversaries rapidly develop new capabilities.
Operational Constraints:
This austere operating environment imposes several technological constraints on operations:
Weight: Only what they can carry in on their backs. The weight of power sources and electronics hardware is a limiting constraint on how much processing and communication capability a team can have in the field. Energy efficient solutions, high energy-density power sources, and an innovative combination of both can increase these capabilities.
Connectivity: Limited traditional satellite, radio, or other connectivity. SOF must be able to operate independently wherever they are deployed without any assumption of support from back home or from allies.
Security: Mobile systems must be hardened against hostile intrusions and communications must be encrypted.
Focus Areas:
Despite this challenging environment and daunting operational constraints, SOF operators must be able to perform many critical functions. This hackathon will address two challenges of properly equipping operators with the tools necessary to accomplish their missions:
Edge Processing: Computer processing currently relies on bulky and heavy hardware and power sources. How can we improve the ability to perform complex, analytical tasks (e.g., computer vision, natural language processing), in the field, without access to cloud computing?
Data Transmission

: Operators often have requirements to transmit large amounts of data to command elements when there is little or no communications infrastructure available. For example, they may be required to stream high definition, full-motion, real-time video or store up to 32 hours' worth of data for later transmission. What innovative capabilities can be developed to collect, manage, and transmit data in austere environments?
Ideal solutions should be platform agnostic and minimize the size and weight of hardware and power sources.
MD5 will provide up to $90,000 in total contract awards to winning teams to further develop their concepts!
Can you Hack it? We think you can!
Agenda
Friday May 17 -
4:00 PM Registration
5:30 PM Dinner
6:30 PM Opening, orientation and event info
7:00 PM Challenge Brief
7:30 PM Small group activity: problem formation and questions for the challenge briefers
8:00 PM Pitch Process Brief
8:15 PM Answer questions from small group activity
8:30 PM Free time to develop pitches
9:00 PM Pitch Fire
9:45 PM Free time to form teams and begin hacking
11:30 PM Facility closes
Saturday May 18 -
8:00 AM
Facility opens, breakfast
Hacking Continues
Mentoring by challenge and technical experts
9:00 AM Morning briefing
10:00 AM Tech Demos and Pitch Training
12:00 PM
Lunch
Hacking Continues
Mentoring by challenge and technical experts
6:00 PM
11:00 PM Facility Closes
Sunday May 19 -
7:00 AM
Facility opens, breakfast
Hacking continues
Mentoring by pitch, presentation, and business experts
8:30 AM
Hacking concludes
Concepts submitted to Devpost
Science Fair Judging Round begins
11:00 AM
Science Fair Judging Round concludes
Evaluator deliberations begin
12:00 PM Lunch
12:30 PM Top 8 teams announced

1:00 PM Top 8 teams present
3:00 PM Judges' final deliberation
3:30 PM Award ceremony
4:00 PM Hackathon concludes
About MD5
MD5 is the Department of Defense's National Security Technology Accelerator. Our mission is to provide a platform to cultivate the people and ideas necessary to build technology-based ventures that align national economic, security and social objectives for the good of the nation.
To learn more about MD5, visit www.MD5.net or send us an email at info@md5.net