Description
OCR Kings Challenge Virtual Race 2 is a 5k (3.1 mile) virtual race with medal.
GET MOTIVATED. GET MOVING. GET A MEDAL.
NOT SURE WHAT A VIRTUAL RACE IS?
A virtual race is an event that can be run, hiked, or walked from any location you choose. You can run, jog, hike, or walk on a track, on the road, the trails, a treadmill, elliptical, ANYWHERE!
HOW DOES IT WORK?
Once you register, you run your own 5k (3.1 mile) race, at your own pace, and time it yourself. When you're done, post your time online on our official Facebook page (and feel free to brag on your own social media accounts too of course!) Your medal will be shipped directly to you. You don't need to wait until your medal arrives to do your 5k.
DO I NEED TO DO ANY OBSTACLES OR BURPEES?
Nope! Our intent is to get people moving.
If you want to throw in some PT, carry a wreck bag, rock filled bucket, or climb some ropes, etc., that's great! If not, that's great too. As long as people are up off the couch it's all good. Whether you're training for your next big race, trying to keep fit, or just need some inspiration to get going, the OCR Kings Challenge Virtual Race is here get you motivated.
WHAT DO I GET?
After registering you will receive an awesome OCR Kings Challenge medal and instructions on where and how to post your time. The medals are 2.75" wide, 3MM thick die cast metal (see below). Please allow 4-6 weeks from registration for delivery.
CAN I SIGN UP MORE THAN ONCE?
Absolutely. Sign up (register) as many times as you want, for as long as the event is open.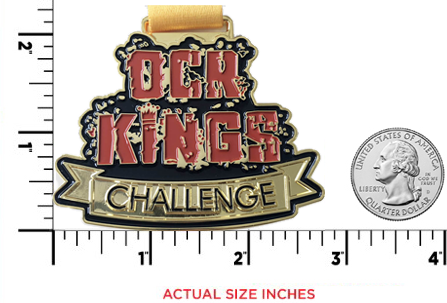 Waiver of Liability: In consideration of my entry being accepted, I waive any and all claims for myself, my administrators, and my heirs against all officials, sponsors, and organizations connected with OCR Kings, for injury or illness that may directly or indirectly result from my participation in this event. I agree that OCR Kings may use photographs of me taken at the event for any lawful purpose including publicity, illustration advertising, and web/social content. I attest that I have full knowledge of the risks involved in this event, and am physically fit and sufficiently trained to participate in this event.
Date and Time
Refund Policy