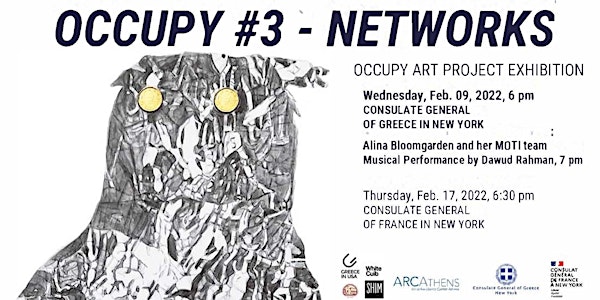 Multiple dates
OCCUPY #3 - NETWORKS
Occupy #3 - Networks / Art Project Exhibition
By Consulate General of Greece in New York
Date and time
February 9, 2022 · 6pm - March 9, 2022 · 3:30pm EST
Location
Consulate General of Greece in New York 69 East 79th Street New York, NY 10075
About this event
After the positive reception and success of Occupy 1 and 2, we are initiating another New York project focusing on art networks and the way in which they create new paradigms in contemporary art.
For the third time, over 100 artists are invited to "occupy" the Greek General Consulate and French General Consulate in New York! Our esteemed collaborators (Project Initiator/Coordinator: Eirini Linardaki, Curatorial Team: Shani Ha, Julien Gardair, Francois-Thibaut Pencenat, Eleni Riga, Graphic design: Vincent Parisot) will demonstrate how, as actors of the arts, we inhabit our time and nourish our work with the responsibilities born specifically of our presence within communities, and our universal need for belonging and sharing. The works are curated with the daily interaction between the exhibits and the staff of the Consulate in mind. They highlight initiatives that respond to socio-political shifts, activist approaches, community-based and public art projects aiming to shift hierarchies and provide more representation and accessibility for artistic minorities (immigrant artists, parents, artists in reintegration et al.)
The opening night, Wednesday, February 9th, 2022, will feature a special program of: Alina Bloomgarden and her MOTI team/Musical Performance by Dawud Rahman at 7 p.m.
The exhibition will be open to the public until March 9th, 2022, Monday - Friday, 10 a.m. - 2:00 p.m. (by registration only through Eventbrite )
Proof of vaccination, ID and the use of face masks are mandatory.