Join Obsidian: Literature & Arts for a series of live events celebrating artistic excellence in the African Diaspora
About this event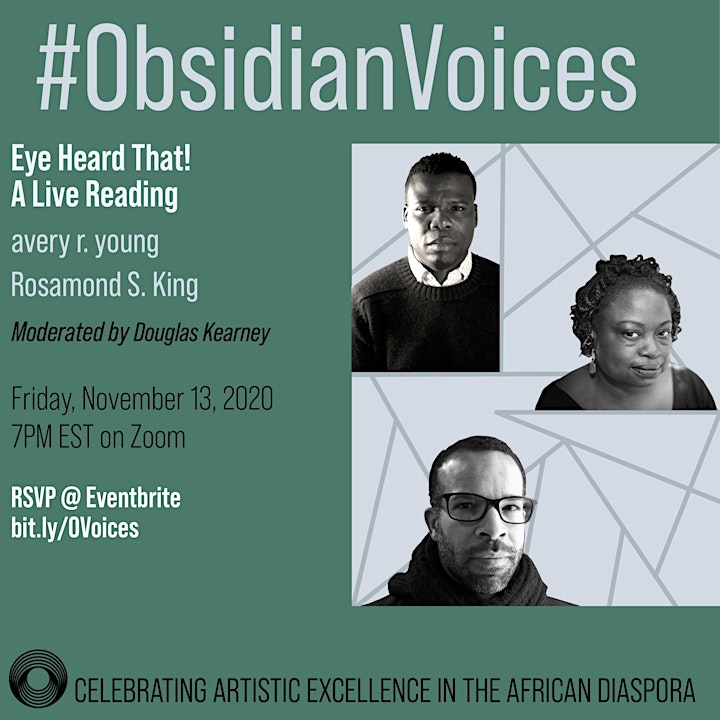 About Our Artists:
Dr. Reynaldo Anderson currently serves as Associate Professor of Communication and Chair of the Humanities department at Harris-Stowe State University in Saint Louis, Missouri, and is Past Chair of the Black Caucus of the National Communication Association (NCA). Reynaldo publishes extensively in the area of Afrofuturism, communication studies, and the African diaspora experience. He is the executive director and co-founder of the Black Speculative Arts Movement (BSAM). He is also the co-editor of Afrofuturism 2.0: The Rise of Astro-Blackness (Lexington Books); co-editor of Cosmic Underground: A Grimoire of Black Speculative Discontent (Cedar Grove Publishing);The Black Speculative Art Movement: Black Futurity, Art+Design (Lexington Books); and the co-editor of Black Lives, Black Politics, Black Futures, a special issue of TOPIA: Canadian Journal of Cultural Studies.
Milton Davis is a Black Fantastic fiction writer and owner of MVmedia, LLC, a publishing company specializing in science fiction and fantasy based on African/African Diaspora culture, history, and traditions. Milton is the author of nineteen novels; his most recent is the post apocalyptic adventure Gunman's Peace. He is the editor and co-editor of nine anthologies. Milton's work had also been featured in Black Power: The Superhero Anthology, Skelos 2: The Journal of Weird Fiction and Dark Fantasy Volume 2, Steampunk Writers Around the World published by Luna Press, and Bass Reeves Frontier Marshal Volume Two. His Steamfunk story The Swarm was nominated for the 2017 British Science Fiction Award. You can contact Milton Davis from his website: www.miltonjdavis.com
LaTasha N. Nevada Diggs is a writer, vocalist and performance/sound artist, and the author of TwERK (Belladonna, 2013). Diggs has presented and performed at California Institute of the Arts, El Museo del Barrio, The Museum of Modern Art, and Walker Art Center. As an independent curator, artistic director, and producer, Diggs has presented events for BAMCafé, Black Rock Coalition, El Museo del Barrio, Lincoln Center Out of Doors, and the David Rubenstein Atrium. Diggs has received a 2020 C.D. Wright Award for Poetry from the Foundation of Contemporary Art, a Whiting Award (2016), and a National Endowment for the Arts Literature Fellowship (2015), as well as grants and fellowships from Cave Canem, Creative Capital, New York Foundation for the Arts, and the US-Japan Friendship Commission, among others. She lives in Harlem.
Oghenechovwe Donald Ekpeki is an African speculative fiction writer, slush reader, and editor. He was awarded an honorable mention, twice in the L. Ron Hubbard Writers of the Future Contest. His short story won the Nommo award for best short story by an African. He has been published in African Writer, Omenana magazine, Selene Quarterly, Cosmic Roots and Eldritch Shores, Uncanny Magazine, Strange Horizons, and Tor. He co-edited the Invictus Quarterly, Selene Quarterly, and Dominion: An Anthology of Speculative Fiction from Africa and the African Diaspora.
Arthur Flowers, native of Memphis, is author of novels, nonfiction, and graphic texts including Another Good Loving Blues, Mojo Rising: Confessions of a 21st Century Conjureman, I See The Promised Land, Brer Rabbit Retold (Tara Books, India) and The Hoodoo Book of Flowers. He has been Executive Director of The Harlem Writers Guild and various nonprofits and is a blues-based performance artist; a practitioner of literary hoodoo; and Professor Emeritus, MFA Fiction, Syracuse University.
Walidah Imarisha is an educator, writer, public scholar, and poet. She is the co-editor of two anthologies including Octavia's Brood: Science Fiction Stories from Social Justice Movements. Imarisha is also the author of Angels with Dirty Faces: Three Stories of Crime, Prison and Redemption, which won a 2017 Oregon Book Award, and a poetry collection Scars/Stars. In 2015, she received a Tiptree Fellowship for her science fiction writing. Imarisha has taught at Stanford University, Pacific Northwest College of the Arts, Portland State University, and Oregon State University.
Rosamond S. King is a creative and critical writer and performer. Rosamond's poetry publications include All the Rage (2021), the Lambda Award-winning Rock | Salt | Stone, and poems in more than three dozen journals, blogs, and anthologies, including The Feminist Wire, Hyperallergic, Harriet, and The Caribbean Writer. Her book Island Bodies: Transgressive Sexualities in the Caribbean Imagination was named "Best Book" by the Caribbean Studies Association. King is creative editor of sx salon and associate professor at Brooklyn College, part of the City University of New York.
Nicole Givens Kurtz is an author, educator, and publisher. Over 40 of her short stories have been published and several novels. Nicole has also worked with independent publishers such as Serial Box, White Wolf, and Eldritch Century for fictionalized stories of their worlds. She's the publisher of Mocha Memoirs Press, a small publishing company devoted to amplifying marginalized voices in speculative fiction.
Olivia E. Raymond holds an MA in Public History from the University of Louisville, and is currently pursuing a PhD in Pan-African Studies from the same school. Under the pen name Zelda Knight, she has published over one hundred authors, artists, and poets from around the world under her publishing company, AURELIA LEO, dedicated to diverse speculative fiction (horror, science fiction, and fantasy). She is the co-editor of Dominion: An Anthology of Speculative Fiction from Africa and the African Diaspora (AURELIA LEO, 2020). Keep in touch on social media @AuthorZKnight. Or, visit www.zeldaknight.com.
Chaun Webster is a poet and graphic designer whose work is an ongoing study of the instability of blackness and black subjectivities, geography, memory, and the body. Webster's debut book, Gentry!fication: or the scene of the crime, was published by Noemi Press in 2018 and received the Minnesota Book Award for poetry.
avery r. young is an interdisciplinary artist and educator, a 3Arts Awardee, one of four executives for The Floating Museum, and Poetry Editor for Bridge. His poetry and prose are featured in several anthologies and periodicals including; Berkeley Poetry Review 49, Poetry Magazine, and photographer Cecil McDonald Jr's In The Company of Black. He is the featured vocalist on flutist Nicole Mitchell's Mandorla Awakening (FPE Records), and young's latest full-length recording, tubman (FPE Records), is the soundtrack to his first collection of poems, neckbone: visual verses (Northwestern University Press).
Our Moderators:
Douglas Kearney is a poet, performer, librettist, a Foundation for Contemporary Arts Cy Twombly awardee, and a Cave Canem fellow. He's published six books and teaches creative writing at the University of Minnesota–Twin Cities. Most recently, he published Buck Studies (Fence Books, 2016), winner of the Theodore Roethke Memorial Poetry Award, the CLMP Firecracker Award for Poetry, and silver medalist for the California Book Award (Poetry). BOMB says: "[Buck Studies] remaps the 20th century in a project that is both lyrical and epic, personal and historical." A Howard University and CalArts alum, Kearney teaches Creative Writing at the University of Minnesota–Twin Cities. Born in Brooklyn, raised in Altadena, CA, he lives with his family in St. Paul. www.douglaskearney.com
Sheree Renée Thomas is coming to us from Memphis, Tennessee. She is a poet, writer, and editor. Her work is inspired by myth, folklore, and the natural sciences. She is the author of Nine Bar Blues: Stories from an Ancient Future (Third Man Books, 2020). She is also the author of two multigenre/hybrid fiction and poetry collections, Sleeping Under the Tree of Life, longlisted for the 2016 Otherwise Award and Shotgun Lullabies (Aqueduct Press). She edited the two-time World Fantasy Award-winning volumes, Dark Matter, that first introduced W.E.B. Du Bois's work as science fiction and was the first black author to be honored with the World Fantasy Award since its inception in 1975. A Cave Canem Fellow, her essays and poems have appeared in the New York Times and other publications. She serves as the associate editor of Obsidian: Literature & Arts in the African Diaspora. Connect: IG/FB: @shereereneethomas or Twitter:@blackpotmojo
Organizer of #ObsidianVoices Fall 2020