Event Information
Refund Policy
Contact the organizer to request a refund.
Eventbrite's fee is nonrefundable.
About this Event
It's going to be too hot to go outside anyway!
Join me for this two-day weekend-warrior bootcamp will transform your process for synthesizing UX research into simple, elegant structure. You'll learn a repeatable, rigorous, scalable framework that will help you gracefully transition from research into design.
***The Bootcamp comes with a $497 coupon code that you can put toward the next OOUX Certification Program, while spots last. There are only 25 spots for the fall cohort. As soon as you sign up for this bootcamp, you will receive the discount code for the Certification Program. Make sure to get your spot ASAP!***
WHAT IS OOUX?
Object-Oriented UX is a digital design philosophy that respects the fact that people think in objects. Our brains have evolved to recognize solid objects that adhere to the laws of physics. But digital environments are not beholden to the laws of physics, which can wreck havoc on our users' ability to understand them.
OOUX gives you a new set of principles so you can create naturally intuitive apps, websites, and software. With these principles, you'll avoid designing objects that are too abstract or visually inconsistent. The best part? Intuitive objects are not only easier for users to understand, they are easier to design and build, too.
Hundreds of UX Designers trained by Sophia have been implementing OOUX within their organizations: Facebook, Instagram, Mastercard, Delta Airlines, Lowe's, and Google, just to name a few.
DAY 1: AGENDA
12-2:30pm: INTERACTIVE LECTURE: fundamentals of the OOUX philosophy. Learn how to identify four massive UX fails and how OOUX helps prevent them. (With all new examples and more demonstrations on how to fix Shapeshifters, Masked Objects, Broken Objects, and Isolated Objects!)
2:30-5pm: INTRO TO THE ORCA PROCESS! Learn the ropes of identifying Objects, Relationships, Calls-to-Action, and Attributes. Understand the four rounds of ORCA: Discovery, Requirements, Prioritization, and Sketching.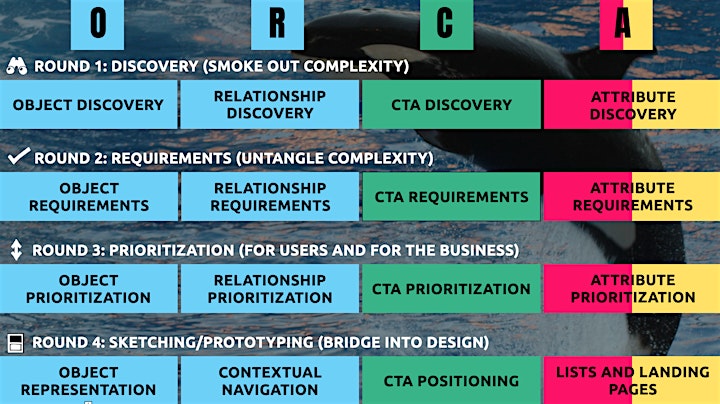 DAY 2: AGENDA
12-2pm: ORCA ROUND 1: Discovery
2-3pm: ORCA ROUND 2: Requirements (Advanced Concepts!)
3-4pm: ORCA ROUND 3: Prioritization
4pm-5pm: ORCA ROUND 4: Sketching.
End the day sketching your design, based on the solid architecture you've built over the last two days. Come back to work on Monday morning with a whole new toolset for drilling deep into the structure of design.
ABOUT SOPHIA, YOUR INSTRUCTOR & GUIDE
Sophia Prater is the chief evangelist of object-oriented UX, a methodology she started popularizing in 2013. Sophia teaches her OOUX methodologies at conferences, within companies, and through her OOUX Certification program. She leads the Atlanta chapter of Ladies that UX, created the UX Hustle Summit Conference, and hosts the UX Hustle Podcast.
Before starting Rewired, Sophia led UX efforts for clients such as AT&T, Blue Cross Blue Shield, Athena Healthcare, Coca-Cola, the IRS, and the Australian Tax Office. As a UX designer at CNN.com, she designed the responsive 2012 election night experience viewed by over 200 million. In 2016, Sophia returned (as a consultant) to do it again.
Today, Sophia focuses on bringing the magic of OOUX to companies and teams around the world.
Date and Time
Location
Refund Policy
Contact the organizer to request a refund.
Eventbrite's fee is nonrefundable.