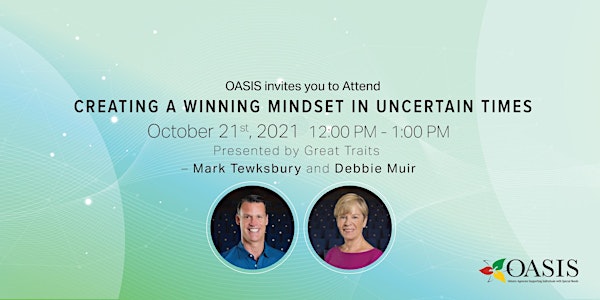 OASIS Webinar: Creating a Winning Mindset in Uncertain Times
OASIS presents Creating a Winning Mindset in Uncertain Times
Refund Policy
Contact the organizer to request a refund.
Eventbrite's fee is nonrefundable.
About this event
As we navigate our way forward thought a period of uncertainty, it is important to not just focus on what we do but also what we think. This session focuses on what it takes to create a winning mindset for yourself and others. Learn about the power of thought, how to catch yourself when fear and doubt creep in, and how to create positive thought cycles that build confidence and lead to winning results. With a strong mindset, you will access more of our potential, find the resilience needed to see things through, and feel empowered as you become the master of your own destiny.
Great Traits is presented by Olympic insiders Mark Tewksbury and Debbie Muir.
Great Traits, delivers engaging, unique, impactful programs that show people how to perform at their best, and influence the environment around them in a positive and meaningful way.
It is often said that sport and business are alike — both take place in a competitive landscape, both are performance driven, and, hopefully, both are values based. Great Traits' mission is to provide the foundation and inspiration for people to succeed in competitive, performance-driven environments. Tewksbury and Muir created the Great Traits High Performance System by distilling their Olympic success into fundamental principles applicable to all organizations. The magic of the Great Traits High Performance System is that 24 simple, fundamental "traits of champions" work together in a plug-and-play way to create a sophisticated, inspired approach to a variety of challenges organizations often face. Over the past seven years, hundreds of top-tier clients have received customized programs to solve their wide-ranging challenges based on the Great Traits High Performance System.
Great Traits was born from real-life experience. Muir has coached numerous athletes to Olympic gold medals, mentored many of Canada's national team coaches, and now serves as a high-performance advisor within the Canadian sport world. Integrating her high-performance, educational, and curriculum design experience, she is currently focusing on the development and delivery of Great Traits' signature product, The Corporate Champions Program. Tewksbury is an Olympic gold medalist who has inspired every Canadian Olympic team since 2004 and was Canada's Chef de mission at the 2012 London Olympic Games. He is currently a director of the Canadian Olympic Committee and Chair of Special Olympics Canada.