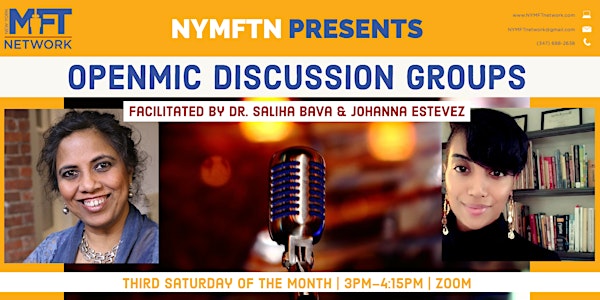 NYMFTN OpenMic Discussion Group
As therapists, we are leaders in communication. More than ever, we must cut through the noise and harness the power to listen.
About this event
Join us for the New York Marriage and Family Therapy Network's second monthly OpenMic Discussion Groups on October 24th! As therapists, we are leaders in communication. More than ever, we must cut through the noise and harness the power of creating spaces to listen. We're excited for you to join us in this opportunity to create continued forward progress in the mental health industry!
Facilitated by Dr. Saliha Bava and Johanna Estevez, these will be secure spaces where individuals can freely express their personal experiences and professional perspectives. on a variety of topics. All groups will be led through the lens of social justice, with a particular focus on anti-racist work within a relational perspective.
In order to keep these groups small, we are not able to guarantee entrance to the OpenMic Discussion to everyone who applies. It will be first come first serve so sign up by clicking the link below!
Email NYMFTNetwork@gmail.com with any questions.
ABOUT THE MODERATORS:
Saliha Bava, Ph.D., a Couples and Family Therapist, is an Associate Professor of Marriage and Family Therapy at Mercy College. She teaches systems thinking, relational and collaborative-dialogic practices. For 20+ years, she has consulted, designed, and implemented performative/play-based and dialogic processes within organizational, community, family, learning, and research systems. She is an advisor at the Taos Institute's Ph.D. Program and M.Sc. Relational Leading Program. She is a board member of the International Certificate Program in Collaborative-Dialogic Practices and served on the American Family Therapy Academy Board. She has published and presented internationally on collaborative and performative perspectives, leadership, trauma, cross-cultural relationships, digital life, research, and teaching/learning. Her research is focused on inclusion and cultivating relational practices for engaging emergence through play/improvisation.
Dr. Bava is the co-author of The Relational Book for Parenting.
Johanna Estevez is an Afro-Dominican, compassionate bilingual therapist who enjoys working with a variety of clients. As a trained family therapist, she enjoys working with family issues, adults, and teens ages 13-18. She is committed to assisting families and individuals with breaking cycles of generational dysfunctions and learning healthy coping strategies that can help them manage their present struggles.
She has extensive experience working with adults and adolescents with trauma, depression, anxiety, substance use, and other mental health concerns. This includes working with high-risk situations and individuals involved in the legal system.
Johanna has led groups for domestic violence, parenting, and women's groups. She is active in community collaboration, including speaking at community events and organizations.