About this Event
Be a part of the first public immersion workshop in NYC.
Making waves around the world, Liberating Structures (LS) productively and playfully disrupt conventional patterns in how we work together. Come engage, reengage and dive deeper into this repertoire of 33+ simple methods that change the way results are generated without expensive investments, complicated training, or shifts in formal structure.
We are thrilled to invite you to the most unique and inspiring place - the Labyrinth Room - one of the largest indoor marble Labyrinth in the World.
In this workshop, in rapid cycles, you will be experiencing 20 + of the most versatile Liberating Structures. You will learn how to use these structures individually, weave them together into powerful LS Strings and apply them with your groups to make progress on the most chronic, entangled challenges.
See what has been made possible in:
Restorative Justice • Business • Sustainable Development (UN) • Software
National Leadership Campaign • Government • Higher Education
The Board Room • Military • Nurse Training
Individual Transformations • Healthcare • Child Welfare
How would you know, if this is a workshop for you?
Read the statements below and use your fingers to count the statements that apply to your organization:
 Boring or frustrating meetings
 Brain-numbing PowerPoint presentations
 Disengaged meeting participants
 Deciders separated from doers
 Difficult conversations routinely avoided
 Fear and/or politics getting in the way
 Group process that is chaotic and favours extraverted participants
 Great ideas that never leave the drawing board
 People excluded because they would "complicate" decisions
 More and more bureaucracy and requests for data
 Accountability without adequate autonomy and support
 The group is paralyzed by learnt helplessness.
If you ran out of fingers, recognizing majority of these symptoms of the toxic culture, you can learn to make a difference with Liberating Structures!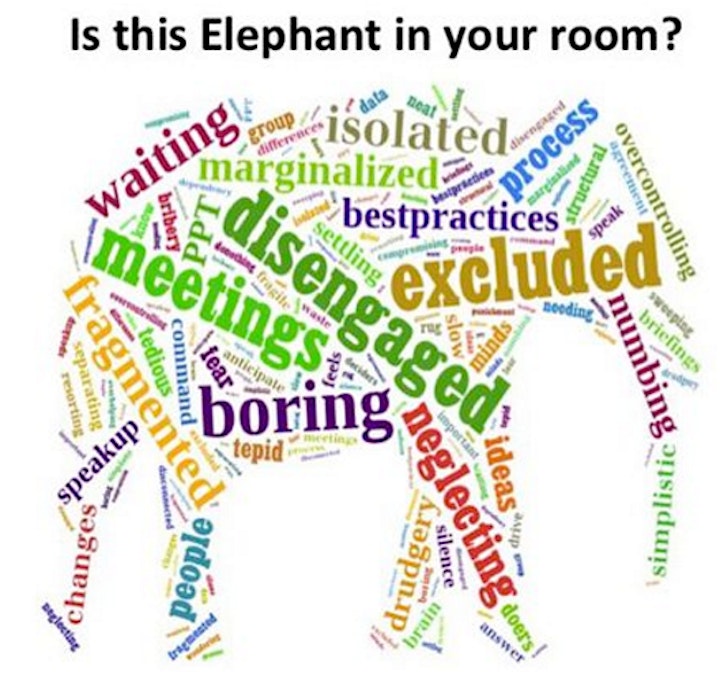 It's time for you to start eating this elephant – one bite at a time!
The Liberating Structures you'll learn in this workshop will help you gain confidence in changing your meetings dynamic.
This Immersion Workshop is designed to introduce you to a large number of Liberating Structures very rapidly – it's a fast cycle "see one, do one, teach one, do another one" method of learning. The idea is to create awareness of the range of possibilities that Liberating Structures open up. Learning this fit-for-purpose collection of facilitation practices will help you amplify voices, engage even most introverted participants, open new possibilities for collaboration, innovation and inclusion in your group.
Workshop Objectives
Gain hands-on experience of a variety of the 33+ Liberating Structures
Understand the underlying structural elements of Liberating Structures
Learn how to design meetings and engagements by combining Liberating Structures into strings
Explore how to apply Liberating Structures in your own life and work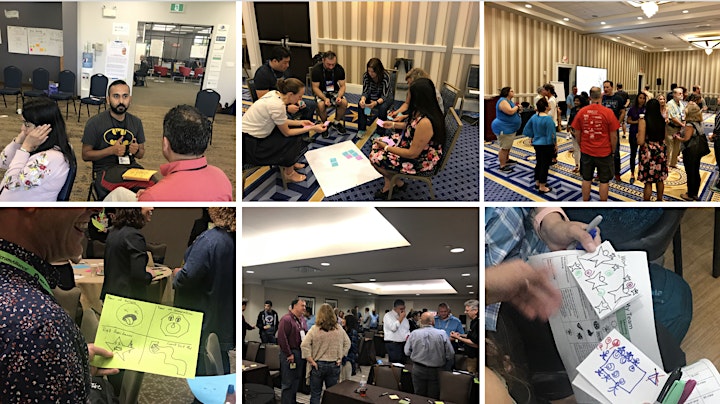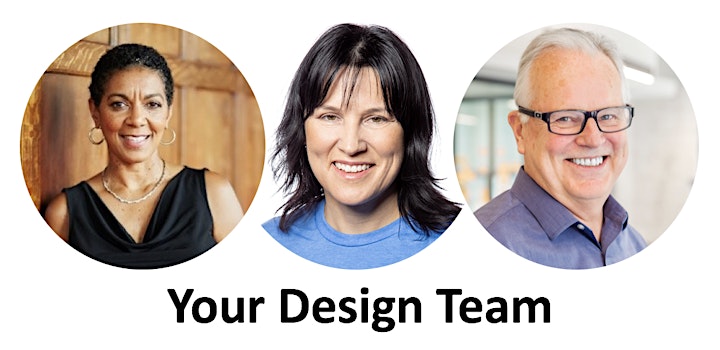 Robyn McLeod, Dana Pylayeva and Robie Wood have been applying Liberating Structures in their work ever since learning about them earlier this year in the LS Immersion Workshop in Seattle.
After many years of successfully leading large operations teams and small specialty teams to greater results, Robyn began working with organizations and sharing her expertise in leadership and team development, as a consultant, coach, speaker and author. Through her work as an organizational development consultant, Robyn partners with senior executives as they focus on building and supporting high-performing managers, leaders, teams and organizations.
A foundation of her work is the belief that strong leaders and managers create an environment that engages, challenges and develops employees who in turn provide world-class service and experiences to customers. Robyn works with clients to address their needs in the areas of organizational effectiveness; leadership development; change management; strategic communications and thinking; and people management and team building.
Read more: https://chatsworthconsulting.com/meet-the-team/
____________________________________________________________
Agile/DevOps Coach and Trainer, the organizer of NYC Liberating Structures meetup and the founder of Agile Play Consulting, LLC, Dana bring 20 years of diverse experience in software development and IT operations. She is passionate about maximizing learning and engagement in her trainings, workshops as well as creating psychologically safe, fearless teams and organizations. She works with clients internationally ( US, Canada, UK, India, Japan, Russia) and speaks frequently at industry events around the world(45 conferences, 15 countries).
Dana is a Training from the Back of the Room Certified Trainer, educational games designer & author of several publications ("Introduction to DevOps with Lego, Chocolate and Scrum", "Self-selection game", "Fear in the Workplace", "Safety in the Workplace").
Read more: https://www.agileplayconsulting.com/about
____________________________________________________________
Robie is an Agile Portfolio Leader and Coach focused on building great teams and transforming organizations. He has co-led the introduction of Liberating Structures as a replacement for traditional meetings in a large organization and conducts workshops using Liberating Structures and Theatrical Improvisation for Agile skill-building in individuals and teams.
Robie is an experienced business leader, program manager, and agile management practitioner. He has led numerous software technology and building construction projects while serving in various roles: project and program manager, scrum master, agile coach and trainer, and an agile portfolio lead. Robie has led agile transformations in large organizations and has led agile/lean portfolio management for portfolios supported by up to 62 agile software development teams. Robie's purpose is to inspire and promote humanity within the workplace. Through his ImprovAgility brand ( www.Improv-Agility.com ), Robie is conducting workshops for agile skill-building and business problem solving by using Liberating Structures and Improvisation.
Logistics
The workshop will run from 8:30 a.m. – 5:30 p.m. on Friday, February 28 with breakfast available at 8:00 a.m.
Lunch will be on your own. We encourage you to get out and enjoy multitude of lunch options available around the training venue.
Attire is casual – get comfortable and dress in layers. We will be moving around a lot.
Terms & Conditions
Ticket price does not include Eventbrite fees or taxes.
This workshop is limited to 60 people, register now to secure your spot.
The organizers reserve the right to cancel the event due to extenuating circumstances. In the event of a need to cancel or reschedule the event, ticket prices will be reimbursed in full.
Code of Conduct
Your design team is dedicated to providing a harassment-free workshop experience for everyone regardless of gender, gender identity and expression, sexual orientation, disability, physical appearance, body size, economic status, race, age or religion.
We do not tolerate harassment of workshop participants in any form. We remind you to be kind to each other and behave professionally. Workshop participants violating these rules may be ask to leave the workshop without a refund at the discretion of the workshop organizers.