Location
New York
[Multiple Locations, NYC]
New York, NY 10003
Welcome to the 4th annual NYC AgTech Week, organized by the members and partner organizations of the NYC Ag Collective.
About this event
*Are you looking for NYC AgTech Week 2020? You want this page!*
The NYC Ag Collective - a consortium of 15+ commercial urban farms, tech companies, and non-profits - is pleased to announce the 4th annual NYC AgTech Week, the only AgTech conference on the East Coast run by the leaders of the industry themselves.
This six-day conference features exclusive farm tours, panels, workshops, and networking events focused on the fast growing and innovative AgTech sector, and promises unprecedented access to industry founders, investors, startups, and thought leaders.
*UPDATE, 9/24: Tickets on this page are sold out! You can still register for a few remaining events individually via the links below:
FEATURED SPEAKERS
...and more!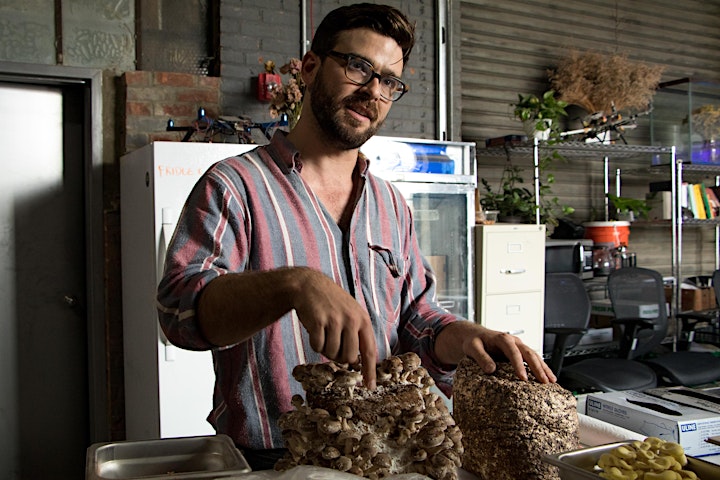 CONFERENCE SCHEDULE
SATURDAY 9/21
6-8pm: Welcome Happy Hour [All-Access Pass Holders Only] | @ Big aLICe Barrel Room (Brooklyn)
Start the Conference with an intimate happy hour to network with fellow attendees, conference speakers and industry representatives. Sample drinks and bites made from hyper local produce and get to know your hosts at the NYC Ag Collective.
SUNDAY 9/22
8:30am-12:00pm: Manhattan Urban Farm Tours
Contrary to what it may seem, the steel beams and girders of Manhattan are home to small but thriving pockets or urban agriculture. You will be assigned one of two tours to see a unique perspective on farming in the city - we'll do our best to assign your 1st choice!
Option 1: Farm.One (8:30a, 9:30a, 10:30a) - Meet at Farm.One | AT CAPACITY
Option 2: East Village gardens (10:30a-12p) - Meet at MoRUS
3-5pm: Skills for Success: Managing an Urban Farm - A Workshop with Cornell | @ Prime Produce (Manhattan)
Join a special workshop led by Cornell University on urban farm management to learn about new research in farm management skills related to the controlled environment agriculture industry. Then, enjoy one-on-one conversation and mentorship with urban farm managers.
*This event is free of charge for any farmers or farm managers!* You can register here.
6-9pm: Restaurant Partner Night [All-Access Pass Holders]
Recommendations for restaurants committed to local & sustainable sourcing, including: Lighthouse (Williamsburg, Brooklyn), Bunker (Bushwick, Brooklyn), Riverpark (Kips Bay, Manhattan).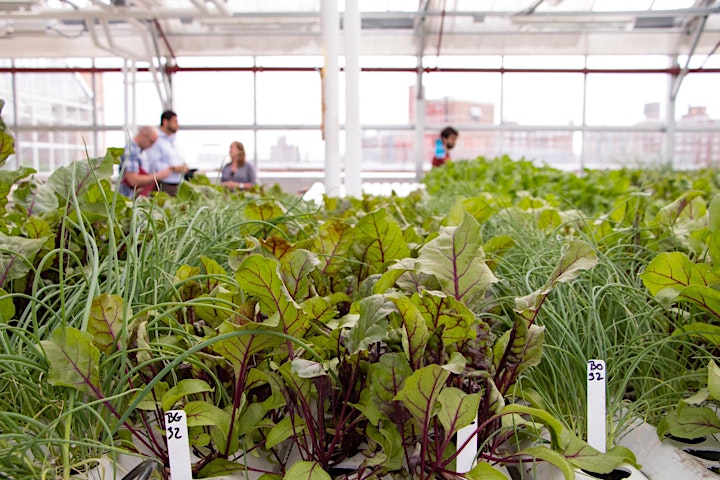 MONDAY 9/23
8:30-10:30am: North Brooklyn Urban Agriculture Tour | Meet @ Agritecture (Brooklyn)
Gain a wide perspective for the various forms of urban agriculture on this walking tour of farming-related sites in Williamsburg & Bushwick.
Stops include:
Agritecture Consulting [Focus: Business/CEA]
Scholes Street Children's Garden [Focus: Community/Soil]
Oko Farms [Focus: Education/Aquaponics]
3-5pm: Show Me The (non-VC) Money: Alternative Capital Sources for Urban Agriculture | @ Arcadia Earth (Manhattan)
We have begun moving away from a world in which a business' sole purpose is to maximize profits and a charity's to "do good". The lines are blurring, and as such, countless new funding vehicles have become available to organizations existing at the intersection of people-planet-profit.
On this panel, founders and funders will discuss the many resources within the funding landscape for various types of urban & sustainable agriculture ventures.
Speakers include:
Claude Arpels, SlowMoneyNYC
Jesse Voremberg, Local Farms Fund
Samia Lemfadli, The Urban Wild
Jenn Smith, Grow-NY Food & Ag Startup Program
Kevin McQueen, The New School (moderator)
6:30-8:30pm: Chef x Farmer Mixer + Grazing Table | @ Project Farmhouse (Manhattan)
Enjoy an evening connecting with New York's urban and local farmers, chefs and entrepreneurs while partaking in drinks and eats made from a diverse range of hyper-local produce. Sponsored by Urban Farm Academy.
Partner farms and distributors will include the likes of Farm.One, Smallhold, We Are The New Farmers, Brooklyn Grange, Local Roots NYC.
> You can also purchase tickets to this event separately.
TUESDAY 9/24
8:30-10:30am: Alternative Urban Farming Products: Algae, Insects, Mushrooms, Hemp, Fish, Plant Proteins | @ 100 Bogart (Brooklyn)
Urban and indoor farming can support many different agricultural products. Leaders in aquaculture, aquaponics, fungiculture, and alternative proteins will discuss the obstacles and opportunities in meeting the growing demand for sustainable seafood, produce and plant-based proteins.
Speakers include:
Andrew Carter, Smallhold
Jonas Günther, We Are The New Farmers
Brian Donaldson, The Grow Room
3:30-6:00pm: Brooklyn Navy Yard Corridor Innovation Tour | Meet @ New Lab (Brooklyn)
In and around what was once the hub of Brooklyn's maritime operations and industrial past are some of the most innovative and fast-growing Urban Ag companies in New York. You'll visit the largest soil rooftop farm in the world at Brooklyn Grange; tour an 84,000-square foot tech incubator at New Lab; and finally view the hydroponic container farms at Square Roots.
6:30-8:30pm: AgTech x UrbanTech Mixer | @ Samsung NEXT (Manhattan)
Networking event bridging the AgTech and UrbanTech innovation worlds, co-organized with NYC EDC and CIV:LAB's The Grid. As cities become "smarter" through new technology in mobility, co-working/co-living, clean energy, and more, this event seeks to bring local food & agriculture into the conversation.
> You can also purchase tickets to this event separately.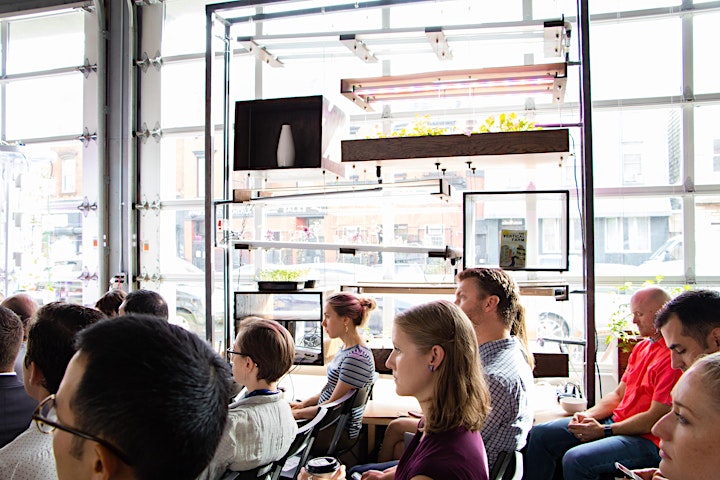 WEDNESDAY 9/25
8:30-10:30am: The Future of Green Urban Development: Opportunity Zones, Green Roofs, & Creative Mixed Use Projects | @ vrbar (Brooklyn)
Hear from industry experts in real estate, urban agriculture policy, green energy, and city planning on the new policies, pathways, and opportunities currently under development and available to various Urban Ag stakeholders to promote the scaling of this movement.
3-5pm: Food Safety & Transparent Sourcing Enabled by Controlled Environment Agriculture | @ Bushwick Generator (Brooklyn)
Discussion on CEA's ability to mitigate and prevent common food safety hazards inherent in traditional agriculture through rigorous testing and safety control. Will the rise of controlled forms of agriculture contribute to a more secure and resilient food system in the face of increasing environmental shifts?
6-8pm: Make It In Brooklyn: Future of Farming Pitch Competition | @ Fulton Hall (Brooklyn)
Hear some of the most innovative and rising startups in the AgTech industry pitch their company to a room of industry leaders, mentors, investors, and entrepreneurs. Refreshments and networking will follow. Co-hosted with Downtown Brooklyn Partnership. Sponsored by OCP North America.
Our 5 startups have just been announced!
GrowSquares
WeRadiate
NATIVE AgTech
FoodFul
Food Cycle
> You can also purchase tickets to this event separately.
THURSDAY 9/26
8:30-10:30am: Global View: Opportunities & Challenges Accelerating AgTech around the World | @ Urban Tech Hub at Company (Manhattan)
The AgTech industry is expanding on a global scale - but unique challenges exist in each region of the world. AgTech founders and experts will weigh in on the factors influencing the global market for sustainable food production as well as discuss the projected growth path of the AgTech industry around the world. Sponsored by Agreeta Solutions.
> You can also purchase tickets to this event separately.
2-4pm: AgTech as Consumer Education | @ WeWork Food Labs (Manhattan)
Marketers, Founders and Industry Leaders discuss the role that marketing and consumer education play in creating, developing and retaining market demand for AgTech products.
6-8pm: Vineyard in the City: Networking Finale | @ Rooftop Reds (Brooklyn)
Our final event! Enjoy a glass of wine overlooking the NYC skyline, made from grapes grown on the Rooftop Reds urban vineyard. Share takeaways from the week with your fellow conference-goers (and by this point, BFFs).
> You can also purchase tickets to this event separately.
PARTNER EVENTS
The Ag Collective is also promoting a select number of partner events that coincide with NYC AgTech Week. Those include:
Climate Week NYC (Sept 23-29). More information can be found here.
Women in AgTech Roundtable with Amy Wu (Sept 21). More information can be found here.
Urban Farming with Tower Farms (Sept 19-20). Upon registering for any AgTech Week tickets on this page, you will unlock a 15% discount to this two-day workshop. More information can be found here.
ACCOMMODATIONS
Looking for accommodations? Check our list of recommendations.
THANK YOU!
A special thank you to some additional media partners & supporters who have helped make AgTech Week possible:
--Events, speakers and locations subject to change. Some farm tours require registration post ticket purchase, on a first come first served basis--