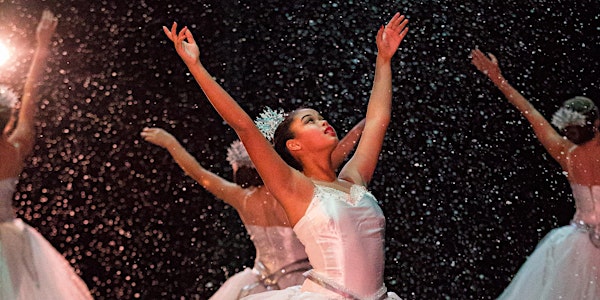 Nutcracker Student Auditions 2018
Location
Creative Arts Building at Pittsburg High School 250 School Street Pittsburg, CA 94565
Description
Nutcracker 2018 - Student Cast Auditions
Audition for our 7th annual production of Black Diamond Ballet Theatre's Nutcracker!
PLEASE READ THOROUGHLY
If you have any questions contact info@blackdiamondballet.org or 925-754-9833.
Audition Requirements:
Open audition – all dancers from any local dance schools welcome!
Dancers must be 8 years of age by Nov. 1st to audition.
$20 non-refundable audition fee, does not include convenience fee.

Auditions:
Saturday, August 18th AND Sunday, August 19th
TWO DAY AUDITION*
Check-in 12:30pm
Audition 1pm-3pm
*Auditionees should attend both days, but not required.
Online Registration Deadline: Friday, August 17th by midnight to guarantee audition spot.
Location:
Creative Arts Building at Pittsburg High School
250 School Street, Pittsburg, California 94565
Walk-in Registration: are welcome the day of, but will only be admitted pending space available and audition fee must be paid in cash only. Please arrive early to see if there are audition spots still available.
Audition Attire:
Ladies: Leotard, pink tights, pink shoes, hair in bun. No skirts, shorts, or other clothing may be allowed
Gentlemen: Black tights, black shoes, and white t-shirt.
Items to bring to the audition:
A headshot (does not need to be a professional photo). Please no smaller than 4X6. Photos will not be returned.

Water

Pointe Shoes -intermediate/advanced dancers
Important Information
Participation fees:is $200.00. (Includes $30 Costume Cleaning Fee)
$100 deposit is due at the Mandatory Parent/Student Meeting & Orientation, Sat. Aug 25th, 4pm-5pm.
$100 remaining balance is due on or before September 16th, 2018.
Casting:
Decisions are based on size, ability, experience and safety.
Occasionally, changes are necessary after rehearsals have begun.
All casting decisions and changes are made at the discretion of the Artistic Director.
Roles will not be released until after parent/student contracts have been signed
Volunteer Hours:
Each student/dancer is required to volunteer (provide volunteer) a minimum of 10 hours.
6 hoursVolunteer/Fundraising "Pre-Performance" support
There is an option to "buy-out" of these 6 hours for $100.00
4 hoursVolunteer "Performance" support - this is non-negotiable
Signup's will be available.
Costumes:
Absolutely no alterations may be made to costumes without permission from Black Diamond Ballet Theatre's staff.
If a costume is damaged beyond repair, I understand that I will be charged to replace it.
Participant is required to supply their own tights and shoes. See costume requirement list for details.
Rehearsals:
All rehearsals are mandatory
Weekly Rehearsals will be held on Saturdays from 3pm-6pm and Sundays from 1pm -4pm
Participant is required to attend all tech/dress rehearsals the week of December 1st - 7th
Performances:
Participant is required to attend all show dates. December 7th(afternoon), 8th(evening,) and 9th(afternoon)
Academic conflicts must be submitted to artistic director by 1st rehearsal in September and may affect your casting.
About the organizer
Delta Children's Ballet Theatre DBA Black Diamond Ballet is a non-profit 501(c)(3) organization (FEIN# 68-0222952)
Black Diamond Ballet was created in 2009 by founders Michael Lowe and Sharon Sobel Idul upon realizing the need for a professional ballet company in East Contra Costa County. BDB is the first professional ballet company to proudly call the historic Pittsburg Creative Arts Building home. In 2009, the company debuted with its rendition of theNutcracker, followed by Lowe's excerpts from Romeo and Juliet in May 2010. 
In 2012, after a 2-year hiatus for theater renovations, Idul returned as Artistic Director, and BDB took to the stage once again in the beautifully transformed 1,850-seat theater, in its full-length production of the Nutcracker. This year's show features professional dancers from Pittsburg to the South Bay, across North America to Europe, accompanied by nearly 40 locally trained student ballet trainees from all over the Bay Area. 
Black Diamond Ballet remains dedicated to the community through its outreach programs with local elementary schools, public appearances, fundraising events, and our local retirement and senior communities.