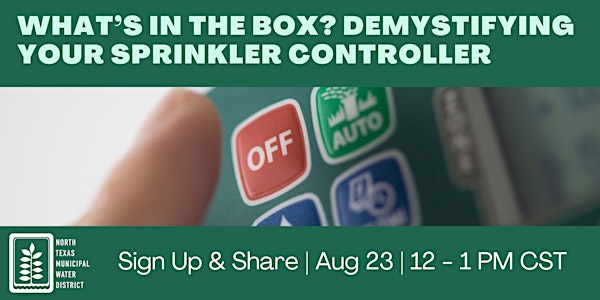 NTMWD Lunch and Learn Virtual Class
Online classes from NTMWD and Texas A&M AgriLife to help your landscape thrive in North Texas while saving water, time & resources.
About this event
What's in the box? Demystifying Your Sprinkler Controller
Understanding your sprinkler system controller is essential to program your sprinkler system to work best for you and your landscape. In this class, learn how to program your control box and apply those skills to utilizing watering recommendations from tools like the WaterMyYard program.
Speaker: Dean Minchillo, Extension Program Specialist, Texas A&M AgriLife
Dean Minchillo is an extension program specialist II with the Urban WISH team. In his role, Dean combines his expertise in water conservation and passion for the environment to build sustainable extension programs that support the Texas A&M AgriLife mission by delivering research-based, locally relevant and beneficial programing to promote the protection of Texas' natural resources. Dean has close to 20 years of experience working with water conservation program development, management and implementation with some of the most active organizations in Texas.
Join Zoom Meeting through this link:
https://us06web.zoom.us/j/89052860211?pwd=RGhxQVB2cStZL0ZLcjlTMzl0MlFFUT09
Meeting ID: 890 5286 0211
Passcode: NTMWD
A Special Thank You
For attending this class and other classes in this series, we have a giveaway. Each time you attend one of these class, you earn an entry for a drawing for native Texas plants! Attend more classes, earn more entries for the drawing.
Giveaway Details
This class is the sixth of a series of 7 brought to you by the North Texas Municipal Water District. Each time you attend one of these free, virtual classes, you will earn an entry for a drawing for up to five native plants. The maximum number of entries for one person is seven. Each class you attend is an entry for the drawing. You must log in for the class and stay for at least thirty minutes to validate your entry. There will be 1-4 randomly selected winners. Each winner will receive up to five native plants. The plants are in one gallon pots and must be picked up at 501 E. Brown St, Wylie TX during normal business hours by September 15, 2022. Exact time and details of pick up will be coordinated with each winner. Winners will be contacted through the email used to register for the online class in order to arrange for a pickup date/time. If a winner does not respond to the email within 2 business days, or pick up the plants as arranged, they will forfeit their prize and a new winner will be selected. Prize deliveries are not available.
Water Is Awesome
City of Dallas (Dallas), North Texas Municipal Water District (NTMWD) and Tarrant Regional Water District (TRWD) have teamed up on a regional water conservation campaign to increase the adoption of water saving behaviors, reduce water waste and promote the importance of water and the value it provides in our communities. The plants in this giveaway were used in the 2022 Water is Awesome video, Water Neighborly. The plants came from Texas Discovery Gardens, a non-profit native garden and butterfly house in Dallas, Texas.
North Texas Municipal Water District
The North Texas Municipal Water District (NTMWD) provides vital water, wastewater and waste management services to more than a million people who call North Texas their home. Since our inception more than six decades ago, we have collaborated with North Texas cities and communities on the design and operation of our systems. This regional partnership has reduced costs, facilitated access to water, wastewater and solid waste services to communities large and small, and streamlined service delivery.