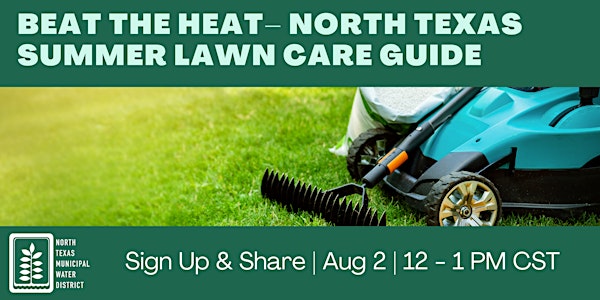 NTMWD Lunch and Learn Virtual Class
Online classes from NTMWD and Texas A&M AgriLife to help your landscape thrive in North Texas while saving water, time & resources.
About this event
Beat the Heat, North Texas Summer Lawn Care Guide
Great lawn management means not only adopting the right practices but implementing them at the right time to work for YOU. This class will offer up a timeline for how to properly care for your turfgrass lawn from spring to fall. Learn the basics on appropriate watering, fertilization, cultivation, and pest management practices year-round. Attendees will also be introduced to useful tools including the WaterMyYard program and more.
Join Zoom Meeting with this link:
https://us06web.zoom.us/j/87030193805?pwd=dzFzbUhGZitES2d2NGZKYXZ0c2JZUT09
Meeting ID: 870 3019 3805
Passcode: NTMWD
Speaker: Dr. Becky Bowling
Dr. Becky Bowling is an Assistant Professor and Extension Specialist for Urban Water with Texas A&M AgriLife. She is the AgriLife Extension lead for the Urban Water Innovation and Sustainability Hub at the Dallas Center. In her position, Dr. Bowling works jointly with AgriLife Research and with AgriLife Extension's extensive network of Specialists, Regional Program Leaders, and County Extension Agents to develop and deliver outreach programming and resources to critical audiences on the topics of environmental stewardship, water conservation and water quality protection for urban landscapes and beyond. Through her work, Dr. Bowling strives to build and maintain relationships with a wide range of influential stakeholders and regulatory agencies to ensure that the urban water Extension program reflects the needs and priorities of its diverse clientele throughout the state.
A Special Thank You
For attending this class and other classes in this series, we have a giveaway. Each time you attend one of these class, you earn an entry for a drawing for native Texas plants! Attend more classes, earn more entries for the drawing.
Giveaway Details
This class is the fifth of a series of 7 brought to you by the North Texas Municipal Water District. Each time you attend one of these free, virtual classes, you will earn an entry for a drawing for up to five native plants. The maximum number of entries for one person is seven. Each class you attend is an entry for the drawing. You must log in for the class and stay for at least thirty minutes to validate your entry. There will be 1-4 randomly selected winners. Each winner will receive up to five native plants. The plants are in one gallon pots and must be picked up at 501 E. Brown St, Wylie TX during normal business hours by September 15, 2022. Exact time and details of pick up will be coordinated with each winner. Winners will be contacted through the email used to register for the online class in order to arrange for a pickup date/time. If a winner does not respond to the email within 2 business days, or pick up the plants as arranged, they will forfeit their prize and a new winner will be selected. Prize deliveries are not available.
Water Is Awesome
City of Dallas (Dallas), North Texas Municipal Water District (NTMWD) and Tarrant Regional Water District (TRWD) have teamed up on a regional water conservation campaign to increase the adoption of water saving behaviors, reduce water waste and promote the importance of water and the value it provides in our communities. The plants in this giveaway were used in the 2022 Water is Awesome video, Water Neighborly. The plants came from Texas Discovery Gardens, a non-profit native garden and butterfly house in Dallas, Texas.
North Texas Municipal Water District
The North Texas Municipal Water District (NTMWD) provides vital water, wastewater and waste management services to more than a million people who call North Texas their home. Since our inception more than six decades ago, we have collaborated with North Texas cities and communities on the design and operation of our systems. This regional partnership has reduced costs, facilitated access to water, wastewater and solid waste services to communities large and small, and streamlined service delivery.