Description
Is there a difficult conversation—with a boss, manager or peer—that you're avoiding? Miscommunication lies at every level in every organization. No matter the disagreement poor communication inhibits progress.
Welcome to Nonviolent Communication [NVC] with Carlene Robinson, the only certified NVC Facilitator in Tennessee. From the NVC framework, you will become highly self-aware and attuned to your default communication patterns—both in terms of what you say and how you listen to others. You will learn to treat miscommunication less as a conflict and more as a cue—to more clearly express your own needs and to seek clarification on the needs of others.
Learning Objectives
Learn how to make powerful requests (i.e. tell others what you want rather than what you don't want)
Develop a needs-based language to help you speak clearly and with impact
Develop a listening skill set, identifying the needs in what others say
Understand how to meaningfully contribute to meetings
Learn to navigate power differentials within the workplace
Learn to build a culture of NVC around you and within your organization
A Personal Story: Can You Relate?
Betsy is a manager at a large healthcare organization. Lately, she had been struggling with Ben, a promising new hire who Betsy manages. Ben continues to submit deliverables that do not meet Betsy's expectations.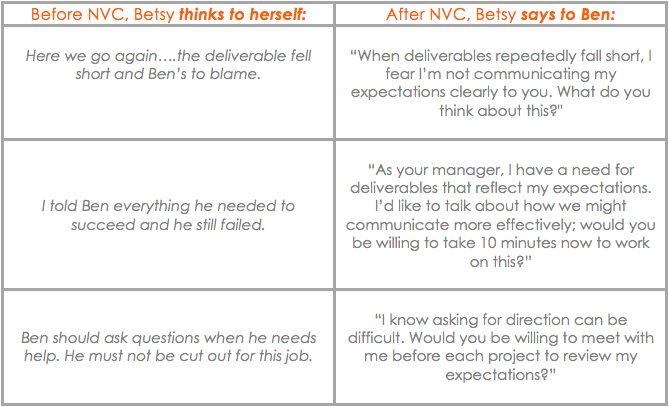 Facilitated By: Carlene Robinson
Carlene Robinson, a Certified Trainer with the Center of Nonviolent Communication, supports the work of Dr. Marshall Rosenberg called Nonviolent Communication, also sometimes known as Compassionate Communication.

She received her B.A. from Trevecca College in Management and Human Relations. Introduced to the study of nonviolent communication in early 2000, she studied with Dr. Rosenberg, which led her to a 3 year master's type program of certification with the Center for Nonviolent Communication. Locally, she's served as board member and chair of NVC Nashville, a local organization whose mission is to learn, practice and share NVC.