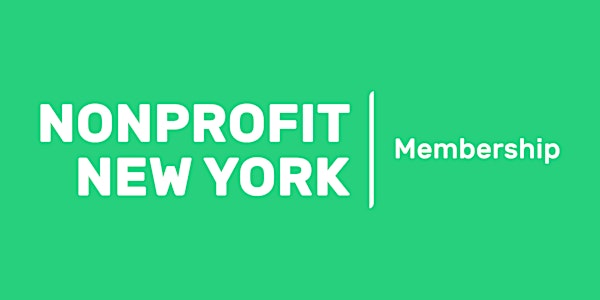 Nonprofit New York's Fall Member Orientation
Welcome to Nonprofit New York--join us for a review all member benefits!
About this event
Come to our member orientation and learn about what it means to be a member of an association and all the ways we can help you and your nonprofit thrive! Nonprofit New York has been around for 35 years and in that time we expanded the work we do to include community-building among nonprofit professionals through our events and networking opportunities, a robust cost-savings program, online and in-person trainings. Get all of your questions answered from Nonprofit New York staff.
We welcome anyone from your team who will benefit from learning about us!
This event is free and presented by the Nonprofit New York Programs team.
_____________________________________________________________________________________
Registration is required. Please be advised that by registering for this event, unless we hear from you otherwise, we will include you as part of our regular mailing list. Please also be advised that the event will be recorded by Nonprofit New York. By enrolling for this event, you hereby: (1) give consent for Nonprofit New York or any third parties to use recording of you in its online and video publications; (2) release Nonprofit New York, its employees and any outside third parties from all liabilities or claims that you might assert in connection with the above-described uses; and (3) waive any right to inspect, approve or receive compensation for any materials or communications, including audio recordings, videotapes, website images or written materials, incorporating recordings of you. To revoke this waiver, please email Programs Coordinator, Devon Stein at dstein@nonprofitnewyork.org.