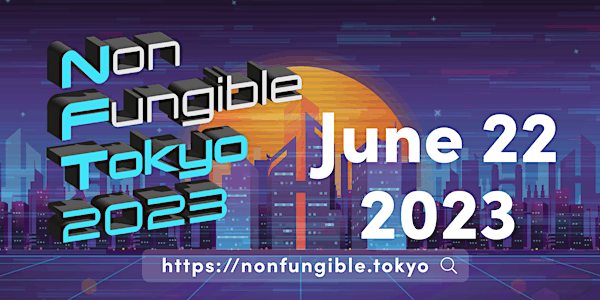 Non Fungible Tokyo 2023 associated with Japan Blockchain Week
NFTokyo is a conference featuring global leaders in NFT-related fields from Japan and abroad. NFTokyoは国内外のNFT関係のグローバルリーダーが登壇するカンファレンスです。
Date and time
Thursday, June 22 · 10:30am - 7pm JST
Location
東京国際フォーラム Chiyoda-Ku Marunouchi 3-5-1 Hall B7 Tokyo, 東京都 100-0005 Japan
Agenda
1. How regulation and market support for Web3 projects?
---
1. Web3プロジェクトに対する規制と市場サポートは?
2. How Japanese large companies enter to web3 industry and solve the issue?
---
2. 日本の大企業がWeb3業界に参入し、どのように課題を解決していくのか?
3. Massive web3 game project changed the industry and what is next move?
---
3. Web3ゲームの大規模プロジェクトが業界を変えた、次の一手は?
4. What is the next of NFT trend
---
4. NFT次のトレンド
5. Next generation of IP business with Web3, and how could be used general IP
---
5. Web3による次世代IPビジネス、Web3による一般的なIPの活用方法とは?
6. NFT with Layer1 & 2, sidechains how each project think about NFT
---
6. Layer1&2,sidechainによるNFT。各プロジェクトはNFTをどのように考えているのか?
7. Next market trend of NFT and its regulation?
---
7. NFTの次の市場トレンドとレギュレーションは?
8. Web3 metaverse, how we change the world?
---
8. Web3メタバース、世界をどう変えるか?
About this event
8 hours 30 minutes

Mobile eTicket
Official Website: https://nonfungible.tokyo/en/
This conference is the 6th in a series, starting with the Tokyo Blockchain Game Conference, which was held for the first time in Japan in 2018.
Although we have been working to promote NFT (Non Fungible Token) and develop a healthy industry from the early stage, as the market has rapidly expanded from 2022, discussions about the future of NFT have suddenly begun.
Although the topic of high-priced art transactions and successful auctions has attracted a lot of attention, NFT is a technology that adds value not only to the final
product, but also to the background and history of the production, the connection between fans and artists, and the process of taking on new challenges.
Japan has produced many excellent creators and excellent contents that are loved by people all over the world, but through NFT, how can we help world-class works and creators spread their wings to the world, and how can we foster them in a healthy way as an industry?
Since it is expected that there will be areas that cannot be considered within the existing framework, discussions across various industries will be necessary.
We decided to hold Non Fungible Tokyo as a special edition a little earlier than usual in order to provide a place to discuss the future of NFT beyond the boom as soon as possible.
*Photographs and videos will be taken at the venue by the management and media covering the event, so guests in the venue may be filmed.
Please be aware that these photos and videos will be distributed on the Internet on the day of the event, and may be exposed/published in advertising materials after the event, as well as on TV, newspapers, magazines, websites, etc.
公式サイト: https://nonfungible.tokyo/
本イベントは2018年に日本で初めて開催したNFTカンファレンス、Tokyo Blockchain Game Conferenceから始まり、今回6回目の開催となります。当初からNFT(Non Fungible Token)の普及、健全な業界発展に取り組んでまいりましたが、2022年に入り市場が急拡大したことにより、NFTを取り巻く未来について議論が急速にはじまりました。
高額なアートの取引やオークションの落札が話題となって注目が集まったものの、NFTは最終制作物のみならず制作背景や歴史、ファンとアーティストの繋がりや思い、新しい取り組みに挑戦する過程など、価値があることは認められていたが具現化してこなかった分野にも価値を与えるテクノロジーです。そして、近年はアート以外の様々なNFTの用途も浸透しはじめましたが、まだNFTの概念がアップデートされていない方も大勢います。
web3が日本の新しい成長産業として注目され始めていますが、NFTはweb3の中でも重要な要素です。NFTは新しい概念であり、日々成長している分野ですので、既存の枠組みにあてはめて考えていくだけでは追いつかない部分が出てくるため、様々な業界を跨いだ議論が必要になってきます。
ブームを超えたNFTの未来を語りあい、産業としての土台を議論する場として、Non Fungible Tokyo 2023を開催します。
※会場内では、運営や取材メディアによる写真や動画撮影が行われる予定ですので、会場内のお客さまが映り込む場合があります。
それらは、当日のインターネット配信および、イベント終了後の広告物、取材メディアによるテレビ/新聞/雑誌/WEBなどに露出/掲載される場合がありますので、あらかじめご了承ください。